Under Armour's Surprise Revenue Shortfall, Should Investors Be Nervous?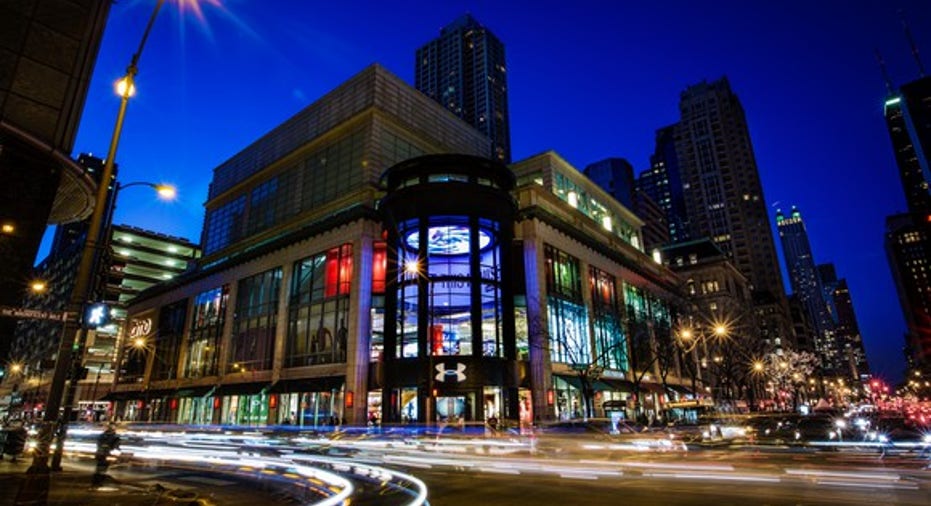 When Under Armour (NYSE: UA) released fourth-quarter 2016 results, shareholders were surprised at the rare revenue miss and were wondering if there were fundamental problems at the innovative fitness apparel company. During the earnings call Under Armour management highlighted some positive areas of growth and discussed key initiatives to get back on track. The company continues to invest in the growing international and direct-to-consumer businesses, but a weak U.S. wholesale result, a curtailed capital spending environment, and continued supply chain execution problems, are areas that investors should keep an eye on. If Under Armour can execute the plans it laid out in the conference call, investors should not be nervous, but the management team has a lot to live up to.
Here are five important points the company's management discussed during this quarter's call.
Under Armour Brand House Chicago. Image source: Under Armour.
1. U.S. growth slowed, but international is growing faster
The North American segment is a significant portion of Under Armour's overall revenue, so the fourth quarter softness in the U.S. wholesale business negatively impacted the company's overall results, despite great growth internationally.
Over the last several years, Under Armour has made significant investments in growing its international business. Just two years ago the international business was only 9% of overall revenue and it has grown to 15% for 2016. With a historical five year compound annual growth rate (CAGR) of 53%, and continued momentum in the fourth quarter, the company is comfortable projecting the international business will cross 20% of overall revenue in the coming year. Having a larger percentage of revenue from the international business will help diversify the company's revenue streams.
2. Investing to be a $10 billion company, but being smart about it
Even though the company had a tough quarter, they are continuing to invest in growth to the tune of $400 million in 2017. As stated in the last quarter's earnings conference call, these investments are critical to provide the infrastructure for the company to reach its stated goal of $7.5 billion in revenue by 2018. While the $7.5 billion revenue target was not discussed on the call, the infrastructure to support a $10 billion business was mentioned several times. The $400 million in capital expenditure is less than the $405 million spent in 2016, and a "significant" reduction to what was laid out in the company's investor day presentation from 2015. Furthermore, David Bergman, the incoming Chief Financial Officer (CFO), indicated that he didn't see the capital spend "massively increasing" in the next several years. This will require Under Armour to challenge every dollar of capital and prioritize the initiatives that will be the biggest pay-off for long term growth, which is good fiscal discipline.
3. Direct-to-consumer business is strong and growing
Under Armour's revenue from its direct-to-consumer is made up of sales from its company brand house and factory house stores, and sales through its websites. Under Armour has company owned stores in the U.S., Brazil, Canada, Chile, and Mexico. Similar to the Skecherscompany store model, Under Armour uses its brand stores in marquee locations to highlight the breadth of the product lines, and factory stores are used to move excess, discontinued and out of season inventory. These stores are a significant investment for Under Armour and they represent almost 62% of the company's employee base. While Under Armour doesn't break out the revenue details of this channel the growth has been tremendous at 31% CAGR in the last five years. Because this channel is important to Under Armour's future growth, Kevin Plank indicated that the company was "doubling down" on its investments in this area.
4. Cautious about investing in retail stores
It seems while Kevin Plank wants to "double down" on direct-to-consumer, his newly appointed Chief Financial Officer wants to be focused on how capital is allocated. Under Armour has grown its brand store footprint from five in 2014, 10 in 2015 to 18 in 2016. In July 2016, Under Armour locked in 53,000 square feet of premiere space on New York's 5th avenue in the old FAO Schwarz toy store location. This is certainly a marquee location to show off the Under Armour brand with potential for great brand visibility with tourist traffic, but at a hefty cost. With the continued growth of e-commerce, the company would be better served improving the overall customer experience with the company's webstore, and that may be what they are doing.
5. Delivering what our customers want
Management explained that the miss in North American revenue was driven by slower traffic causing more promotional activities to happen than expected, combined with not having the highest demand product on the shelves. The focus to have your freshest product on the shelves at the key selling days of the season is a great plan, but not easy to execute from a supply chain perspective.
As Under Armour continues to expand its product lines, the complexity of more SKUs (stock keeping unit) sold, in more places, puts a strain on the entire supply chain. While Kevin Plank indicates this is the merchandising function's key priority for the upcoming year, Under Armour has struggled with inventory issues in the past and maybe the company's current systems aren't up to the task. Under Armour indicates that an upgraded enterprise resource planning platform to provide a single view of the customer and improved supply chain visibility is expected later this year. There's lots of work to do here and investors should take a "show me" mindset to see if Under Armour can make good on its plans in this difficult retail environment.
Time to deliver
Kevin Plank and the management team have a lot of balls in the air. It will be important for them to focus on executing the plans laid out in the call. While Under Armour seems to be in a tough situation, the company culture is all about being the humble and hungry underdog. In the career section of the Under Armour website it talks about this aspect of the culture: "We're the underdog whose successes and failures rest fully on our own shoulders and are not separated by organizational charts or office locations. Nothing's done until it's DONE, DONE, DONE. And always, always, always Be Humble & Stay Hungry.." In the coming quarters, investors should watch if the Under Armour team can live up to their own high standards.
10 stocks we like better than Under Armour (C Shares)When investing geniuses David and Tom Gardner have a stock tip, it can pay to listen. After all, the newsletter they have run for over a decade, Motley Fool Stock Advisor, has tripled the market.*
David and Tom just revealed what they believe are the 10 best stocks for investors to buy right now... and Under Armour (C Shares) wasn't one of them! That's right -- they think these 10 stocks are even better buys.
Click here to learn about these picks!
*Stock Advisor returns as of February 6, 2017
Brian Withers owns shares of Under Armour (C Shares). The Motley Fool owns shares of and recommends Skechers and Under Armour (C Shares). The Motley Fool has a disclosure policy.