Under Armour's Most Disappointing Product in 2016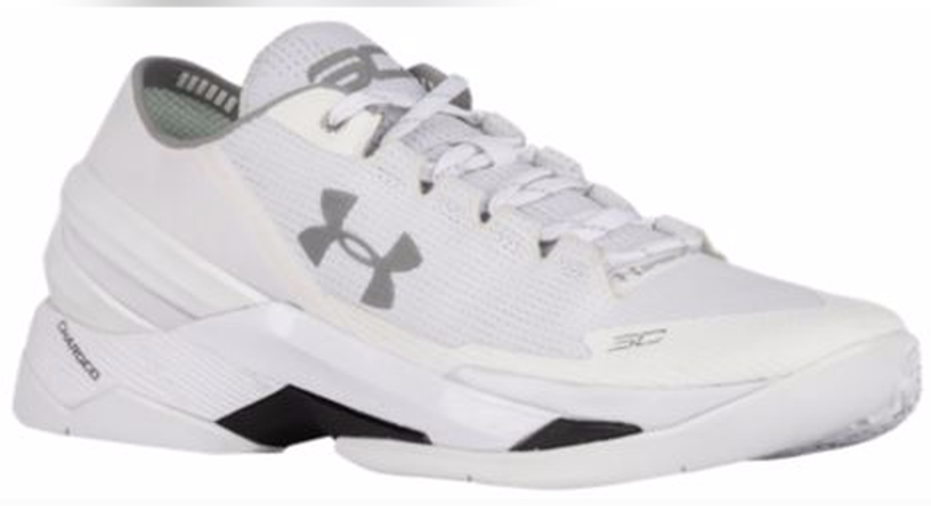 2016was an ugly year forUnder Armour(NYSE: UA) (NYSE: UAA)stock, with its A shares finishing down 26%. The primary culprit was the company's decision to pull back from an earlier forecast of $800 million in operating profit by 2018. CEO Kevin Plank said during the third quarter earnings call that due to investments to "get big, fast," the company was forecasting operating profit of just $600 million instead of the previous $800 million mark. It did stand by its goal of $7.5 billion in revenue by next year, however.
For a pricey stock, it's unsurprising to see such guidance spike the share price, but the company did score a number of wins during the year. Many of its marquee athletes shined on the field: Cam Newton won MVP and made it to the Super Bowl. Steph Curry led the Warriors to the NBA's best regular season ever, despite losing in the Finals. And Andy Murray won Wimbledon.
Off the field, Under Armour scored a deal with Major League Baseball to outfit its players in Under Armour uniforms for ten years, a move that should give the company some prime promotion.
One move, however, stands out as an embarrassment for Under Armour in 2016, beyond the stock's troubles.
The company's all-white Curry 2 Low "Chef" basketball shoes, released during the NBA Finals, were possibly the most maligned product in the sports apparel world this year.
The all-white Curry Two Lows. Image Source: Foot Locker.
Sneakerheads and others took toTwitterto bash the footwear, calling them "Seinfeld" shoes, saying they were meant for retirees, and a meme even developed with characters like Mister Rogers and Forrest Gump wearing them.
The backlash was strong enough that both Curry, the NBA's two-time reigning MVP, and CEO Plank felt the need to respond. Curry called the shoes "fire," while Plank said he was just happy for the attention, saying, "people finally care."
Why it matters
One model of sneakers -- and they did come in multiple color schemes -- isn't going to make or break a company, but the one area where Under Armour desperately needs to catch up withNike(NYSE: NKE) and Adidasis style.
Whether or not the shoes were a commercial flop is unclear, as reports said they were sold out on Under Armour's website in July, but a recent check onFinish Line'swebsiteshowed the all-white version was $20 less than other colors and comes with free shipping, indicating they have been less popular than expected.
But more important than the shoes' commercial success is the buzz surrounding them, which in this case has been clearly negative.
Footwear is Under Armour's fastest-growing category, and represents a bigger opportunity than apparel as both Nike and Adidas derive more revenue from shoes than clothes. Under Armour has built up its reputation as a performance brand favored by athletes for training and competition, but in footwear the market for style is much larger than performance. As Neil Schwartz of SportsOneSource toldThe Wall Street Journal, "85% of sales come from sneakers that are intended to be worn for style instead of sport."
Under Armour is keenly aware of the need to break through as a fashion brand. That's why it launched its first Under Armour Sportswear line earlier this year, featuring products like a $1,500 coat, but it's also why a poorly received product like the white Curry 2 Lows can be so damaging -- it hurts the company's reputation.
The shoes drew comparisons to Nike's Air Monarch, a decidedly uncool sneaker that, at a price point of $65, is annually one of Nike's top sellers by volume, and was even the #1 seller in 2013.But there's an important distinction between the two models. Nike doesn't waste the endorsement of its Jordan brand or any of its other superstars like Lebron James or Kevin Durant on the mass-market Monarchs, saving those boldfaced names for high-end, stylish kicks. In assigning the Curry brand to such a dull shoe, Under Armour is giving up the opportunity to use Curry to sell cool, expensive, high-margin shoes. That should be the point of endorsing the NBA MVP.
Under Armour's footwear sales are up 54% through the first three quarters of 2016, and will top $1 billion in annual revenue for the first time ever, but making the transition from the playing field to streetwear is crucial if the company wants to rival Nike in footwear. With the launch of better-received Curry 3s, Under Armour may be putting that ugly chapter behind it.
10 stocks we like better than Under Armour (A Shares) When investing geniuses David and Tom Gardner have a stock tip, it can pay to listen. After all, the newsletter they have run for over a decade, Motley Fool Stock Advisor, has tripled the market.*
David and Tom just revealed what they believe are the 10 best stocks for investors to buy right now... and Under Armour (A Shares) wasn't one of them! That's right -- they think these 10 stocks are even better buys.
Click here to learn about these picks!
*Stock Advisor returns as of Nov. 7, 2016
Jeremy Bowman owns shares of Nike and Under Armour (C Shares). The Motley Fool owns shares of and recommends Nike, Twitter, Under Armour (A Shares), and Under Armour (C Shares). The Motley Fool has a disclosure policy.