Under Armour's Bet On Stephen Curry Pays Off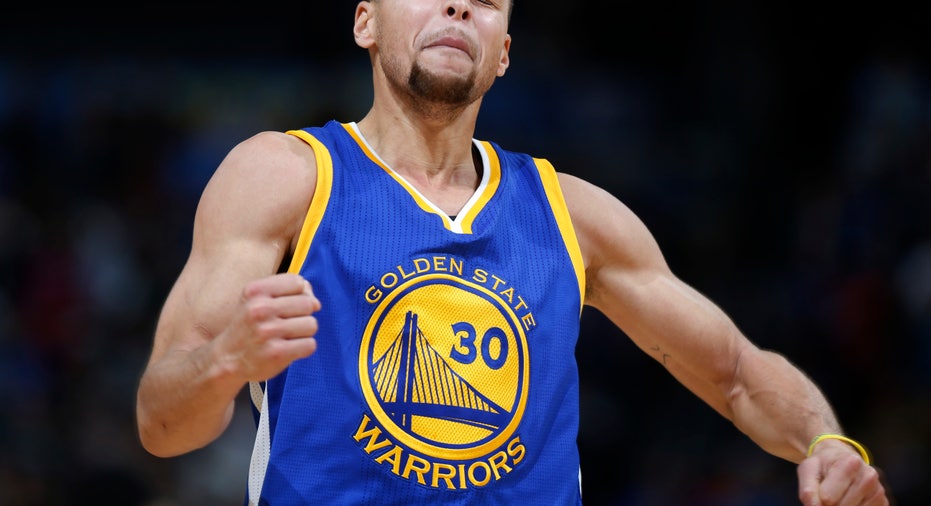 Under Armour's big bet on NBA star Stephen Curry is paying off. The Maryland-based apparel company nearly doubled its footwear sales in the fourth quarter of 2015, thanks largely to the explosive popularity of the "Curry 2" basketball sneaker.
Under Armour's stock is seeing its largest one-day gain in two years on Thursday after exceeding expectations on revenue and earnings per share in its fourth quarter. The company reported earnings per share of $0.48, beating the consensus estimate of $0.46. Revenue grew 31% year-over-year to $1.17 billion, surpassing the projected $1.12 billion. Under Armour's full-year revenue for 2015 increased 28% to $3.96 billion – the best in its history – and its updated guidance for 2016 calls for $4.95 billion in revenue.
The brand's once-lackluster footwear sales increased 95% to $167 million, up from $86 million one year ago. The sell-through rate of "Curry 2" sneaker, which launched worldwide last October, is "like something we have never seen before," Under Armour CEO Kevin Plank said during a conference call Thursday.
Under Armour has relied on sponsorship deals with burgeoning athletes to drive business as part of an overall strategy to reach $7.5 billion in revenue by 2018. Aside from a long-term, equity-based deal with Curry, the company has endorsement agreements with Carolina Panthers star and presumptive 2016 NFL MVP Cam Newton, golf phenom Jordan Spieth, MLB slugger Bryce Harper and boxer Canelo Alvarez, to name a few. The success of Curry's sneaker line is just one indication that the tactic has been a success.
"We're just beginning to see what partnering with the right athletes, like Stephen Curry, can do for our business," Plank said.
Newton will be wearing his Under Armour football cleats when he leads the Panthers into a Super Bowl 50 clash with the Denver Broncos on February 7th. As tens of millions of fans watch the game unfold, Newton's footwear will act as a walking advertisement that other companies will have to spend millions of dollars to match.
"Cam has been a critical driver in our footwear success. … Our guy will wear his UA cleats through the entire three-plus hours of the game," Plank added.
Footwear now accounts for 17% of Under Armour's business. The company now has eight offerings in its running shoe line that sell for more than $100, up from four one year ago. Overall apparel sales grew 22% in 4Q, while direct-to-consumer sales now account for 30% of overall business.
International revenue, considered a key driver for the company as it moves forward, increased 70% year-over-year to $138 million. Under Armour gear is now sold in more than 60 countries.
Analysts expressed concern in the days ahead of Under Armour's 4Q earnings announcement that warm winter weather would have an adverse impact on its business. While company officials acknowledged the weather had generated some excess inventory, but Plank downplayed its effect on sales.
"Our business is more diversified than it has ever been," Plank said. "We do not let weather play a decisive role in dictating our success."