Under Armour, Inc.'s Best (New) Product in 2015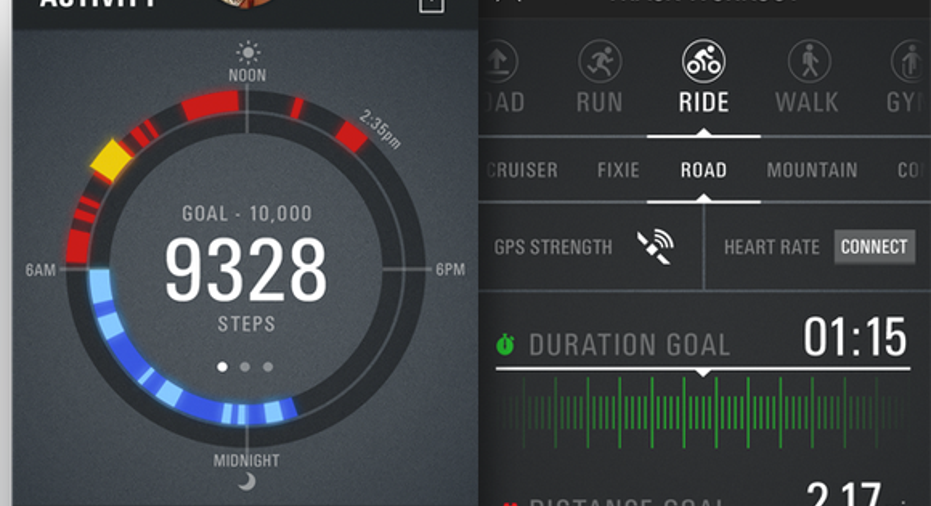 Despite pulling back from all-time highs during the past couple of months, Under Armour stock has proven a great bet for investors in 2015. Shares of the footwear and athletic-apparel specialist currently sit more than 19% higher year to date, significantly outpacing the broader market's modest 2.2% gain during the same period:
For that, Under Armour can thank broad strength across its business, from successful endorsement deals to outsized growth in footwear, apparel, direct-to-consumer channel revenue, and ongoing international expansion. In its most-recent quarter, overall revenue climbed 25%, to $805 million, marking the company's 20th consecutive quarter of achieving at least 20% top-line growth.
The best things in lifeOf all the products that Under Armour has introduced in 2015, arguably the "best" -- at least, from an investors' perspective -- is one that consumers can't physically wear. In fact, it's one that consumers don't even need to pay for to enjoy. Consider Under Armour's UA Record app, a free-to-use mobile application that the company officially launched only a few days into 2015.
But how can I possibly pitch a free app as Under Armour's "best" product of 2015? In short, it's not so much about UA Record itself, but the fact that it signaled an accelerated effort by Under Armour to advance its "Connected Fitness" initiatives.
One community to rule them allI notedthat, at the time of its initial launch, UA Record technically built on the foundation laid by Under Armour's previously acquired MapMyFitness app -- namely, it implemented in one cohesive app many key fitness and nutrition tracking features requested by its Connected Fitness community of 30 million people. Over the long term, management also set a goal of growing that community to 100 million people "over the next several years."
Under Armour's UA Record App is arguably its best product of 2015. Credit: Under Armour.
Under Armour made short work of that goal the following month, when it announced it would spend $560 million to acquire two additional fitness app makers: $475 million for MyFitnessPal, an 80-million-member strong app focused on healthy living and nutrition, and $85 million on Endomondo, a fitness app boasting 20-million users primarily concentrated in Europe.
When combined with Under Armour's existing base, and after accounting for overlapping accounts, these new apps instantly boosted the company's Connected Fitness community to more than 120 million unique global members.
Better yet, fast forward to its most-recent quarter, and Under Armour has already grown that number to more than 150 million. As of the end of the third quarter, Under Armour was adding more than 100,000 per day to that total, and those athletes had logged more than 6.5 billion foods, and 1.5 billion workouts through its new apps.
In keeping with UA Record's goal of cohesiveness, however, Under Armour has also joined forces with enterprise software specialist SAP to ensure it can make the most of the invaluable information it gleans from this fast-growing Connected Fitness platform.
Speaking during Under Armour's most-recent conference call, CEO Kevin Plank elaborated,
In other words, though Connected Fitness currently offers negligible contributions to Under Armour's top line today, the company has big plans to monetize it down the road, be it through direct in-app purchases, links, and suggestions to Under Armour's e-commerce portals, or through the harder-to-measure influence of brand rapport it gains through being constantly exposed to athletes through the apps.
If you're still not convinced, keep in mind that we're already seeing the first fruits of this effort. As Plank alluded to above, at Under Armour's Investor Day in September, management revealed an accelerated plan to achieve total annual net revenue of $7.5 billion by 2018. That's 142% growth from Under Armour's 2014 revenue of $3.1 billion, and 92% growth over its current 2015 guidance of $3.91 billion.
As I wrote shortly after the plan was unveiled, visibility into the contributions of the new Connected Fitness platform played a central role in Under Armour's decision to accelerate its anticipated revenue CAGR goals. In the end, this was largely made possible by the unifying work Under Armour began in launching UA Record earlier this year.
Given its positive long-term repercussions in advancing Under Armour's long-term goals in Connected Fitness, I think UA Record deserves a nod as Under Armour's best product in 2015.
The article Under Armour, Inc.'s Best (New) Product in 2015 originally appeared on Fool.com.
Steve Symington owns shares of Under Armour. The Motley Fool owns shares of and recommends Under Armour. Try any of our Foolish newsletter services free for 30 days. We Fools may not all hold the same opinions, but we all believe that considering a diverse range of insights makes us better investors. The Motley Fool has a disclosure policy.
Copyright 1995 - 2015 The Motley Fool, LLC. All rights reserved. The Motley Fool has a disclosure policy.