UK stocks fall, US futures higher after UK election result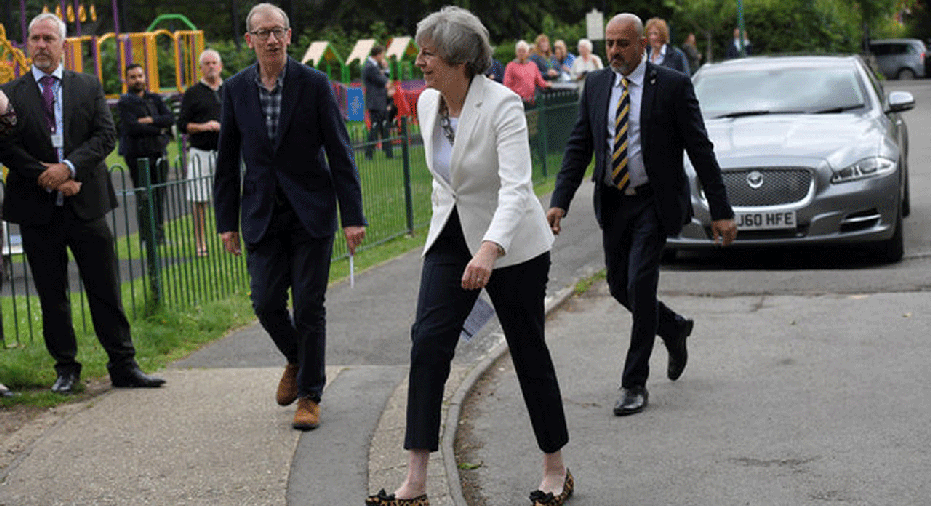 Stocks geared to the U.K. economy fell sharply Friday while the pound slumped after British voters deprived Prime Minister Theresa May and her ruling Conservative Party of a majority in Parliament.
Shares of U.K. banks and housebuilders fell and sterling dropped as low as at $1.2636 before recovering to $1.2733, as investors feared a hung parliament would usher in a fresh period of political uncertainty and make it more difficult for the U.K. to secure a favorable deal in its negotiations to exit from the European Union.
Elsewhere in stocks, the Stoxx Europe 600 rose 0.1% in morning trading despite declines in real estate and travel shares. The rest of the EU is in a stronger negotiating position than the U.K., investors say, and is unlikely to suffer from a more drawn-out negotiation period.
Futures pointed to a 0.1% opening gain for the S&P 500, following a quiet session in the U.S. Thursday as investors appeared to show little reaction to Mr. Comey's testimony about his interactions with President Donald Trump before his firing.
But in the U.K. investors are bracing for further volatility. "Brexit still goes ahead, but who is negotiating and what their position is and whether they can do a deal and get it passed through Parliament is less clear," said John Stopford, head of multiasset income at Investec Asset Management.
London's FTSE 100 index, which generates roughly 70% of its revenues overseas, rose 0.7% in morning trading as exporters benefited from a weaker currency. Shares of HSBC Holdings PLC, which generates just 21% of revenue from the U.K., rose 1.5%, while commodity giants BP, Royal Dutch Shell and Glencore gained over a 1%.
But companies that generate the bulk of their revenue in the U.K., including Lloyds Banking Group, Taylor Wimpey  and Barratt Developments  fell over 3% as investors priced in political uncertainty, a more challenging path for Brexit and a possible hit to the economy. London's FTSE 250 index, which generates about 55% of revenue in the U.K., fell 0.9%.
Stocks in the U.K. have historically fallen in the short term following news of a hung parliament. Still, longer term, some investors see the outcome as potentially supportive of U.K. assets, due to the chance of greater fiscal stimulus and a "softer" Brexit.
"Uncertainty about the U.K. government is probably bad for the [U.K.] currency in the short term but could be quite good for the economy," said Ben Kumar, investment manager at Seven Investment Management. Belgium did just fine during its period without an elected government, while a weaker government could mean the U.K. pushes for a softer Brexit as party lines need to be crossed to secure a deal, he said.
Earlier, Japan's Nikkei pushed back above 20000 as the dollar climbed against the yen, supporting exporters in the index. Shares of SoftBank jumped to 17-year highs following a surge in Alibaba shares in the U.S. The Japanese firm owns 28% of the Chinese internet heavyweight.
Korea's Kospi was up 0.8% and in fresh record territory, helped by a rise in shares of Samsung Electronics, which has the biggest weighting in the index.
Stock market moves elsewhere in the Asia-Pacific region were more muted. Benchmarks in Australia were flat, while Hong Kong's Hang Seng Index fell 0.1%.
In other markets, the WSJ Dollar Index, which tracks the dollar against a basket of 16 currencies, was up 0.4%. Yields on 10-year Treasurys were little changed at 2.198% from 2.195% Thursday, while U.K. gilt yields edged down to 1.022% from 1.032%. Yields move inversely to prices.
Write to Riva Gold at riva.gold@wsj.com and Lucy Craymer at Lucy.Craymer@wsj.com