UK leader meets top EU officials for Brexit working dinner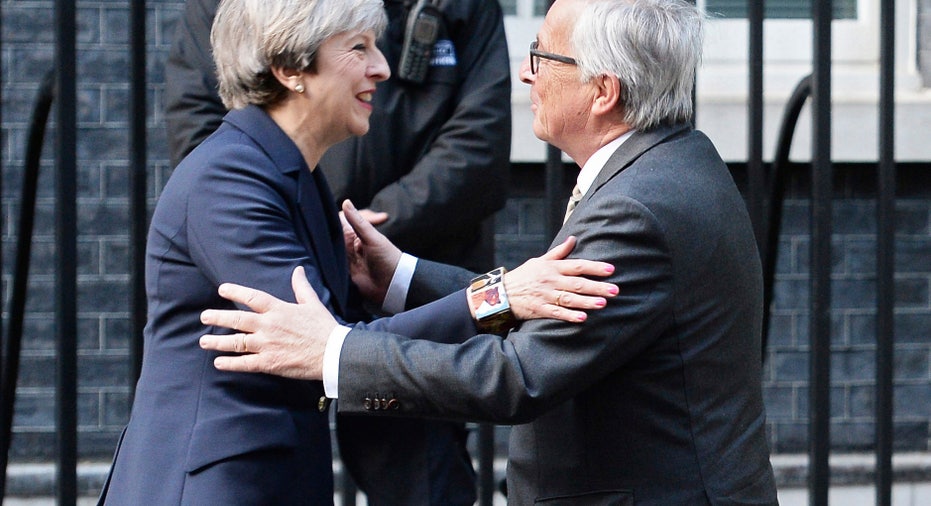 Britain's prime minister took time out from her election campaign Wednesday to meet the European Union's chief Brexit negotiator and head of the bloc's executive.
Theresa May held a working dinner Wednesday at 10 Downing St. with negotiator Michel Barnier and European Commission President Jean-Claude Juncker.
May called a snap June 8 election last week, urging voters to give her Conservatives a bigger parliamentary majority to strengthen Britain's hand in EU exit negotiations.
Leaders of the 27 other EU countries are due to discuss their negotiating guidelines at a summit in Brussels on Saturday.
Negotiations between Britain and the bloc are due to start after the U.K. election, with the size of the divorce bill facing Britain one of the first thorny items on the agenda.
Britain and the EU have just two years in which to untangle their four-decade relationship and forge a new relationship.
Foreign Secretary Boris Johnson said that he was confident the U.K. would get "a good deal that works for both Britain and our European friends."
"And though I have no doubt that the negotiations will be tough and some plaster may fall off the ceiling, I am also sure that Theresa May can pull it off," Johnson told an audience in London.