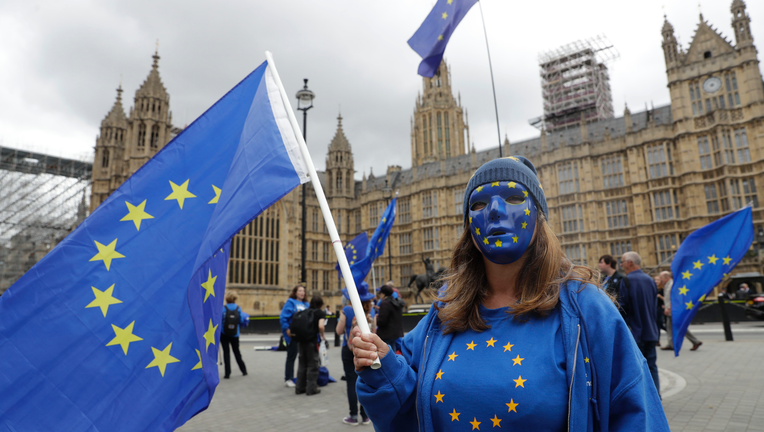 Britain's chief Brexit negotiator faced a jeering House of Commons on Tuesday, as lawmakers returning from summer recess challenged government plans to "intensify" talks with the European Union.
David Davis ticked off what he described as accomplishments thus far in the negotiations and described Britain's position as "flexible and pragmatic." As the heckles rose, a languid Davis leaned against the dispatch box and said his message to the European Commission had always been to "put people above process."
"Ultimately, businesses and citizens on both sides want us to move swiftly on to discussing the future partnership and we want that to happen after the European Council in October, if possible," he said.
Britain wants to persuade the 27 other EU nations to start negotiating a future relationship that would include a free trade deal between Britain and the EU by the fall.
The EU says those negotiations can't start until sufficient progress has been made on three initial issues: how much money the U.K. will have to pay to leave the bloc; whether security checks and customs duties will be instituted on the Irish border; and the status of EU nationals living in Britain.
Brussels has expressed frustration on the course of the talks.
As Davis argued progress had been made on citizens' rights, financial settlements, Ireland and Northern Ireland, the chamber erupted into laughter and still more jeers. Unfazed, Davis pressed on.
"Nobody has ever pretended this would be simple or easy," he said.
The opposition Brexit spokesman, Keir Starmer, argued that "too many promises" had been made about Brexit which "can't be kept."
"It is a fantasy to think that you can have a deep and comprehensive trade deal without shared institution and the sooner we face up to that the better," Starmer said.
Prime Minister Theresa May is bracing for the first test of the government's new term of office. Lawmakers this week will begin debating the Brexit Repeal Bill, which will effectively transfer EU law to U.K. statute books on the day Britain leaves the bloc.
Opposition Labour Party members have said they will vote against the bill, arguing it would allow ministers to "grab power from Parliament."
Some members of May's Conservative Party are suggesting they may vote against the bill in the later stages of the legislative process.