UGI Corp Overcomes a Hot September to Deliver a Record Year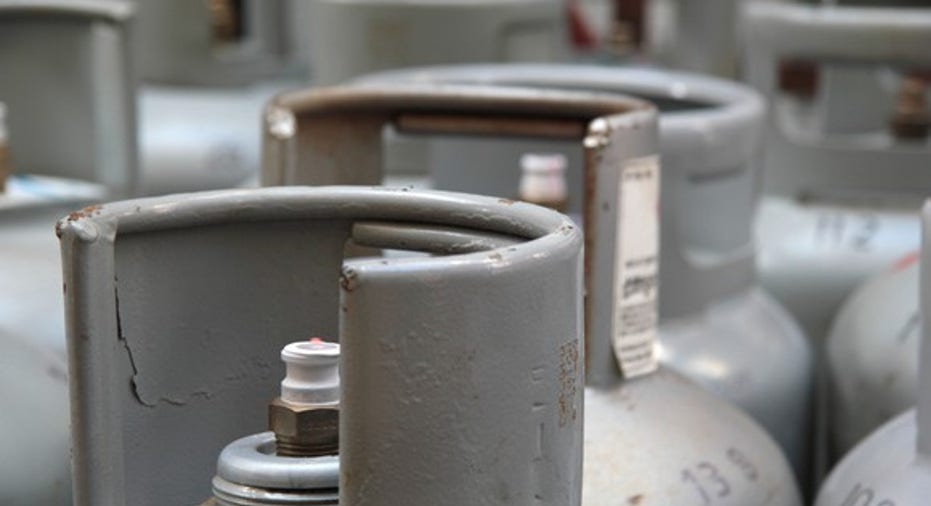 Image source: Getty Images.
UGI's (NYSE: UGI) fiscal fourth quarter is a seasonally weak one for the company, but this one was weaker than usual due to an unseasonably warm September. That impacted the company's propane distribution subsidiary AmeriGas Partners (NYSE: APU), which reported a deeper loss. That said, the company was able to offset that and other problems to hit the high-end of its full-year guidance range.
UGI results: The raw numbers
| Metric | FQ4 2016 Actuals | FQ4 2015 Actuals | Growth (YOY) |
| --- | --- | --- | --- |
| Adjusted net income | ($8.6 million) | $1.9 million | N/A |
| Adjusted EPS | ($0.05) | $0.01 | N/A |
Data source: UGI Corporation. YOY = year over year.
What happened with UGI this quarter?
UGI overcame a sweltering September:
The company's AmeriGas Propane subsidiary had a tough quarter, with its operating loss widening from $9.8 million in the year-ago quarter to $42 million. Driving that loss was the fact that the weather in its operating areas during September was 47% warmer than normal, which hurt demand for propane.
UGI's international segment was also weak, with its operating loss widening from $5.1 million to $23.5 million as a result of continued integration and acquisition expenses as well as higher-than-average temperatures.
The UGI utilities segment, on the other hand, reported a 159.4% increase in operating income, which jumped to $8.3 million due partially to lower operating expenses.
Finally, the midstream and marketing segment's operating income slipped 20.1% to $14.7 million due to lower prices for pipeline capacity.
Despite the weaknesses during the quarter, the company still ended the year with record adjusted net income of $360 million, or $2.05 per share. That was up 2% year over year and at the top of the company's guidance range of $1.95 to $2.05 per share. Fueling that high-end result were several growth initiatives the company completed during the year, including its Finagaz acquisition in France, which (along with two other smaller-scale acquisitions) drove a 92% improvement in adjusted income at UGI international.
What management had to say
CEO John Walsh commented on the company's results: "This was a year of strong execution as we were able to deliver record earnings despite significantly warmer weather. This performance demonstrates the contributions of our highly accretive investments as well as our focus on unit margin management and operational efficiency."
All four of the company's business segments took steps forward in fiscal 2016. The utilities segment invested a record $262.5 million in capex, added more than 16,000 heating customers, and filed its base rate case that went into effect last month. The midstream and marketing segment began construction of its Sunbury pipeline and a new LNG liquefaction plant, which will add to earnings in fiscal 2017. UGI International integrated the acquisitions of Finagaz, Flaga, and AvantiGas, which all remain on track. Finally, AmeriGas completed six acquisitions while also growing its national account and cylinder exchange platforms.
Looking forward
These initiatives put the company on pace to increase its adjusted earnings to a range of $2.30 to $2.45 per share in fiscal 2017, assuming the weather returns to normal. Meanwhile, the company expects to continue to pursue mergers and acquisitions at both AmeriGas Partners and internationally, which could add incremental earnings in fiscal 2017.
10 stocks we like better than UGI When investing geniuses David and Tom Gardner have a stock tip, it can pay to listen. After all, the newsletter they have run for over a decade, Motley Fool Stock Advisor, has tripled the market.*
David and Tom just revealed what they believe are the ten best stocks for investors to buy right now... and UGI wasn't one of them! That's right -- they think these 10 stocks are even better buys.
Click here to learn about these picks!
*Stock Advisor returns as of November 7, 2016
Matt DiLallo has no position in any stocks mentioned. The Motley Fool recommends UGI. Try any of our Foolish newsletter services free for 30 days. We Fools may not all hold the same opinions, but we all believe that considering a diverse range of insights makes us better investors. The Motley Fool has a disclosure policy.