Ubiquiti Networks Falls Short on Margin Headwinds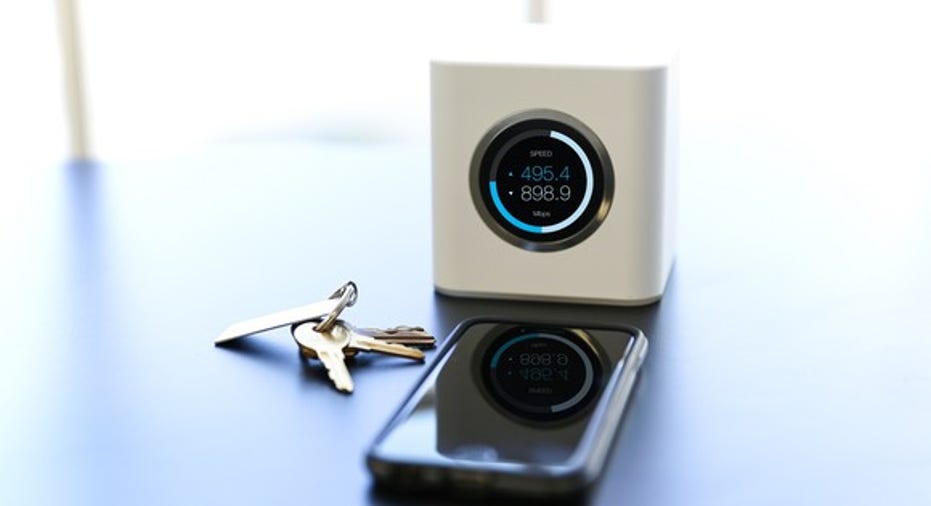 Ubiquiti Networks(NASDAQ: UBNT)released mixed fiscal second-quarter 2017 results Thursday after the market closed. In contrast to last quarter's post-earnings pop -- and with shares of the network communications platform company more than doubling over the past year leading up to this report -- Ubiquiti stock fell more than 16% Friday as a result.
Let's take a closer look at what happened, and what Ubiquiti Networks investors should expect going forward.
Ubiquiti Networks' Amplifi Wireless Router. IMAGE SOURCE: Ubiquiti Networks.
Ubiquiti Networks results: The raw numbers
| Metric | Fiscal Q2 2017 | Fiscal Q2 2016 | Year-Over-Year Growth |
| --- | --- | --- | --- |
| Revenue | $213.5 million | $161.9 million | 31.9% |
| GAAP net income | $60.6 million | $49.5 million | 22.4% |
| GAAP earnings per share | $0.72 | $0.57 | 24.1% |
DATA SOURCE: Ubiquiti Networks.
What happened with Ubiquiti Networks this quarter?
On an adjusted (non-GAAP) basis, which excludes items like stock-based compensation, Ubiquiti's net income increased 20.9%, to $60.1 million. Adjusted net income per share grew 24.1%, to $0.72.
By comparison, Ubiquiti Networks' guidance that wasprovided in Novembercalled for lower revenue between $200 million and $210 million, but higher GAAP earnings per diluted share of $0.72 to $0.78 and higher adjusted earnings per share of $0.73 to $0.79.
Service provider technology revenue grew 5.5% year over year, to $115.6 million, driven primarily by new offerings for the Ubiquiti service provider community.
Enterprise technology revenue grew 87.4% year over year, to $98 million, driven by continued adoption of UniFi AC Access Points, Switches, Video solutions, and other enterprise products targeting the enterprise market. Ubiquiti also saw strong initial sales of the new AmpliFi HD Mesh router and HD Meshpoints, which target the consumer products market.
By geography:
North American revenue increased 64.8% year over year, to $94.6 million.
South American revenue declined 17.9% year over year, to $19.3 million.
EMEA revenue grew 26.9% year over year, to $77.4 million.
Asia-Pacific revenue grew 11% year over year, to $22.2 million.
Gross margin during the quarter was 44.6% on both a GAAP and non-GAAP basis, down from GAAP and non-GAAP gross margin of 48.8% and 48.9%, respectively, in the same year-ago period. According to the company, a change in product mix was primarily to blame, as well as discrete expedited shipping charges to ensure U.S. availability of AmpliFi products during the key 2016 holiday season.
Ended the quarter with cash of $612.7 million, up 6.8% from the end of last year's fiscal Q2. Of that total, $572.7 million is held outside the United States.
Ended the quarter with $13.5 million in short-term debt and $184.2 million in long-term debt.
Generated quarterly cash flow from operations of $42.9 million, down from $77.3 million in last year's fiscal Q2.
Launched the UniFi AC HD high-performance line of access points.
Introduced the new US-16-XG, US-8-60W, and US-8 UniFi switches aimed at helping enterprise customers manage the core to the edge of their wired networks.
Released AirOS 8.0, which offers complete compatibility between airMax ac and older airMAX devices.
Introduced AmpliFi HD MeshPoints, expanding the AmpliFi consumer line of products.
Launched UCRM, a free billing and customer management software solution for service provider customers.
What management had to say
During the subsequent conference call, Ubiquiti Networks CEO Robert Pera stated that the cause of this quarter's margin compression was threefold. First, Ubiquiti chose to price its AmpliFi products aggressively in their initial launch. But that launch was "misexecuted," Pera says, in that there were some last-minute production issues that required a redesign.
As a result, and not wanting to waste the momentum it already had with its PR and marketing strategy for the new consumer-centric product line, Ubiquiti incurred additional costs for the air shipments required to fill its channels with AmpliFi product stock in time for the holidays.
Second, Pera noted that, while the AirOS 8.0 launch has resolved backward compatibility issues with airMAX ac, it was also aggressive with pricing on certain SKUs there to drive adoption.
And third, Ubiquiti has set up inventory centers in the U.S., and is in the process of setting up European inventory centers to reduce lead times and reduce "frustration with maintaining stock in the channel," and ensure a reliable supply for its operator community.
Pera elaborated:
Looking forward
In short, Ubiquiti Networks is consciously forsaking near-term profits with the aim of taking market share and driving sustainable long-term growth.In the meantime, for the current fiscal third quarter of 2017, Ubiquiti expectsrevenue between $210 million to $220 million, with adjusted earnings per diluted share of $0.73 to $0.79.
By comparison -- and though we don't usually pay close attention to Wall Street's near-term demands -- analysts' consensus estimates predicted lower fiscal third-quarter revenue of $204.4 million and adjusted earnings of $0.77 per diluted share (slightly above the midpoint of its guidance range).
In the end, it's hard to blame the market for bidding down Ubiquiti Networks stock today given its bottom-line shortfall. But it's also clear the company's long-term thesis remains intact for patient investors willing to watch its story continue to unfold.
10 stocks we like better than Ubiquiti NetworksWhen investing geniuses David and Tom Gardner have a stock tip, it can pay to listen. After all, the newsletter they have run for over a decade, Motley Fool Stock Advisor, has tripled the market.*
David and Tom just revealed what they believe are the 10 best stocks for investors to buy right now... and Ubiquiti Networks wasn't one of them! That's right -- they think these 10 stocks are even better buys.
Click here to learn about these picks!
*Stock Advisor returns as of February 6, 2017
Steve Symington has no position in any stocks mentioned. The Motley Fool recommends Ubiquiti Networks. The Motley Fool has a disclosure policy.