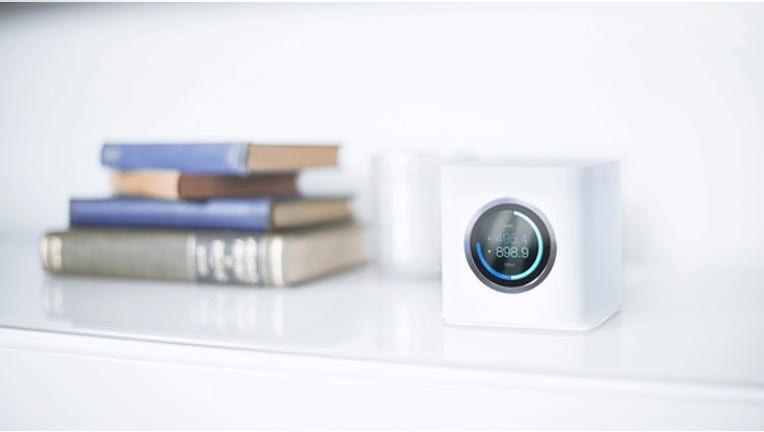 Ubiquiti Networks(NASDAQ: UBNT)released better-than-expected fiscal third-quarter 2017 results on Thursday after the market closed, highlighted by company-record revenue, healthy bottom-line growth, and the impending rollout of AmpliFi products in additional leading consumer outlets.
But shares fell almost 6% Friday as the market digested Ubiquiti's mixed guidance -- at least relative to Wall Street's expectations -- to end its fiscal year. So let's take a closer look at what droveUbiquiti Networks' business this quarter and what we can expect from the network hardware specialist in the months ahead.
UBIQUITI'S AMPLIFI WI-FI ROUTER. IMAGE SOURCE: UBIQUITI NETWORKS.
Ubiquiti Networks results: The raw numbers
Data source: Ubiquiti Networks.
What happened with Ubiquiti Networks this quarter?
Adjusting for items like stock-based compensation, net income grew 21.9% year over year to $64.6 million. Net income per share increased 23.8% to $0.78.
These results were near the high end of Ubiquiti's guidance, which called forrevenue between $210 million to $220 million and adjusted earnings per share of $0.73 to $0.79.
By segment:
Service provider technology revenue increased 8.8%, to $104.7 million, driven by new product offerings targeting the segment.
Enterprise technology revenue climbed 59.6%, to $113.6 million, exceeding service provider revenue for the first time thanks to continued adoption of UniFi and other products in the enterprise market, as well as strong sales of new AmpliFi consumer products.
By geography:
North American revenue grew 36% year over year, to $78.6 million.
South American revenue jumped 79.7%, to $27.8 million.
Revenue from Europe, the Middle East, and Africa increased 19.8%, to $87.8 million.
Asia-Pacific revenue rose 15.8%, to $24.2 million.
Gross margin increased 80 basis points from last quarter, to 45.4%, but declined 4 percentage points from the same year-ago period due to product mix being weighted toward newer products that are "earlier in the cost curve."
Repurchased 1,932,411 shares of common stock for $96.3 million, or an average price of $49.82 per share.
Began shipping UniFi AC HD access points in volume at a "disruptive price point" of $349.
Announced the UniFi AC In-Wall access point, aimed at key verticals in the enterprise segment that wish to introduce per-room Wi-Fi like healthcare, education, and hospitality.
Launched airMAX AC GEN2 for service provider customers, expanding Ubiquiti's strength in dense urban environments.
Announced distrubution of AmpliFi consumer products in consumer retail channels including Best Buy, GameStop, and Sam's Club (in addition to Ubiquiti's own site and previous partnership withAmazon), with an expected rollout starting this quarter.
What management had to say
In prepared remarks, Ubiquiti Networks management stated:
Looking forward
For the current fiscal fourth quarter of 2017, Ubiquiti Networks expects revenue of $215 million to $225 million, gross margin consistent on a sequential basis, and adjusted earnings per share of $0.70 to $0.75. By comparison, consensus estimates predicted quarterly revenue of $217.9 million (near the low end of Ubiquiti's guidance range) but higher adjusted earnings of $0.76 per share.
Why the bottom-line shortfall? According to Ubiquiti Networks, research and development costs this quarter are forecasted to be in the range of 9% to 10% of total revenue -- up from around 7.6% last quarter-- due to a combination of non-recurring engineering milestone payments and increased R&D staffing. To be fair, this shouldn't be surprising as Ubiquiti Networks strives to fulfill its promise of introducing more innovative new products to help it continue to disrupt and take market share in the industries it targets. And in fact, I'd be worried from a long-term investor's standpoint if R&D didn't remain a central priority.
So in the end -- contrary to the market's negative reaction on Friday and combined with Ubiquiti Networks' propensity for underpromising and overdelivering -- I don't think investors have any reason to worry after this strong report.
10 stocks we like better than Ubiquiti NetworksWhen investing geniuses David and Tom Gardner have a stock tip, it can pay to listen. After all, the newsletter they have run for over a decade, Motley Fool Stock Advisor, has tripled the market.*
David and Tom just revealed what they believe are the 10 best stocks for investors to buy right now... and Ubiquiti Networks wasn't one of them! That's right -- they think these 10 stocks are even better buys.
Click here to learn about these picks!
*Stock Advisor returns as of May 1, 2017
Steve Symington has no position in any stocks mentioned. The Motley Fool owns shares of and recommends Amazon and Ubiquiti Networks. The Motley Fool owns shares of GameStop and has the following options: short July 2017 $24 calls on GameStop. The Motley Fool has a disclosure policy.