Uber's President Quits: Are IPO Plans Toast?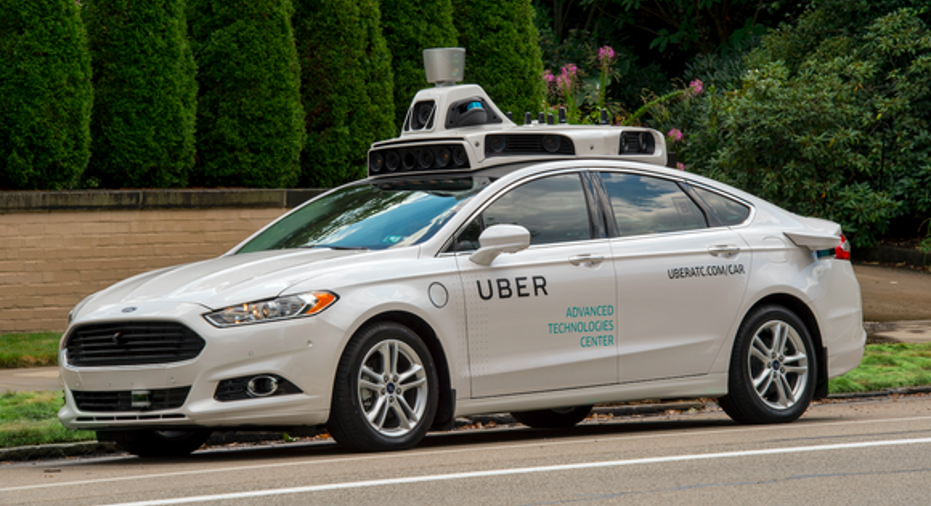 Ride-hailing giant Uber Technologies confirmed on Sunday that its president, Jeff Jones, has resigned.
Jones, hired just six months ago, was the second-highest ranking executive at Uber after CEO and founder Travis Kalanick. His decision to leave Uber follows the departure of two other Uber executives in recent weeks, and a growing list of scandals and challenges that calls into question when -- or whether -- Silicon Valley's most valuable private company will be able to go public.
The challenges facing Uber include an important lawsuit over its self-driving technology. Image source: Uber Technologies.
Two explanations for Jones's departure
Why Jones left depends on who you ask.
If you ask Uber, or at least Kalanick, Jones' decision to depart followed an announcement that Uber has decided to seek a strong chief operating officer to assist Kalanick in running the compnay. In a note to Uber staff on Sunday, Kalanick said that Jones "came to the tough decision that he doesn't see his future at Uber" after the announcement, according to a Recode report.
But if you ask Jones, it was a little more complicated. In a statement provided to Recode, Jones said, "It is now clear, however, that the beliefs and approach to leadership that have guided my career are inconsistent with what I saw and experienced at Uber, and I can no longer continue as president of the ride-sharing business."
Why Jones might have decided to get out now
For starters, Uber's decision to seek a COO was spurred by an embarrassing video that showed Kalanick arguing with an Uber driver over fare reductions that the driver claimed had hurt his income. It also followed a former Uber employee's serious, credible allegation of a pattern of sexual harassment at the company.
Uber has hired two outside law firms to conduct investigations related to the former employee's claims. One will investigate her claims specifically, the other is conducting a broader investigation into Uber's workplace practices.
In what may be related developments, two other executives have departed recently:
Uber's senior vice president of engineering, Amit Singhal, resigned after a reporter from Recode informed the company that Singhal had left a prior job at Google following a "credible" allegation of sexual harassment.
Uber's vice president of product and growth, Ed Baker, also resigned following allegations that he had been seen kissing an Uber employee at a company event.
There's more. The New York Times reported earlier this month that Uber has been using a software tool called "Greyball" to deceive authorities in markets where its service had been pressured by law enforcement or banned.
And in perhaps the most dangerous development for the future of Uber's business, Alphabet's Waymo self-driving subsidiary has sued Uber, claiming that the head of Uber's self-driving research program, Anthony Levandowski, took proprietary technology secrets with him when he left Google in early 2016 to found self-driving truck start-up Otto, which Uber acquired last summer. Waymo is seeking to halt Uber's self-driving operations. (Uber has called Waymo's allegations "baseless," but hasn't yet responded in detail.)
Long story short: Uber's growth story could be in serious trouble.
The latest sign that Uber could be in serious trouble
Taken together, the recent reports paint a picture of a company where sexual harassment is tolerated, laws are seen as inconveniences to be circumvented, and a showcase technology effort might be based on stolen secrets.
That's all bad for obvious reasons, and for one reason that might be a little less obvious: Like all tech companies, Uber is in a constant battle to hire and retain top talent. These kinds of stories hurt.
Jones, who had come to Uber from Target just six months ago, apparently decided that he had seen enough. But his departure raises a big question: What will Uber's valuation look like the next time it has to raise money -- or when it attempts to go public?
10 stocks we like better thanWal-MartWhen investing geniuses David and TomGardner have a stock tip, it can pay to listen. After all, the newsletter theyhave run for over a decade, the Motley Fool Stock Advisor, has tripled the market.*
David and Tomjust revealed what they believe are theten best stocksfor investors to buy right now... and Wal-Mart wasn't one of them! That's right -- theythink these 10 stocks are even better buys.
Click hereto learn about these picks!
*StockAdvisor returns as of March 6, 2017The author(s) may have a position in any stocks mentioned.
Suzanne Frey, an executive at Alphabet, is a member of The Motley Fool's board of directors. John Rosevear has no position in any stocks mentioned. The Motley Fool owns shares of and recommends Alphabet (A shares) and Alphabet (C shares). The Motley Fool has a disclosure policy.