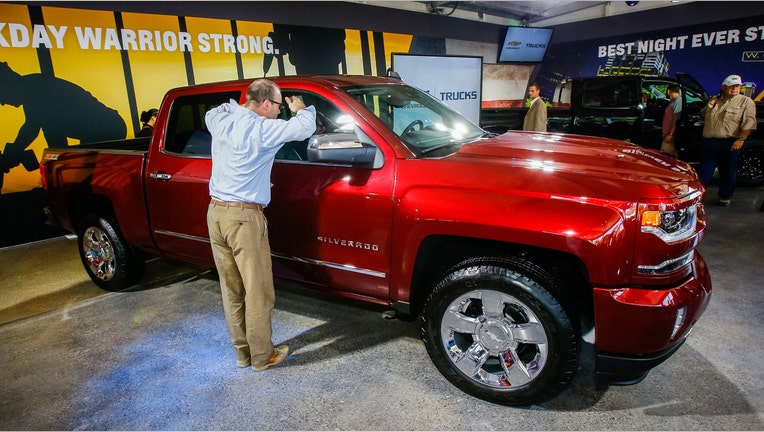 General Motors (NYSE:GM) booked its highest profit ever in 2015, getting a huge lift from lucrative truck and SUV sales in the U.S.
Detroit's largest automaker reported $9.7 billion in full-year net income attributable to shareholders, more than doubled the $2.8 billion booked in 2014. GM benefited from a $3.9 billion accounting gain in the fourth quarter, which alone contributed $6.3 billion in earnings.
Fourth-quarter adjusted earnings of $1.39 a share, up 17% year-over-year, and revenue of $39.6 billion, which was flat, surpassed Wall Street's consensus estimates of $1.21 a share and $39.03 billion.
North America pretax earnings hit a company record of $11 billion in 2015, as deliveries surged amid cheaper gas and low interest rates. Most of GM's 49,600 hourly employees will receive profit-sharing checks of $11,000 later this month, according to GM.
The growing popularity of crossovers and strong sales of pickup trucks helped GM reach its target of 10% North America profit margins a year ahead of schedule. GM posted a 2015 adjusted margin of 10.3%. Trucks and SUVs are more profitable than sedans, and a consumer shift to utilities has bolstered earnings for U.S. sellers.
In an earnings presentation, GM acknowledged a debate over the sustainability of the current U.S. auto sales boom. The company argued that even though total U.S. sales set an all-time high of 17.5 million vehicles last year, industry and economic tailwinds should support a seasonally adjusted annual rate (SAAR) of at least 17 million units moving forward.
"GM is very aware that downturns are difficult to predict...that is why we are planning and running our business to enable sustained performance through the cycle," GM said.
Analysts at RBC Capital Markets agreed. "In our view, we are at a plateau, not a peak, and GM certainly has some company specific drivers that should allow [North America] margins to improve in 2016," RBC wrote in a note to clients.
Elsewhere on the globe, GM's Chinese joint venture provided equity income of $572 million in the last quarter, a $61 million increase, pushing full-year China earnings to $2.1 billion. GM said new-vehicle sales in China grew 5% to a record 3.6 million last year.
Losses in Europe—a sluggish market for automakers—narrowed from $1.4B in 2014 to $813M last year. GM is looking to at least break even in Europe this year. The brighter outlook for Europe allowed GM to log the $3.9 billion benefit in the latest quarter, a gain that was tied to the release of valuation assets on GM Europe deferred tax assets.
Rival Ford (NYSE:F) also saw progress in Europe, where the Blue Oval swung to a $259 million profit in 2015. It was Ford Europe's first year of profitability since 2011.
However, Ford is looking to save $200 million a year by offering voluntary buyouts to most of its 10,000 managers in the region, mostly in Great Britain and Germany. The company expects hundreds to accept. Ford also said Wednesday it will cease production of certain European models that generate small profits.