U.S. Stocks Fight Slump In Consumer-discretionary To Start Week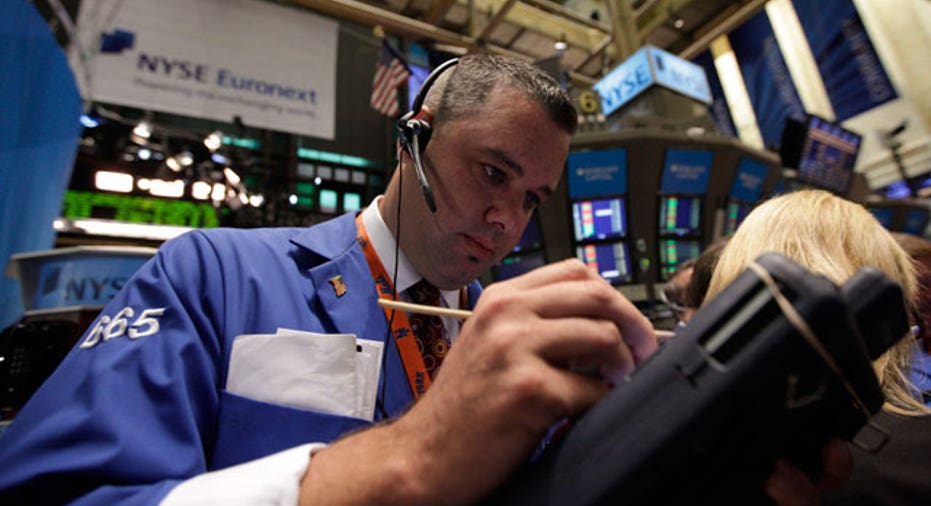 U.S. stocks were in negative territory Monday, as losses for consumer-discretionary companies, like Nike Inc., overshadowed a rally in health-care stocks.
Meanwhile, a fresh drop in oil prices weighed on risk appetite, offsetting the positive effects of comments from Federal Reserve's Janet Yellen, who has reaffirmed a desire to keep benchmark interest rates low.
The S&P 500 was down 2 points, or 0.1%, at 2,070, led by a 1.1% gain in health-care stocks but weighed by a 0.7% drop in consumer-discretionary stocks. The Dow Jones Industrial Average was 10 points, or 0.1%, lower at 17,781, led by sharp la decline in Nike (NKE), down 2.5%, and boosted by a 1.9% gain in Pfizer Inc. (PFE).
Meanwhile, the Nasdaq Composite was off by 8 points, or 0.2%, at 4,906.
Monday's moves came after the S&P 500 posted the biggest weekly gain in a month (http://www.marketwatch.com/story/us-stock-futures-retreat-ahead-of-jobs-report-2016-04-01), after nonfarm payrolls and other economic data convinced investors the Fed won't be rushing to increase interest rates in April
After a sharp selloff at the beginning of the year and a strong rebound in March, the question on investors' minds is "now what?" said Colin Cieszynski, chief market strategist at CMC Markets.
"The market is getting close to where it topped last year, so it could be running into a ceiling. The big question is whether it will go sideways from here or it will see a sharp correction," he said.
The answer to that question could be tied to the gyrations in oil prices, a few analysts said.
As oil prices wavered Monday, dipping in and out of negative territory and then turning decidedly lower, equity prices also retreated, following a recent trend of strong correlation between oil and stock prices.
Brent crude prices also turned lower (http://www.marketwatch.com/story/oil-prices-under-pressure-as-hopes-dim-for-production-cuts-2016-04-04) after comments by a Saudi official dampened hopes for an output-freeze deal from major oil producers. Major oil producers are set to hold a meeting April 17 to discuss measures to curb production.
The strong correlation between oil and stock prices "has always been a bit of a mystery as it has no basis on fundamentals," said Tina Byles Williams, chief investment officer at FIS Group. Theoretically, the assets respond to different fundamentals: Oil is tied to supply-demand factors, while stocks should be pegged to earnings outlooks and other factors.
But as investors will turn their attention to the earnings season over the next month, starting next week with Alcoa Inc. (AA), the recent equity-market rally could fizzle out quickly, as earnings are projected to tumble, which should weigh on sentiment, Williams said.
"While the markets called a do-over on the year last week, with the S&P 500 in particular getting back all of what it lost, the same can't be said for U.S. corporate earnings," said Peter Boockvar, chief market analyst at The Lindsey Group.
In early January, first-quarter S&P 500 earnings were expected to be flat year-over-year and up 2.5% excluding energy, according to data from The Lindsey Group. As of Friday, those estimates are now for earnings to fall by 9.5% year-over-year and by 4.7% excluding energy.
A silver lining is the fact that investors aren't facing a strong dollar , something that has weighed on corporate earnings over the past year or so. Weak oil prices and a drop in the Nikkei 225 index on Monday drove investors into the Japanese yen (http://www.marketwatch.com/story/dollar-drifts-lower-against-japanese-yen-on-cautious-fed-view-2016-04-04).
Economic docket:Factory orders fell sharply in February (http://www.marketwatch.com/story/factory-orders-slump-17-in-february-2016-04-04), after a collapse in bookings for oil equipment and planes, the Commerce Department said on Monday.
Overall, this week is less busy for data, but investors will closely scrutinize the Fed minutes from the March meeting, due for release on Wednesday. Minneapolis Fed President Neel Kashkari will speak on too-big-to-fail banks at 7 p.m. Eastern.
Read:Hiring boom says economy not running on empty (http://www.marketwatch.com/story/hiring-boom-says-economy-not-running-on-empty-2016-04-03)
Read:Dollar, oil and Fed to drive stocks as earnings and data take back seat (http://www.marketwatch.com/story/dollar-oil-and-fed-to-drive-stocks-as-earnings-and-data-take-backseat-2016-04-02)
Stocks to watch: Shares of SunEdison Inc. (SUNE) plunged 48.7% after news that the company is preparing to declare bankruptcy amid an investigation by the Securities and Exchange Commission.
Shares of Virgin America Inc. (VA) soared 41.5% after Alaska Air Group Inc. (ALK) said it would buy the airline for $57 a share in cash (http://www.marketwatch.com/story/alaska-air-group-to-buy-virgin-america-in-4-billion-deal-2016-04-04), a price that is above the $38.90 closing share price on Friday.
Tesla Motors Inc. (TSLA) rose 4.6% after Chief Executive Officer Elon Musk said reservations for its new, more affordable, Model 3 electric car have topped 276,000 (http://www.marketwatch.com/story/tesla-model-3-reservations-top-276000-musk-says-2016-04-03) since the company starting accepting deposits on March 21.
Edwards Lifesciences Corp. (EW) reached an all-time high of $107.88 (http://www.marketwatch.com/story/edwards-lifesciences-shares-hit-all-time-high-on-upbeat-results-upgrades-2016-04-04), soaring nearly 20%, on Monday after the medical-device marker reported positive results from its "Sapien 3" device used in less-invasive heart surgeries and saw its price-target raised by Wall Street firms.
Read:'Affordable' Tesla Model 3 revealed as Elon Musk charges up the crowd (http://www.marketwatch.com/story/tesla-model-3-elon-musk-charges-up-the-crowd-for-mass-appeal-car-2016-04-01)
Other markets: In Asia (http://www.marketwatch.com/story/japan-stocks-gain-on-good-enough-us-jobs-report-2016-04-03), the Nikkei 225 index fell 0.3%. China, Hong Kong and Taiwan stock markets were closed for a holiday. European stocks (http://www.marketwatch.com/story/european-stocks-higher-but-orange-bouygues-lag-in-telecom-selloff-2016-04-04) edged higher, while gold prices dropped (http://www.marketwatch.com/story/gold-drops-as-dollar-traders-position-for-higher-rates-2016-04-04)as dollar traders positioned for higher rates.
By Ellie Ismailidou and Barbara Kollmeyer, MarketWatch