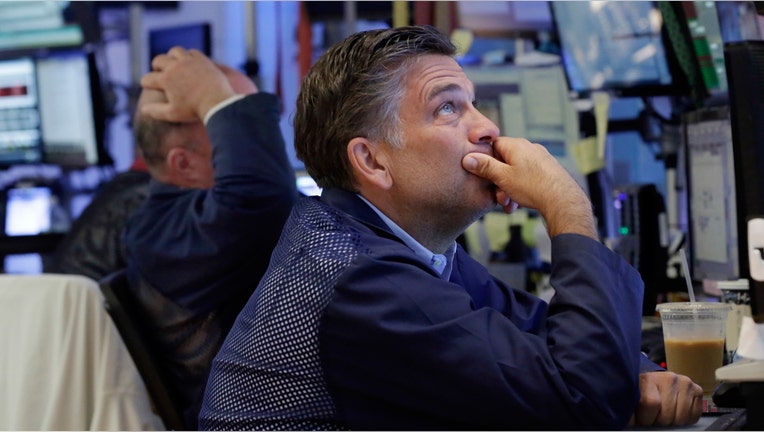 U.S. stocks lost momentum Monday as weaker-than-expected manufacturing data and crude-oil prices extending a drop into bear-market territory weighed on sentiment.
Losses for crude have snowballed, with the U.S. oil benchmark down more than 3% in recent trade, hitting energy companies.
The S&P 500 shed 6 points, or 0.3%, to 2,167, with gains in the health-care and information technology sectors outweighing losses in the energy and materials shares.
The Dow Jones Industrial Average fell 70 points, or 0.4%, to 18,362.
However, the Nasdaq Composite Index climbed 9 points, or 0.2%, to 5,175, boosted by appetite for tech giants.
"August is seasonally a tough month, so we anticipate a lot more volatility driven by economic and political news," said Eric Wiegand, senior portfolio manager at the Private Client Reserve, U.S. Bank. "Even though there have been lots of data points, we have lacked a conclusion about the health of the economy."
The Markit manufacturing purchasing managers index for July rose to 52.9 compared with June's 51.3. The Institute for Supply Management's manufacturing index for July fell to 52.6 from 53.2, while construction spending fell 0.6% in June.
"The path of least resistance in the short term seems to be for stocks to go higher, but to do so sustainably we need to see much stronger economic growth and positive earnings growth," said Wiegand, adding that he is surprised by the absence of volatility and range-bound markets.
Earnings will continue to feature prominently in the market this week even as the season winds down, though there are no major companies reporting Monday. So far, 63% of S&P 500 companies have announced quarterly results thus far, with 71% beating on earnings and 57% reporting revenue above estimates, FactSet data show.
"Overall our leading stock indicators have deteriorated slightly but remain favorable," said David James, senior vice president, in a note. Still, risks should not be ignored. Earnings are trending downward and valuation levels are elevated."
Prospects for a near-term interest-rate increase by the Federal Reserve have faded after a much weaker-than-expected domestic growth data on Friday. The chances of a rise in U.S. interest rates fell to 12% from 18%, Fed-funds futures data from the CME Group showed.
The market appeared to brush aside comments from New York Federal Reserve Bank President William Dudley, who argued Sunday that an interest-rate hike this year shouldn't be ruled out. He made the comments in remarks prepared for a joint central-bank seminar between the New York Fed and Bank Indonesia in Bali.
Stocks to watch: Shares in Tesla Motors Inc.(TSLA) and SolarCity Corp.(SCTY) lost ground on news that the companies have reached a merger agreement. SolarCity also released updated guidance.
Meanwhile, Chinese ride-sharing giant Didi Chuxing Technology Co. has agreed to buy the China operations of Uber Technologies Inc. Uber and investors in its UberChina unit will take a 20% stake in Didi. UberChina is backed by China's search giant Baidu Inc. (BIDU). Didi's backers include e-commerce group Alibaba Group Holding Ltd. (BABA) and internet giant Tencent Holdings Ltd. (0700.HK)
Shares of Fleetmatics Group PLC. (FLTX) 39% on news of pending acquisition by Verizon.
Energy stocks were the biggest losers in the S&P 500 with all shares in the sector weaker. Murphy Oil Corp. (MUR), Williams Cos. (WMB), Diamond Offshore Drilling Inc. (DO), and Transocean Ltd. (RIG) all down sharply.
Other markets: European stocks drifted south while in Asia, stocks finished mixed. The Shanghai Composite Index closing off 0.9% after China's manufacturing Purchasing managers index for July indicated contraction for the first time in five months. Elsewhere, the Nikkei 225 index and other Asian markets rose, benefiting from diminished chances for a U.S. rate increase.
The yen, meanwhile, weakened against the U.S. dollar after disappointing easing action from the Bank of Japan last week.
Gold rose modestly and silver remained firmly higher, trading above $20 an ounce.
--Barbara Kollmeyer contributed to this article.
By Sue Chang and Anora Mahmudova, MarketWatch