U.S. Silica Holdings' Management Thinks You Need to Know About This Huge Growth Trend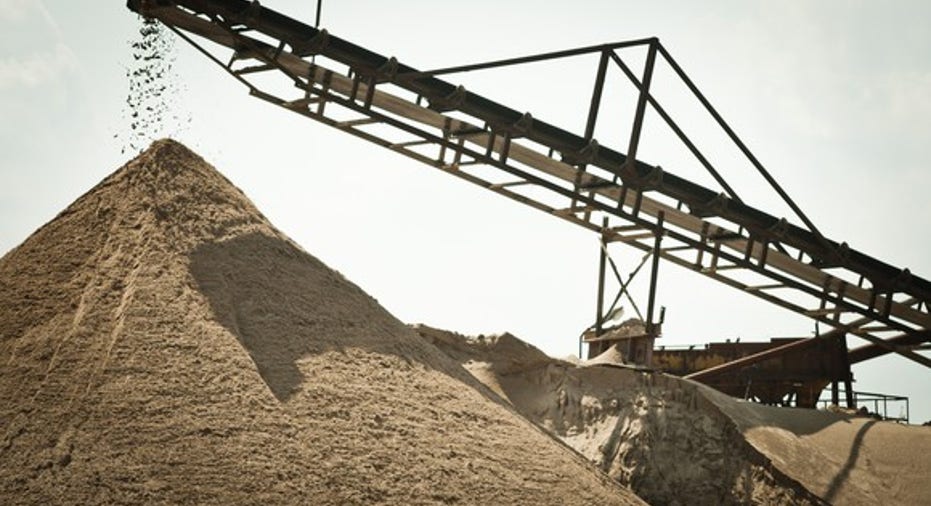 After several quarters in a row of heavy losses and an overall feeling that the frack sand industry was a bust, U.S. Silica Holdings (NYSE: SLCA) finally turned things around last quarter with its first profitable quarter in a long time. That's great news for investors now, but U.S. Silica's management thinks there is much more in store for the rest of the year.
Here are several quotes from the company's most recent conference call that explain the fantastic opportunity in front of these frack sand producers, the challenges they will face to meet that opportunity, and what investors should be watching in the coming quarters from U.S. Silica and the industry in general
Demand growth coming down the pipe
I don't think I'm the only one who has thought this, but the rebound in shale drilling in the U.S. has been nothing short of spectacular. This time last year was the nadir for total active rigs at less than 400. Since then, Baker Hughes' weekly total active rig count has more than doubled to just over 900. For U.S. Silica and other frack sand producers, that has translated into incredible demand growth.
Image source: Getty Images.
According to CEO Bryan Shinn, though, we're still in the early innings of shale's post-crash growth.
We're short on capacity
The frack sand business isn'tas simple as it sounds. Sure, it's selling a rather raw commodity, but you can't just scoop up sand with an excavator and dump it in a rail car. One thing that producers are particular about today, for example, is mesh size -- a measure of sand grain size. The higher the number, the finer the sand. According to Shinn, demand for more smaller grains means that the overall production capacity of the industry doesn't reflect the amount of sand that can be delivered to customers, and that means the industry is well short on supply.
There is one reason why investors should care about this supply issue: price. If effective capacity is still below total demand, then sand suppliers should have strong pricing power over oil and gas producers.
Changing our customer relationships
Oil and gas producers aren't naive. They see this effective capacity vs. total capacity dynamic playing out and the consequences for prices down the road. So U.S. Silica is taking advantage of this situation by changing its contract structure with customers. Here's Shinn on the changes.
While U.S. Silica's Sandbox logistics service can increase margins on per ton sold. Investors should be most pleased with the idea that customers are lining up to sign 3 to 5 year supply contracts. The idea of having volumes and prices locked in for several years should make U.S. Silica a much more stable company over the long haul.
New investment paying off
U.S. Silica's management believes that the future of its business is supplying both the sand and the transportation & logistics associated with that sand. That's why it bought logistics specialist Sandbox during the downturn and is investing heavily in expanding that business today. According to Shinn, management is already quite pleased with the results and plans to spend even more on this service throughout the year.
A bottleneck coming for the North American oil industry?
For all the good news in the American oil and gas business today, Shinn did give a word of caution. Growth rates this high can be great, but eventually, they start to expose cracks in the value chain.
Exploration & production at the $50 a barrel range is the equivalent of walking a tightrope for producers. Many can grow production at today's prices, but that is predicated on lower prices for oil services and commodities like sand. If the industry grows too fast and puts pricing pressure on one component, then well economics could take a turn for the worst rather quickly. Investors should keep an eye on this dynamic in the coming quarters. If we see a quick rise in sand prices or a logistics bottleneck, the industry could be headed for a rapid deceleration.
What a Fool believes
I could be wrong, but it's looking more and more that frack sand is the current pressure point in the North American oil and gas market today. Many oil services companies still have lots of idle drilling rigs and pressure pumping equipment to put into the field, but frack sand suppliers are bringing unused production capacity back online at a breakneck pace. It will take a monumental amount of effort from U.S. Silica and its peers to expand capacity beyond its idle capacity and some brownfield expansion projects.
Investors in U.S. Silica will want to watch two things in the coming quarters: New production capacity and margins. The company's Sandbox service revenue is baked into its sand pricing, so higher margins is a sign that it is making headway with these logistics investments. New production capacity is all about keeping up with what has the potential to be a booming industry for the next year or two.
10 stocks we like better than U.S. Silica HoldingsWhen investing geniuses David and Tom Gardner have a stock tip, it can pay to listen. After all, the newsletter they have run for over a decade, Motley Fool Stock Advisor, has tripled the market.*
David and Tom just revealed what they believe are the 10 best stocks for investors to buy right now... and U.S. Silica Holdings wasn't one of them! That's right -- they think these 10 stocks are even better buys.
Click here to learn about these picks!
*Stock Advisor returns as of May 1, 2017
Tyler Crowe has no position in any stocks mentioned. The Motley Fool has no position in any of the stocks mentioned. The Motley Fool has a disclosure policy.