U.S. Equities Boosted by Earnings, Energy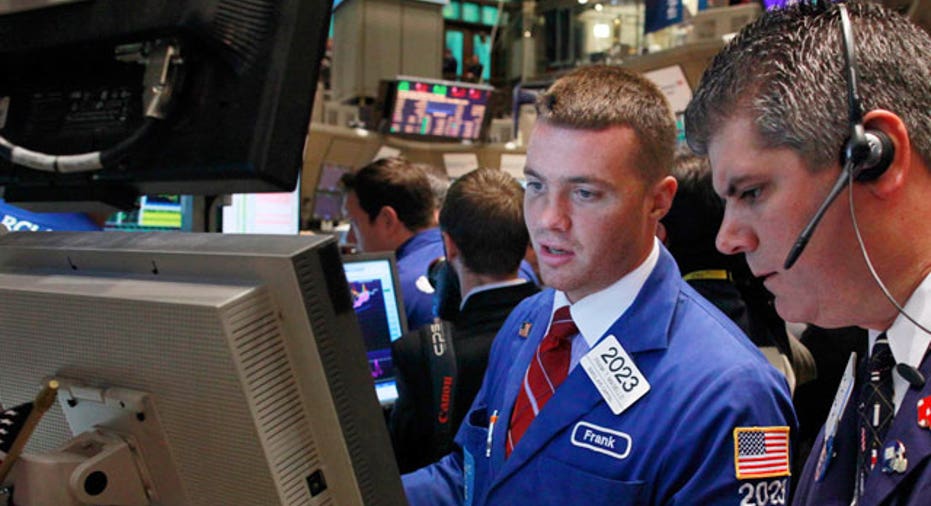 U.S. equity markets jumped on Thursday as another round of reports about possible oil production cuts hit the tape early in the session.
The Dow Jones Industrial Average was 124 points higher, or 0.78% to 16068. The S&P 500 gained 10 points, or 0.57% to 1893., while the Nasdaq Composite rose 38 points, or 0.86% to 4506.
Energy was the biggest sector gainer, rising nearly 4% during the session, while health care lagged nearly 3% as the Nasdaq Biotechnology Index stumbled.
Today's Markets
As has been the case in recent weeks, Wall Street chased oil prices higher after a late-morning report from Reuters indicated ministers from the Organization of the Petroleum Exporting Countries (OPEC) could meet next month to discuss output cuts, sent global oil prices jumping, and Wall Street followed suit.
Global oil prices hit a three-week high, bouncing well off fresh 12-year lows of sub-$30 dollar prices on Thursday. West Texas Intermediate crude, the U.S. benchmark, popped 5% , but settled up 2.85% at $33.22 a barrel, while Brent gained 2.39% on the session  to $33.89 a barrel.
The energy sector gained nearly 4% on the heels of the announcement, as oil-industry heavyweights Chevron (NYSE:CVX) and Exxon (NYSE:XOM) were the Dow's second and third-biggest  gainers, and all 40 energy stocks in the S&P 500 were in positive territory.
Reuters reported that Russia's energy minister said a discussion about the oil market's oversupply was reasonable, and that OPEC was attempting to organize a meeting with its producers slated for next month.
The comments were a welcome reprieve for the market, which has been saturated with excess supply for nearly two years as OPEC members kept the spigots open when prices began falling in the summer of 2014. Their hope had been to retain market share as the oversupplied market was thought to eventually hurt high-cost shale producers. So far, that theory hasn't played out as expected, and global producers are dealing with the consequences of multi-year low prices.
Larry Shover, chief investment officer at Solutions Fund Group, said the chances for a production cut, in his view, are "extremely" slim.
"With sanctions only recently lifted on Iran, it's unlikely that Tehran would agree to production cuts without first returning to full output," he explained. "Any kind of premium in oil prices due to supply cut comments is likely to dissipate. For the Saudis, Russia and Iraq are not enough: It's essential that Iran also cuts."
Heavy selling pressure weighed on health care and biotechnology names in the middle part of the session. Names including Pfizer (NYSE:PFE), Merck (NYSE:MRK) were among the Dow's biggest losers, while the S&P was pressured by names like Juniper (NYSE:JNPR), Abbott Labs (NYSE:ABT), and Vertex (NASDAQ:VRX) after the companies reported earnings.
Vertex Pharmaceuticals (NASDAQ:VRX) saw a number of price-target cuts from big-name firms including Goldman Sachs (NYSE:GS), JPMorgan (NYSE:JPM), UBS Group (NYSE:UBS) and Credit Suisse (NYSE:CS) on the heels of its earnings report after the bell Wednesday.  Meanwhile, Abbott reported a drop in revenue in its most recent quarter, citing stronger the stronger dollar.
Mark Schoenebaum, Evercore biotech and pharmaceuticals analyst, said in a note the market's gyration "has nothing to do with" a change in fundamentals.
"It's likely due to the market's 'risk-off' mentality," he wrote. "Biotech and pharma have been 'for sale' since Hillary [Clinton]'s drug pricing tweet in October, and it simply appears today's move is a continuation of that trend."
Meanwhile, U.S. investors also focused on fourth-quarter earnings season, which kicked into high gear this week. As of the close of trade on Wednesday, 114 S&P 500 companies had reported earnings with 77 of them beating Wall Street's expectations. Sixteen of those companies met forecasts, while 21 missed. According to S&P Capital IQ senior analyst, Lindsey Bell, that equates to a 68% beat rate, which is better than the 66% historical average.
On Thursday, Wall Street parsed a slew of reports including manufacturing-equipment maker Caterpillar (NYSE:CAT), which revealed a beat on the bottom line, and issued forward earnings guidance that topped expectations. However, the company said that in the face of high commodity costs, it would increase restructuring costs and planned to slash 10,000 jobs over the next two years.
After the closing bell, traders look forward to results from e-commerce giant Amazon (NASDAQ:AMZN) and tech behemoth Microsoft (NASDAQ:MSFT).
Elsewhere, on the economic front, durable goods orders from the Commerce Department showed businesses in the U.S. continued to hold back on spending in plant and equipment. Orders plunged 5.1% last month, coming in worse than the expectation for a decline of 0.6%. Excluding the transportation component, orders fell 1.2%, a further decline that then 0.1% forecast.
The National Association of Realtors, meanwhile, reported the number of singed contracts to buy previously-owned homes rose 0.1% last month, less than the 0.8% rise economists expected.