U.S. Energy Boom Is Under Attack!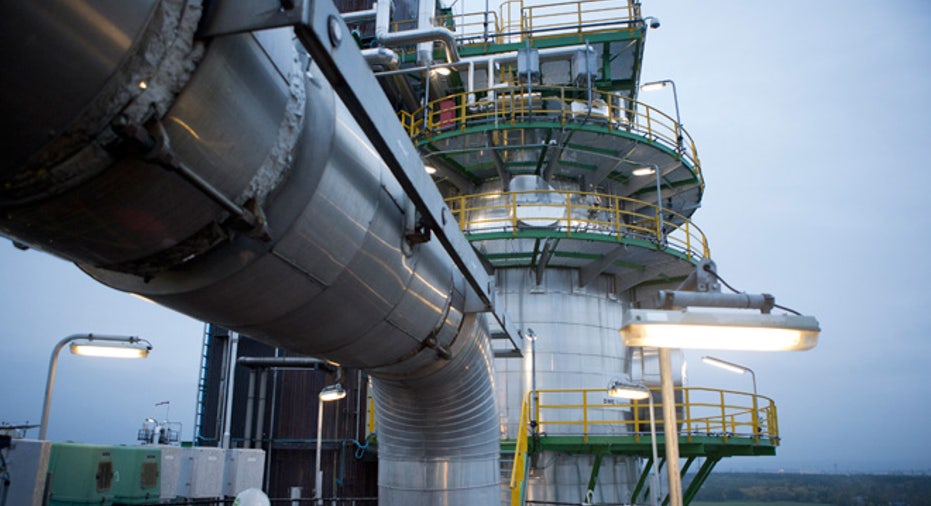 Falling oil prices are taking a big toll on U.S. oil rig counts, causing the biggest weekly drop in over 20 years. The Saudi oil price war is taking on capsulitis, and the drop in rig counts could be signaling more problems for the U.S. energy sector as well as the banks and the junk bond markets that lend the drillers money. The good news, of course, is that gasoline prices continue to plunge and it is making the potential economic fallout easier to take -- but with deflationary pressures building across the globe the economic fallout from the oil price crash may have only just begun.
Baker Hughes reported that oil rigs declined by a whopping 61 to 1,421. The stunning drop came after 4 weeks of drops and the biggest weekly drop since 1991. This is a worrying number as it appears that investment in the energy sector could be grinding to a halt. The New York Times reported that Junk bonds issued by energy companies are signaling a jarring jump in the number of defaults in the coming months. Martin S. Fridson, chief investment officer at Lehmann Livian Fridson Advisors, said "the yields on energy junk bonds appeared to be predicting that 6 percent of the bonds would default this year, and even more in 2016." There was one report that exploration and production could cut their 2015 capital spending by 25 to 30 percent in North America after 6 straight years of gains. The U.S. energy boom is under attack and we are seeing job losses already.
This come as the Saudis and the UAE continue to try to drive down prices. It seems some in the OPEC cartel have taken exception to the fact that the U.S. was on its way to energy independence as we raised our output to 9.14 million barrels a day, the highest since 1983. Yousef Al Otaiba, the United Arab Emirates ambassador to the U.S., said the UAE would not cut production no matter how low oil prices might fall.
The Saudis and the UAE are taking no prisoners, and while the U.S. energy producers are their main target, economic pain in Russia and Iran is not causing them to lose any sleep. Russia got a downgrade, as Fitch downgraded Russia's foreign currency bonds to BBB-, one notch above junk. Iran is saying the drop in price is a conspiracy concocted between the U.S. and the Saudis, of course that can't be true because, let's face it, the Saudis and President Obama are not really getting along that well. The main point is the Saudis and the UAE are trying to rig oil by driving it lower to silence U.S. rigs.
The good news though is brought to us by none other than the princess of petro, Trilby Lundberg. Trilby and her widely followed Lundberg survey reported that gas prices fell a whopping 26.92 cents in the last three weeks, hitting $2.0549 a gallon. That is the lowest price since April 2009.
Yet globally there are still fears that things are not so great. Copper prices hit a four-and-a-half-year low as weak manufacturing data in China weighs on demand sentiment.
The other big thing to watch today is grains. The first grain report of the year is usually a market mover. Take a look at action from the past according to the Ohio Country Journal. For Corn 2007 – Up the Limit , Soybeans  2007 – Up 42 cents, Corn 2008 – Up the Limit, Soybeans  2008 – Up 38 cents, Corn 2009 – Down the Limit, Soybeans  2009 – Down 70 cents ,Corn 2010 – Down the Limit,  soybeans 2010 – Down 32 cents, 2011 Corn  – Up nearly the Limit, 2011 Soybeans  – Up 48 cents,2012 Corn  – Down the Limit,  2012 Soybeans – Down 20 cents,2013 Corn  – Up 10 Cents , Soybeans    2013 – Down 6 cents, 2014 Corn – Up 19 Cents, 2014 Soybeans  – Up 5 cents, 2009 – Down the Limit 2009 – Down 70 cents, 2010 – Down the 2010 – Down 32 cents. They are looking for "Corn production at 14.54 billion with a yield of 175.4 and carryout of 2.12 billion.  We are looking for a December 1st stocks figure of 11.54 billion.  In beans, we are estimating a crop of 3.986 billion using a yield of 47.65 and projected carryout of 413 million. December 1st stocks of 2.625 billion.  For wheat, we are estimating a carryout of 665 and are looking for all wheat acreage at 42.75."
MarketWatch Says that I am a must follow in 2015 on Twitter! http://www.marketwatch.com/(S(rnrsydaynixa5x55oiibxm45))/story/these-twitter-pros-are-2015s-must-follows-2014-12-19?pagenumber=2.
Past results are not necessarily indicative of future results. Investing in futures can involve substantial risk of loss & is not suitable for everyone. Trading foreign exchange also involves a high degree of risk. The leverage created by trading on margin can work against you as well as for you, and losses can exceed your entire investment. Before opening an account and trading, you should seek advice from your advisors as appropriate to ensure that you understand the risks and can withstand the losses.
The information and data in this report were obtained from sources considered reliable. Their accuracy or completeness is not guaranteed and the giving of the same is not to be deemed as an offer or solicitation on our part with respect to the sale or purchase of any securities or futures. The Price Futures Group, its officers, directors, employees, and brokers may in the normal course of business have positions, which may or may not agree with the opinions expressed in this report. Any decision to purchase or sell as a result of the opinions expressed in this report will be the full responsibility of the person authorizing such transaction. Reproduction and/or distribution of any portion of this report are strictly prohibited without the written permission of the author. Trading in futures contracts, options on futures contracts, and forward contracts is not suitable for all investors and involves substantial risks.