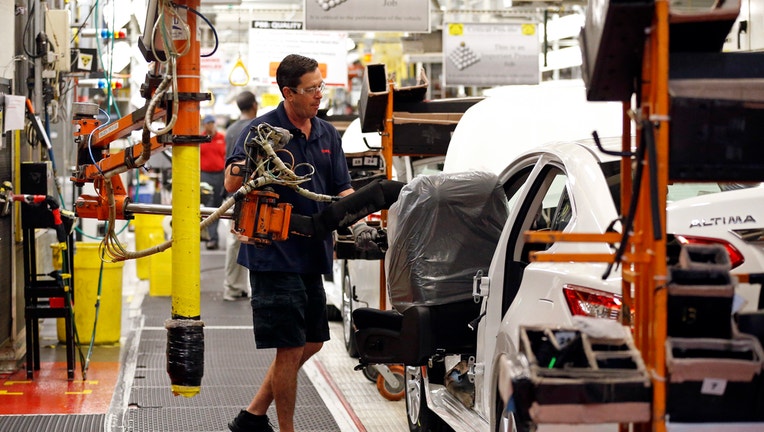 WASHINGTON--Demand for long-lasting factory goods declined in May for the second straight month, a possible sign of softness in the U.S. manufacturing sector.
Orders for durable goods--products designed to last at least three years, such as computers and industrial robots--decreased 1.1% from April to a seasonally adjusted $228.18 billion in May, the Commerce Department said Monday. That was the largest drop in six months.
Economists surveyed by The Wall Street Journal had expected a more modest 0.4% decline last month. April orders were revised down to a 0.9% decline, which followed four straight monthly rises.
Last month's fall was led by sharp declines in two volatile categories, a 30.8% drop in military-aircraft orders and a 11.7% drop in orders for civilian airplanes and parts.
Excluding the transportation segment, orders rose 0.1% in May. Excluding defense products, orders were down 0.6% from April.
More broadly, factory demand has strengthened in 2017. Durable-goods orders rose 2.8% in the first five months of 2017 compared with a year earlier.
A closely watched proxy for business investment in new equipment, orders for nondefense capital goods excluding aircraft, fell 0.2% in May from the prior month but was up 2.3% year-to-date.
The U.S. manufacturing sector gained traction over the past year after a weak stretch in 2015 and into 2016. Falling oil prices pressured the domestic energy industry, while a strong dollar and global weakness weighed on foreign demand for U.S. exports.
Now, the global economy has picked up, boosting international trade flows. World oil prices stabilized, though they've moved lower in recent weeks. The dollar's value jumped after last year's presidential election, but has moved lower this year.
Total U.S. industrial production rose 2.2% in May from a year earlier, including 1.4% growth for manufacturing output, according to Federal Reserve data. A private-sector gauge of U.S. manufacturing activity, produced by the Institute for Supply Management, showed expansion in May for the ninth consecutive month.
Companies' capital expenditures have rebounded, too. A broad measure of U.S. business spending on equipment such as computers and machinery, fixed nonresidential investment in equipment, rose in the first quarter of 2017 and the fourth quarter of 2016 following four consecutive quarterly declines.
"Business investment, which was weak for much of last year, has continued to expand," Federal Reserve Chairwoman Janet Yellen told reporters this month. "And exports have shown greater strength this year, in part reflecting a pickup in global growth."
The Commerce Department's durable-goods report can be accessed at: https://www.census.gov/manufacturing/m3/index.html
Write to Ben Leubsdorf at ben.leubsdorf@wsj.com and Sarah Chaney at sarah.chaney@wsj.com
(END) Dow Jones Newswires