U.S. Crude Spikes Nearly 5% on Jobs Report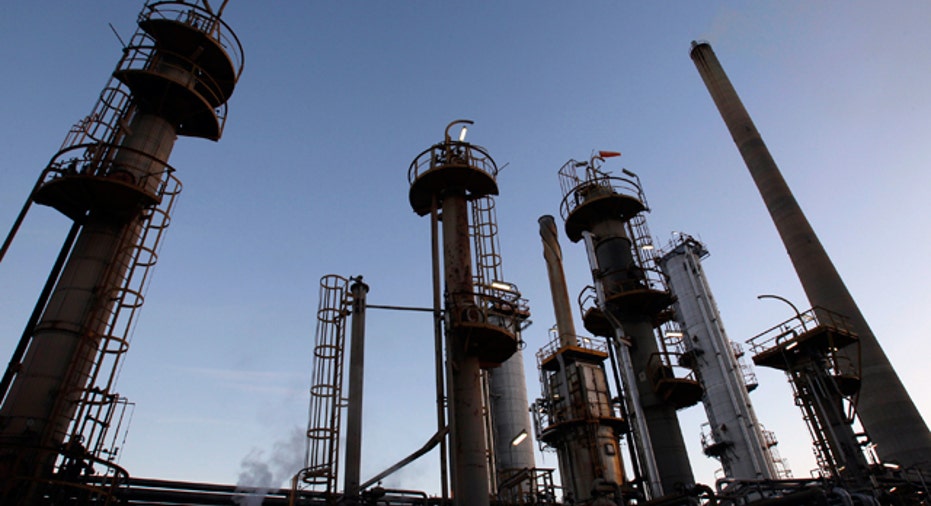 Oil prices rose sharply on Friday, with Brent crude futures hitting a 10-week high, after a U.S. nonfarm payrolls report showed employers added more jobs than expected in July.
U.S. crude jumped nearly 5 percent as the better-than expected jump in jobs additions, even with a small rise in the unemployment rate, to 8.3 percent, sparked a rally in equities markets and pushed the euro up versus the dollar.
The 19-commodity Thomson Reuters-Jefferies CRB index rose 2 percent, led by U.S. crude as a weak dollar fed the bull market sentiment.
The dollar slipped 1 percent against a basket of currencies. A weaker U.S. currency can be supportive to dollar-denominated oil and other commodities.
"Today's U.S. employment report for July was much better than economists had expected, and equity and industrial commodity markets are likely to respond bullishly today," Jason Schenker, president at Prestige Economics LLC in Austin, Texas, said in an email.
Brent September crude rose $3.04 to settle at $108.94 a barrel, having pushed 3 cents above the 100-day moving average to reach $109.13, highest intraday front-month price since reaching $109.36 on May 22.
U.S. September crude rose $4.27 to settle at $91.40 a barrel, having reached $91.74, highest since July 20.
U.S. crude fell 2 percent on Thursday on weak economic data and dashed hopes for more stimulus when the European Central Bank did not announce immediate and concrete new actions to bolster economic growth.
Brent posted a 2.32 percent weekly gain and U.S. crude rose 1.4 percent for the week, after slipping the same percentage last week. Brent rose 7.28 percent and U.S. crude gained 3.65 percent in July.
Money managers cut their net long U.S. crude futures and options positions in the week to July 31, the Commodities Futures Trading Commission said on Friday.
Total Brent crude trading volumes lagged the 30-day average by 7 percent, with U.S. crude dealings 12 percent above its 30-day average.
Brent crude's premium to U.S. crude <CL-LCO1=R> dropped back below $18 a barrel, after nearing $19 intraday.
But Brent's front-month premium to the Brent October contract <LCO-1=R> was little changed at $1.49 a barrel based on settlements, as the North Sea problems and geopolitical fears keep nearby Brent contracts supported.
U.S. employers added 163,000 jobs last month, the most in five months, the Labor Department said. The reading was well above the 100,000 consensus forecast in a Reuters poll of analysts.
The slight rise in the unemployment rate, however, had some analysts and traders saying it was likely to keep on the table the possibility of further monetary stimulus for the economy from the U.S. Federal Reserve, even after the Fed's meeting that concluded on Wednesday did not provide any additional stimulus.
More pressure on the dollar and support for oil resulted from a report showing the pace of growth in the huge U.S. services sector edged up in July, though employment fell to its lowest level in nearly a year.
U.S. RBOB gasoline rallied more than 2 percent, and heating oil futures nearly 3 percent as they pushed back above $2.90 a gallon. Gasoline pushed back above its 200-day moving average and heating oil moved above its 100-day moving average.
Refined products futures, especially gasoline, have been lifted because of problems and shut units at several U.S. refineries and by the shutdown, after a leak, of Enbridge's Line 14 crude oil pipeline, which carries Canadian crude to Midwest refineries.
THREATS TO SUPPLY
Supportive to crude and refined products futures, Tropical Storm Ernesto, the fifth storm of the Atlantic season, entered the Caribbean on Friday, still projected to move toward the Gulf of Mexico.
The continuing turmoil in the Middle East continues to be supportive for crude oil prices. The European Union's embargo on importing Iranian crude has entered a second month as the West's dispute with Iran over Tehran's nuclear program continues to keep tensions stoked.
As fighting continued in Syria, Iran blamed Western and Arab countries on Friday for the failure of Kofi Annan's Syria peace plan, a day after the former U.N. secretary general quit as international envoy.
Brent crude garnered additional support this week on expectations that maintenance in the British sector of the North Sea will cut crude oil production in September.