U.S. Bancorp Stock in 3 Charts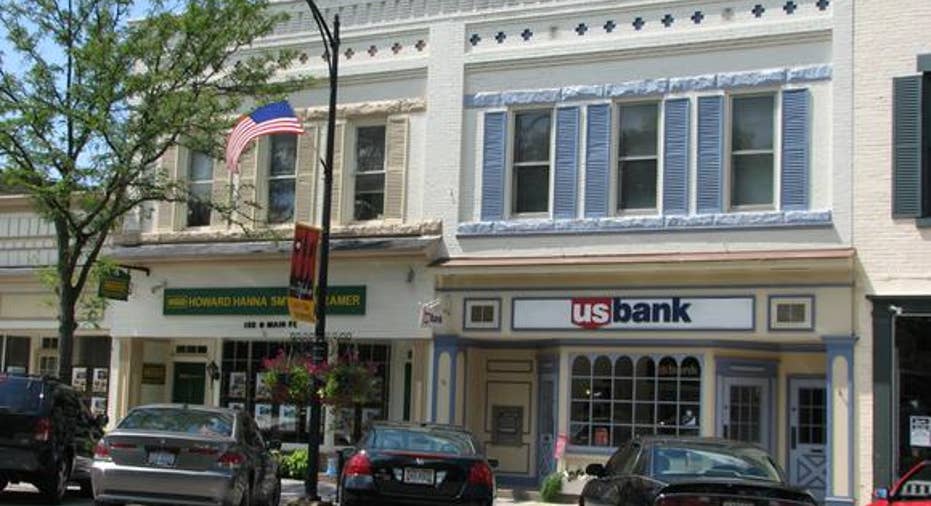 A U.S. Bancorp branch. Image source: Wikimedia Commons.
If you're in the market for a bank stock, then you should consider U.S. Bancorp , a $422 billion bank based in Minneapolis, Minnesota. As you can see in the three charts below, while it's the most expensive big bank stock right now, it's also the most profitable and has generated industry-leading shareholder returns since its formative merger in Oct. 2000.
1. ProfitabilityThe most popular way to gauge a bank's profitability is to compare its annual net income to its shareholders equity. At the very least, banks seek to produce a return on equity of 10% -- though, within reason, a higher ROE is better than a lower one so long as it's not the result of excessive risk-taking.
Based on this measure, U.S. Bancorp has few rivals. It delivered record net income and earnings per share last year and both its return on average assets and its return on equity led the industry, as Chairman and CEO Richard Davis pointed out in his 2015 shareholder letter.
Data source: YCharts.com.
While it's true that higher compliance costs and persistently low interest rates have weighed on U.S. Bancorp's profitability over the past few years, causing its return on average common equity to drop from 16.2% in 2012 down to 14% last year, the downward trend should change direction when the economy once again picks up steam.
2. ValuationOne consequence of U.S. Bancorp's industry-leading profitability is the fact that its shares trade for a higher valuation than most of its peers. A popular metric to assess bank stock valuations is the price-to-tangible book value ratio. This compares a bank's stock price to its tangible book value per share.
As a general rule, well-run banks such as U.S. Bancorp trade for a premium to their tangible book values. Less profitable banks, on the other hand, often trade for a discount to tangible book value. Given this, as you can see in the chart below, it makes sense that U.S. Bancorp's shares trade for a much higher valuation than any of its peers, outdistancing even Wells Fargo.
Data source: YCharts.com.
3. PerformanceThe fact that U.S. Bancorp's shares trade for a healthy premium to tangible book value hasn't stopped them from outperforming every other big bank stock since the turn of the century. This timing is notable because 2000 was when U.S. Bancorp assumed its present form, following Firstar's acquisition of U.S. Bancorp in October of that year.
USB total return price data by YCharts.
As the chart above illustrates, after factoring in dividends and stock buybacks, shares of U.S. Bancorp have returned a total of 256% over the past 16 years. Its closest rival is Wells Fargo, which produced a total shareholder return of 217% over the same stretch.
The point here is that U.S. Bancorp's stock may seem expensive, but, as the old saying goes, you get what you pay for.
The article U.S. Bancorp Stock in 3 Charts originally appeared on Fool.com.
John Maxfield owns shares of U.S. Bancorp and Wells Fargo. The Motley Fool owns shares of and recommends Wells Fargo. The Motley Fool has the following options: short May 2016 $52 puts on Wells Fargo. Try any of our Foolish newsletter services free for 30 days. We Fools may not all hold the same opinions, but we all believe that considering a diverse range of insights makes us better investors. The Motley Fool has a disclosure policy.
Copyright 1995 - 2016 The Motley Fool, LLC. All rights reserved. The Motley Fool has a disclosure policy.