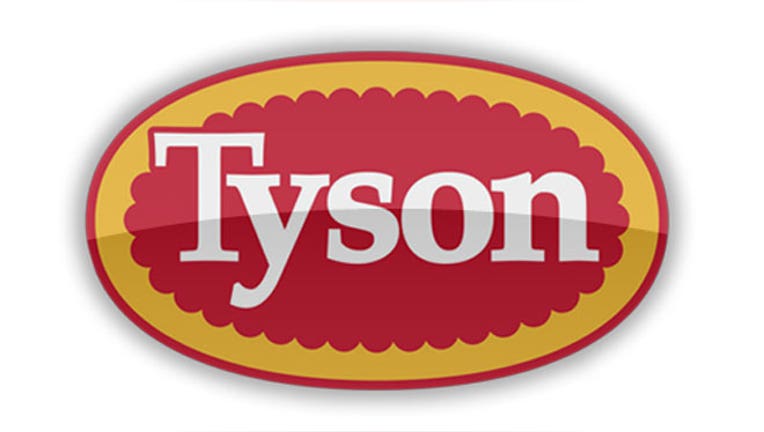 Tyson Foods (NYSE:TSN) revealed a worse-than-expected decline in second-quarter profit on Monday amid weakening chicken margins as the effects of last year's drought continued to weigh on feed and raw material costs.
The company, however, says it is confident its fiscal 2013 results will top those of 2012.
For the full year, it sees sales of roughly $34.5 billion, in-line with the consensus view of $34.49 billion, mostly resulting from price increases related to an expected decline in supply of certain meats, partially offset by higher raw material costs.
While Tyson anticipates a 2% to 3% increase in U.S. chicken production, it sees beef supplies falling in the same range and flat hog supply, though the company continues to believe that the beef segment will remain profitable.
"Our business is structured to withstand adverse conditions, and we worked through the issues while positioning ourselves for what we believe will be a strong performance in the second half of the year," Tyson CEO Donnie Smith said in a statement.
For the second quarter, the Springdale, Ark.-based food company reported net income of $106 million, or 26 cents a share, down from a year-earlier profit of $166 million, or 44 cents.
Excluding one-time items, Tyson said it earned 36 cents, short of average analyst estimates of 45 cents in a Thomson Reuters poll.
Revenue for the three-month period was $8.42 billion, up from $8.3 billion a year ago but missed the Street's view of $8.58 billion.
"Our second quarter typically is our most challenging, and this quarter was no exception," Smith said.
Shares of Tyson, which produces an assortment of protein products including deli meats and other prepared foods, slumped close to 5% premarket to $23.73.