Two Key Developments From the Auto Industry's Wild West: China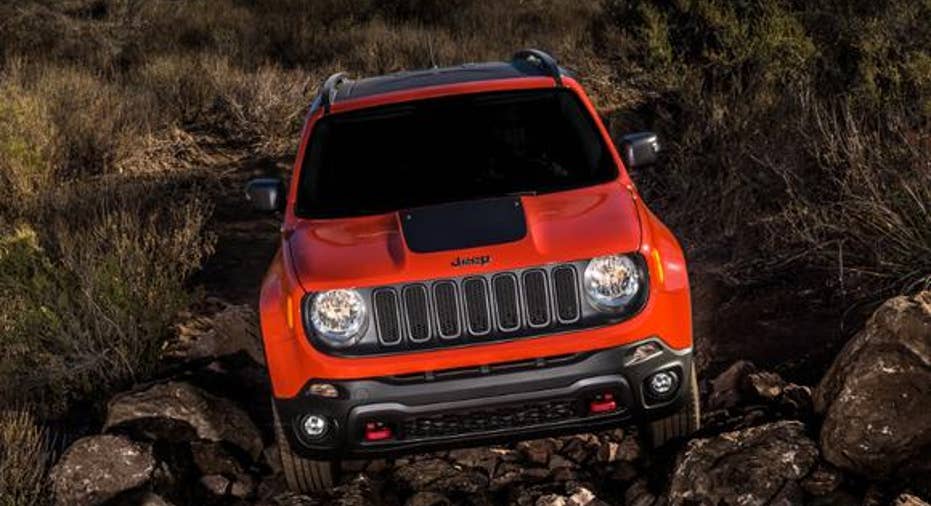 GM showing off Buick vehicles in China. Image source: General Motors.
China, already the world's largest automotive market, is somewhat like the old Wild West. That's not to say the market is "anything goes" and lawless, but rather that nobody's quite sure what's going to happen on multiple fronts.
That's the opposite of mature markets, where it's essentially set in stone that European luxury manufacturers and Germany's Volkswagensell extremely well in Europe. Japanese automakers enjoy nearly nonexistent foreign auto competition in their homeland, and Detroit's automakers -- Ford Motor Company, General Motors and Fiat Chrysler Automobiles -- have crushed the competition in the U.S. when it comes to highly profitable SUVs and full-size trucks.
In China, however, GM and Volkswagen are perennially the top two foreign automakers by a landslide, but the rest gets interesting. Japanese automakers often deal with on-again, off-again tensions with the Chinese consumer. Ford is battling to gain ground after entering the market years late, and FCA is wondering how its Jeep brand wasn't first in line to take advantage of China's surging SUV sales. In addition to all of that, Chinese automakers are making their best effort to battle the global powerhouses on their own turf, and there's that little issue of extreme pollution forcing the government to accelerate plans for the country's future with electric vehicles.
It'll be an interesting ride, and here are two of the intriguing topics to keep an eye on.
Jeep's cashing in It's fair to say Ford dropped the ball in regard to getting into China fast enough. But if that's true, it's also fair to say FCA didn't even see the ball thrown its way. Fortunately for FCA investors, it's trying to cash in by building Jeeps in China. Starting last October, FCA's Jeep began building the Cherokee in China, which will allow the company to hold down its sticker prices to make Jeep vehicles more competitive with improving Chinese-branded vehicles and locally produced foreign SUVs. That's because producing the vehicles in China enables automakers to avoid China's stiff 25% tariff on imports.
There's no question it was a good move for Jeep to begin production in China, and the result has already had an impact. Last year, Jeep's sales in China fell 28% to just under 64,000 units, but that quickly changed once the Cherokee started rolling out. Now, through the first quarter, Jeep deliveries have flip-flopped and moved 29% higher to 33,413 units, compared with the prior year's time frame. Just for context, in regard to how far Jeep has to go, Ford has already topped 100,000 SUV sales in china, through April.
Jeep's Renegade will hit the roads in China soon. Image source: Fiat Chrysler Automobiles.
Chances are that sales pace accelerates even further as Jeep began producing the smaller Renegade crossover last month at a new assembly plant in Guangzhou. By the end of the year it also plans to add a new C-segment crossover to the production plans. While China's total vehicle sales are expected to slow to the middle single digits annually, you can expect Jeep to power FCA's sales in the country to double-digit increases over the next couple of years.
The battle heats up Meanwhile, the battle between Volkswagen and General Motors is getting kicked up a notch. Volkswagen has held a solid edge in terms of sales in China over the past two to three decades, but GM managed to take the top spot last year on the back of its successful and rapidly expanding SUV portfolio and Baojun value brand.
Zeroing in on the latter of those two factors, GM's Baojun brand launched with a handful of low-priced multipurpose vehicles (MPVs), crossovers, and sedans, which has been a smart move. That said, VW isn't going to sit idly and watch GM run away with the sales crown for the foreseeable future.
Volkswagen, which was slower to react to the surge in SUV popularity in China, plans to introduce a slew of crossovers and entry-level cars to help battle Detroit's largest automaker in the region. The plan calls for VW to introduce 10 SUVs and crossovers by 2020, along with 15 EVs and plug-in hybrids, across multiple brands. It will be extremely interesting if Volkswagen sticks to its guns, because the plan will cost a hefty 4 billion euros in 2016 alone, at a time when its diesel emissions scandal is costing the company a pretty penny.
Of course, GM has a plan of its own. Between now and 2020, GM and its joint ventures are going to roll out more than 60 new and refreshed models in China, including 13 in 2016. Roughly 40% of the new vehicles GM aims to launch over the next five years are SUVs and MPVs. The next few years will be a battle of two heavyweights aiming for the sales crown in China.
Any concerns? Naturally, all of this potential growth doesn't come without risk. Consider that China is expected to assemble about 25.3 million units in 2016 but will have nearly 12.5 million units in unused production capacity, according to PwC Autofacts. That's below the ideal production capacity level investors would like to see in mature markets -- consider the U.S. is running above 90% currently, according to IHS Automotive -- and it could spell significant trouble for automakers' profitability if there were a sudden slowdown in China's vehicle sales.
But what else would we expect for the auto industry's modern-day Wild West?
The article Two Key Developments From the Auto Industry's Wild West: China originally appeared on Fool.com.
Daniel Miller owns shares of General Motors. The Motley Fool recommends General Motors. Try any of our Foolish newsletter services free for 30 days. We Fools may not all hold the same opinions, but we all believe that considering a diverse range of insights makes us better investors. The Motley Fool has a disclosure policy.
Copyright 1995 - 2016 The Motley Fool, LLC. All rights reserved. The Motley Fool has a disclosure policy.