Two big hedge funds unwind bets against Deutsche in sign of confidence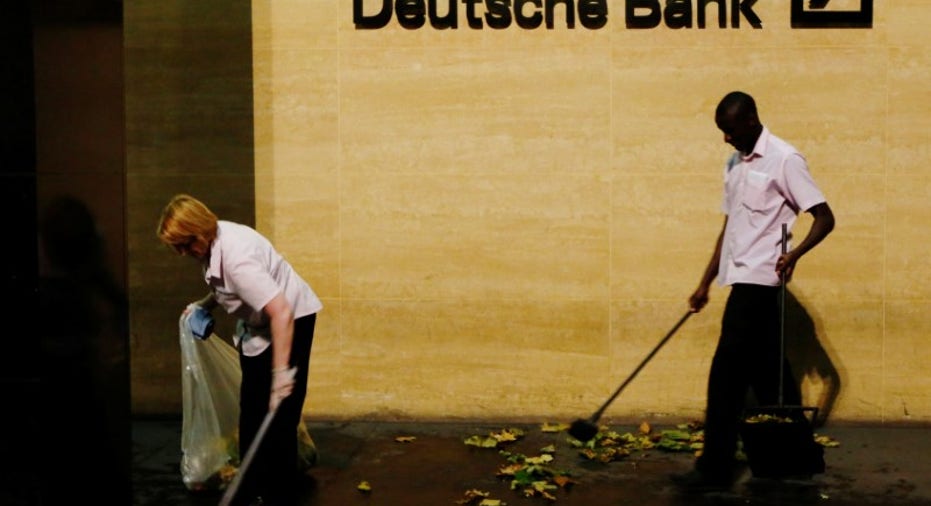 Two leading hedge funds which made big bets on Deutsche Bank shares falling are now reducing their "short" positions, in a sign of confidence in the stability of the lender.
Germany's biggest bank has been in turmoil since mid-September when it said U.S. authorities were demanding up to $14 billion to settle claims that it missold U.S. mortgage-backed securities before the financial crisis.
Hedge funds can take bets against companies - known as short positions - by borrowing the stock in the hope it will lose value and they can repay the loan for less, pocketing the difference.
Marshall Wace, a $25 billion hedge fund co-founded by British financier Paul Marshall and U.S. billionaire Robert Citrone's Discovery Capital Management had been among the funds with the biggest short Deutsche positions, dating from before the crisis erupted three weeks ago.
However official filings by the funds to German authorities show both have been unwinding their short positions over the past week, indicating that they believe the bank's share price has bottomed-out. The stock dropped to a record low on Sept. 30 but has since rebounded slightly.
London-based Marshall Wace and Connecticut-based Discovery Capital both declined to comment on the reasons for their transactions.
Data indicates the reductions could reflect a wider trend in the "short interest" market, which is dominated by hedge funds.
The total amount of short positions in Deutsche dropped to 5.34 percent of the bank's stock on Wednesday, having peaked at 6.39 percent a day earlier following a rapid rise from below 2 percent in mid-September, according to data from Markit.
Marshall Wace, which had borrowed 1.03 percent of Deutsche's total share capital, began to unwind its short on Sept. 29, reducing its position to 0.94, the filings show. It has since cut it further, to 0.88 percent.
Discovery Capital Management, which had 0.61 percent, cut its bet to 0.51 percent on Sept. 30 and has since gone down to 0.1 percent.
European law requires short investors to declare their positions if they borrow more than 0.5 percent of a company's shares. This makes it possible to chart their activity.
It is not clear if the transactions of Marshall Wace and Discovery Capital represent a wider hedge fund trend, given the Markit data offers only a snapshot, and some other big funds have not reduced their short positions in Deutsche.
Highfields Capital Management retains the 0.74 percent position it had before September, while fellow U.S. fund AQR Capital Management took a 0.5 percent position on Sept. 28 and still has it, filings show.
Both funds declined to comment.
(Additional reporting by Jonathan Gould and Arno Schuetze in Frankfurt, and Alasdair Pal in London; Editing by Pravin Char)