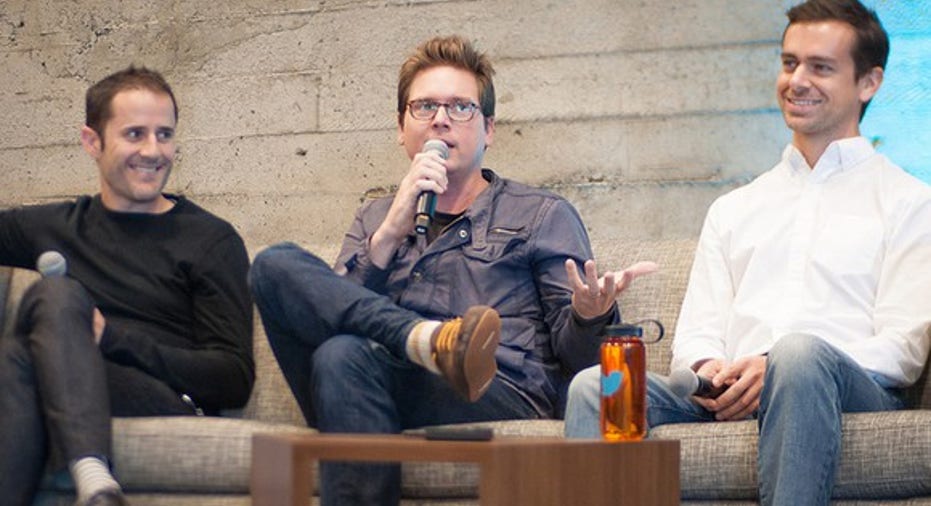 Twitter co-founders Evan Williams, Biz Stone, and Jack Dorsey (from left to right). Image source: Twitter.
Or rather, Twitter (NYSE: TWTR) acqui-hires a new VP of product, while its VP of global online sales abandons ship.
The smaller social network has now acquired Yes, Inc. and named its founder Keith Coleman as its new product chief. The small Silicon Valley start-up was founded two years ago to build social apps that could connect people, such as Frenzy (make plans with friends quickly) and WYD (a simple way to share what you're doing with your friends). Yes says that it will be shutting down both apps "in the coming weeks" so that it can focus on its "new efforts" at Twitter.No financial terms were disclosed.
Separately, Twitter's VP of global online sales, Richard Alfonsi, announced on Twitter that he is leaving the company to join Stripe, where he will head up global revenue and growth. At Twitter, Alfonsi had been responsible for ad sales. The news comes just weeks after Twitter COO Adam Bain stepped down.
While Twitter is gaining a high-level executive at the same time that it's losing one, the loss hurts more. Here's why.
The brain drain continues
It remains utterly true that Twitter is in desperate need of meaningful product improvements that can potentially broaden the service's appeal to mainstream users. The company has not had a product chief in almost a year, and this is an incredibly important spot to fill as Twitter continues its efforts to improve usability. Coleman has a strong background, spending a decade at a nearby search giant as a director of product management before leaving to found Yes in 2014. His acqui-hire is undoubtedly a positive development for Twitter.
But Alfonsi's departure represents the latest in a long string of executive departures, which is the more troubling trend -- and a major red flag for investors. Here's a brief list of executive departures from just this year:
January 2016: VP of Global Media Katie Stanton, SVP of Product Kevin Weil, head of engineering Alex Roetter, head of HR Brian Schipper, and Vine founder Jason Toff
June 2016: VP of Global Business Development Jana Messerschmidt and VP of Global Media and Commerce Nathan Hubbard
August 2016: VP of Global Communications Natalie Kerris and head of revenue and policy communications Jim Prosser
November 2016: COO Adam Bain
December 2016: VP of Global Online Sales Richard Alfonsi
This is not a comprehensive list, but rather just the highest-profile departures of 2016. It's one thing if a company needs to replace executives in order to improve the business, which would generally be a good thing. But it's another thing altogether if an executive departs due to corporate infighting, a toxic corporate culture, or simple unhappiness. While the circumstances surrounding any individual departure are always unclear (given the expectedly professional farewells that are shared with the public), this string of departures does not inspire much confidence in Twitter's management. And that's just 2016. TechCrunch compiled another brief history of Twitter executive departures going back a couple more years.
Investors should be cautiously optimistic about Twitter scoring a new product chief with the hopes that Coleman will actually help make meaningful improvements to the core service, but unless Twitter can stop its relentless brain drain at the highest echelons of the company, there's little reason to believe that it can execute in all the ways (beyond product improvements) that it needs to if it wants to regain investor confidence.
10 stocks we like better than Twitter When investing geniuses David and Tom Gardner have a stock tip, it can pay to listen. After all, the newsletter they have run for over a decade, Motley Fool Stock Advisor, has tripled the market.*
David and Tom just revealed what they believe are the 10 best stocks for investors to buy right now... and Twitter wasn't one of them! That's right -- they think these 10 stocks are even better buys.
Click here to learn about these picks!
*Stock Advisor returns as of November 7, 2016
Evan Niu, CFA has no position in any stocks mentioned. The Motley Fool owns shares of and recommends Twitter. Try any of our Foolish newsletter services free for 30 days. We Fools may not all hold the same opinions, but we all believe that considering a diverse range of insights makes us better investors. The Motley Fool has a disclosure policy.