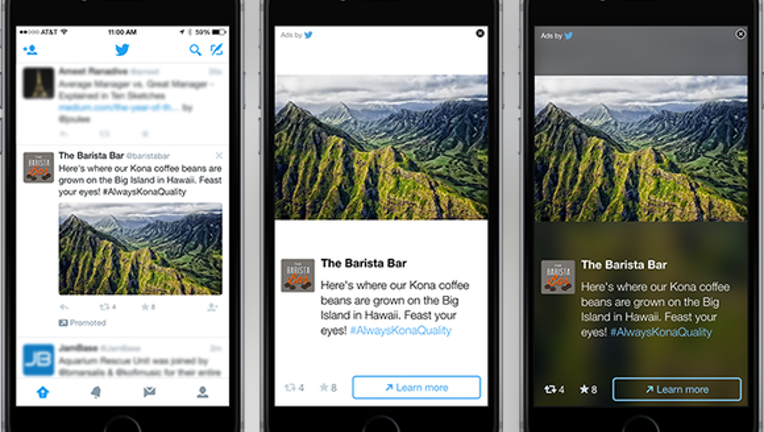 Twitter ads started showing up more in other publishers' apps last quarter. Image source: Twitter.
Last quarter, Twitter expanded and rebranded its Publisher Network, calling it the Twitter Audience Platform. The expansion opened up Twitter's current ad inventory to the thousands of app publishers that use Twitter's MoPub. The move leveraged Twitter's demand-side mobile ad platform to offset the slow growth of its on-site user base.
And the move paid off. Twitter saw ad revenue from the Twitter Audience Platform grow to $66 million in the third quarter. That's an increase from $5 million during the year-ago period, and more than the company made from its ad network since it launched in the third quarter of 2014. In fact, the Twitter Audience Platform accounted for 31.6% of total ad revenue growth during the third quarter.
But there's a price to be paidThe only downside to this excellent ad revenue growth is that it costs a lot of money. Twitter's traffic acquisition costs during the third quarter skyrocketed more than 1,000% from $3.7 million to $41.5 million. That's 63% of revenue from Twitter's ad network.
That percentage is actually less than Google's, an Alphabet company. Google paid out $2.42 billion to Network Partners, 68% of revenue from Google Network Members. Google has seen its display ad business growth slow significantly as mobile takes over desktop usage and more ads are displayed in apps. This is the market Twitter is going after.
With Google paying out more of its revenue to advertising partners, Twitter may face pressure to increase its payout to publishers or provide better ad pricing in order to continue growing its network ad revenue long term. Twitter has floundered while trying to increase ad pricing, which may cause its traffic acquisition costs as a percentage of revenue to climb even higher.
Hiding slowdown of on-site revenueOn-site ad revenue is still growing, but growth has slowed as Twitter has failed to add very many new users over the last several quarters. Twitter has added a total of 5 million net active users of its website and mobile app over the last six months.
The addition of Twitter's Audience Platform revenue is showing investors a much rosier picture for Twitter's advertising revenue than actually exists. During the third quarter of 2014, Twitter grew on-site ad revenue 106%. Last quarter, on-site ad revenue grew just 42%. With the significantly slower user growth over the last six months, that growth rate ought to slow down even further.
Twitter's EBITDA margins will take a significant hit going forward as revenue from Twitter's Audience Platform makes up a larger percentage of ad revenue. Analyst Michael Nathanson of MoffettNathanson believes revenue from the ad network will account for 10% of Twitter's total ad revenue in 2015. As such, he believes "consensus adjusted EBITDA expectations are currently 10% too high for 2016-2018."
Twitter has some options to ramp up its higher-margin on-site ad revenue. CFO Anthony Noto told investors that it's still only one-third of the way to its long-term outlook on ad load -- meaning Twitter could increase the number of ads users see.
What would be more beneficial, however, is if Twitter could increase the value of its ads, increasing the price bidders are willing to pay. That would not only increase Twitter's on-site ad revenue, it would increase its network revenue and maintain the share it could keep from publishers. Unfortunately, Twitter's efforts to increase ad prices haven't seen a lot of success. Average ad prices are down 12% year to date.
While Twitter has some potential to keep growing its on-site ad revenue without much user growth, investors should pay attention to what percentage of ad revenue growth is coming from the expansion of the Twitter Audience Platform.
The article Twitter Inc. Must Spend More for Ad Revenue Growth originally appeared on Fool.com.
Adam Levy has no position in any stocks mentioned. The Motley Fool owns shares of and recommends Alphabet (A and C shares) and Twitter. Try any of our Foolish newsletter services free for 30 days. We Fools may not all hold the same opinions, but we all believe that considering a diverse range of insights makes us better investors. The Motley Fool has a disclosure policy.
Copyright 1995 - 2015 The Motley Fool, LLC. All rights reserved. The Motley Fool has a disclosure policy.