Twitter Beats Facebook on This Metric -- but Will This Lead Last?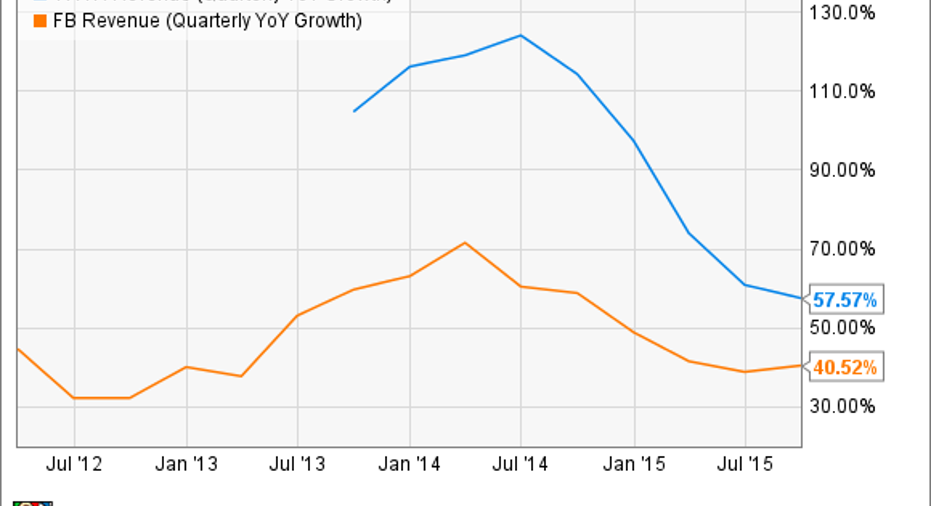 Facebook and Twitter stocks have trended in opposite directions throughout 2015. Facebook's rise reflects the company's excellent execution during the year, while Twitter's decline echoes growing uncertainty surrounding the smaller social network's slowing user growth.
But despite Facebook stock's huge outperformance of Twitter's during 2015, there is one key area where Twitter continues to stand out compared to Facebook: revenue growth.
Twitter's rapid revenue growth
Driven primarily by the company's rapidly rising mobile advertising revenue, Twitter's total revenue has been soaring, up about 58% during the company's most recent quarter compared to the year-ago period. This growth is well above Facebook's 41% increase in revenue during this period.
Rapid revenue growth is the norm for Twitter; the company has exceeded analyst estimates for revenue growth in every quarter since it went public.
Even more, Twitter's rapidly rising revenue is driving benefits to the company's bottom line. During Q3, for instance, Twitter beat analyst estimates by posting non-GAAP EPS of $0.10, which was up from $0.01 in the year-ago quarter.
Why Twitter's growth isn't enoughWith revenue rising faster than analysts have anticipated, and considering the social network's growth is handily outpacing Facebook's, why are investors still so disappointed in Twitter? Because when this revenue growth is viewed in the context of the company's slowing user growth, it doesn't appear sustainable.
Data for chart retrieved from Twitter SEC filings for quarters shown. Chart source: Author
During Twitter's most recent quarter, monthly active users increased just 1% sequentially. This is concerning. Even Twitter's CEO has even expressed disappointment in the company's ability to attract and retain new users.
Investors wonder: If Twitter can't spark higher levels of user growth, will revenue growth continue to decelerate rapidly?
TWTR Revenue (Quarterly YoY Growth) data by YCharts
Unlike Twitter, Facebook's growth in users has arguably exceeded expectations. The larger social network's monthly active users increased 4% sequentially between Q2 and Q3. And Facebook's ability to grow its users so rapidly is particularly impressive in light of the sheer size of its user base. Facebook's monthly active users increased from 1.49 billion in Q2 to 1.55 billion in Q3. Twitter, on the other hand, increased its monthly active users from 316 to 320 million during the same period. Facebook's comparatively strong growth in users gives investors confidence the social network can sustain high levels of revenue growth well into the future.
Of course, Twitter's recently appointed CEO, Jack Dorsey, acknowledges this slowing user growth problem and has the management team focused on reinvigorating it. And if Dorsey succeeds, investors can have greater confidence in the social network's potential for a sustainable period of high revenue growth.
But until Twitter can prove it can reinvigorate user growth, investors will view potential for more rapid revenue growth over the long haul with skepticism.
The article Twitter Beats Facebook on This Metric -- but Will This Lead Last? originally appeared on Fool.com.
Daniel Sparks has no position in any stocks mentioned. The Motley Fool owns shares of and recommends Facebook and Twitter. Try any of our Foolish newsletter services free for 30 days. We Fools may not all hold the same opinions, but we all believe that considering a diverse range of insights makes us better investors. The Motley Fool has a disclosure policy.
Copyright 1995 - 2015 The Motley Fool, LLC. All rights reserved. The Motley Fool has a disclosure policy.