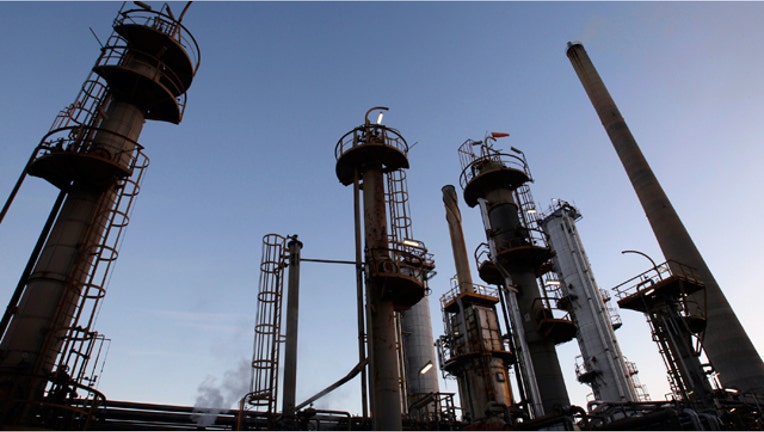 'Twas the last energy report before Christmas, when all through the pits, OPEC is making the oil price slip.
They are flooding the markets to give shale producers a scare, in hopes to maintain their oil vend share.
The cartel seems ready to run in the red, to put the threat from shale and alternatives forever to bed. Ali Naimi the OPEC Chief is setting a trap, and they are settling in to strap them of cash.
Then all of a sudden the oil stocks were in taters, the rig counts fell and dreams have been shattered. Oil stock downgrades came in a flash, as they worried how low oil prices would crash.
Oil majors' lowered outlooks were the latest blow, forcing CAPEX cuts, job cuts and economic woe.
What OPEC was doing was becoming increasingly clear, they want to dump oil and create market fear.  By driving down oil so dastardly and quick, it froze new oil projects as prices fell like a brick.
More rabid than vultures the cartel's members have no shame, as they cheat the global economy and I will call them out by name! Now Iran! Now Iraq! Now Kuwait and Algeria! Yes Venezuela! And UAE! And Qatar and Nigeria! Libya and Ecuador may have their backs to a wall, but Saudi Arabia will pump for them all. Just go away, please go away just go away all!
When you over produce there is no need to comply, just pump all you can just add to supply! Up to the tank-tops the barrels accrue, as the shale producers OPEC tries to undo.
And even in China demand is aloof, and in the U.S. we see no strong demand proof. Even as they say our economy is turning around, global oil demand growth is hard to be found. In Russia it looks like their economy is kaput and with deflation in Europe, I'd be buying some puts.
Past results are not necessarily indicative of future results. Investing in futures can involve substantial risk of loss & is not suitable for everyone. Trading foreign exchange also involves a high degree of risk. The leverage created by trading on margin can work against you as well as for you, and losses can exceed your entire investment. Before opening an account and trading, you should seek advice from your advisors as appropriate to ensure that you understand the risks and can withstand the losses.
The information and data in this report were obtained from sources considered reliable. Their accuracy or completeness is not guaranteed and the giving of the same is not to be deemed as an offer or solicitation on our part with respect to the sale or purchase of any securities or futures. The Price Futures Group, its officers, directors, employees, and brokers may in the normal course of business have positions, which may or may not agree with the opinions expressed in this report. Any decision to purchase or sell as a result of the opinions expressed in this report will be the full responsibility of the person authorizing such transaction. Reproduction and/or distribution of any portion of this report are strictly prohibited without the written permission of the author. Trading in futures contracts, options on futures contracts, and forward contracts is not suitable for all investors and involves substantial risks.