Turning on the Capital Spigots in the Cash-Strapped Water World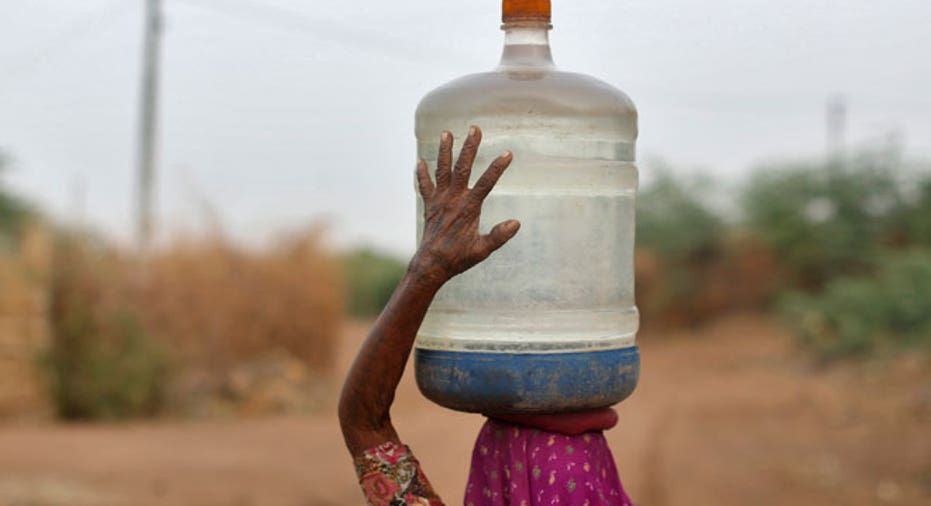 In today's complex financial system, water-related investments are about as fashionable as Myspace is in the modern social-networking scene.
Save for a handful of infrastructure funds, investors largely shun this severely undercapitalized sector due largely to an inability to hedge risk.
But with budget deficits surging in the developed world and some 2.3 billion of the world's inhabitants living in water-stressed areas, IBM (NYSE:IBM) is teaming up with a financial risk management firm to create a new index that could help lure private capital to finance everything from water pipelines to desalination plants.
Dubbed the water-cost index, this newly-announced tool by Waterfund LLC aims to benchmark the varying expenses that go into delivering water to local populations around the world.
The index would be the foundation for a slew of new derivative products that can help investment banks and private-equity firms hedge their risk, freeing them up to funnel capital into this critical area that has an estimated  investment backlog of nearly $1 trillion.
"It's a classic win-win," said Peter Williams, chief technology officer at IBM's Big Green Innovations. "We enable them to write more business and we get more of a job done that desperately needs doing. You  aren't relying on charity yet it accomplishes a supremely-worthwhile objective."
Luring Capital to Water
To this point private capital has been blocked from flowing to water infrastructure projects due to the multitude of questions surrounding water agencies, depending upon their location.
"The market as a rule doesn't care about water, period. It's kind of a sideshow," said Scott Rickards, CEO and founder of Waterfund, which announced the collaboration with IBM on Wednesday.
The water cost index would help give investors clarity on risk by benchmarking the expenses that go into building and maintaining water treatment and delivery networks.
For example, Rickards said water agencies in the blistering Middle East expend a great amount of capital, sometimes as much as 90%, on energy costs alone. By comparison, he said energy costs to deliver water to New York City are near zero because much of the water comes upriver from Upstate New York.
Billions Without Access to Clean Water
Other significant costs for water projects include interest expenses, which can total as much as 40% of total costs.
Even though much of the developed world already has access to clean water, there is a great deal of demand for capital to fund upgrades to existing, aging infrastructure. The problem is that governments, the traditional source for much of that capital, are strapped for cash amid soaring budget deficits.
"Public finance around the world is pretty strained. Private capital is hard to come by because investors haven't paid attention to water," said Rickards. "Something has to give. The World Bank can't fund all of these. Government can't fund all of these."
Likewise, the developing world is attempting to deliver water to growing populations who don't have access. According to IBM, about 41% of the world's population, or 2.3 billion people, live in water-stressed areas -- and that figure is expected to soar to 3.5 billion by 2025.
"Believe it or not, there are more people in the world who have cell phones than toilets," said Williams.
'Productive Derivatives' 
Rickards said he envisions Waterfund creating a slew of financial products based on the water cost index, such as indexed insurance or swaps, similar to derivatives that already exist allowing companies and individuals to insure against weather-related events like wind.
"We think there is a whole realm of products we can originate and build ourselves. We want to be the all-purpose products provider linked to the index," said Rickards, calling them "productive derivatives as opposed to a lot of the bad derivatives."
For now, IBM analysts are scouring through data contained in regulatory filings and annual reports to compile the early version of the index.
"IBM is serving as our Dow Jones in calculating the index," said Rickards.
The water cost index is expected to be rolled out in the coming months, initially covering just 10 cities but the goal is to eventually measure hundreds if not thousands of cities.
"We hope very much we will enable higher capital inflows to the water sector. God knows they need it," said Williams.