Trump's new trade rep poised to take stern stance on China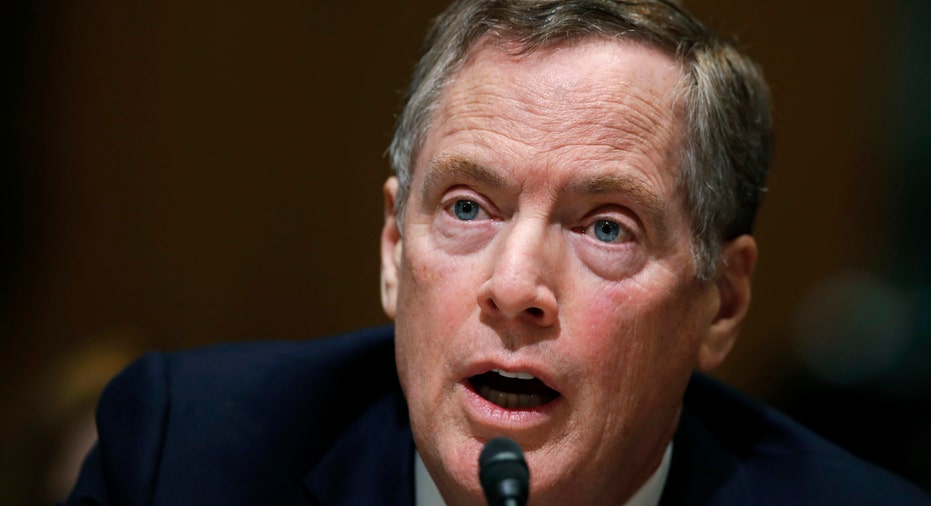 Robert Lighthizer has long complained that the United States dithered in the face of abusive Chinese trade policies, allowing its trade gap with Beijing to explode and American factories to close.
Now, the veteran trade lawyer will get a chance to do something about it.
The Senate voted 82-14 Thursday to confirm the 69-year-old Lighthizer to serve as U.S. trade representative. The job will empower him to renegotiate and enforce trade deals, many of which the new president has condemned as destroyers of American jobs.
A fixture in Washington trade policy circles for nearly four decades, Lighthizer has built a reputation as a shrewd negotiator. And like the president who chose him, Lighthizer represents a departure for a Republican Party that for decades favored the free flow of global trade as a boon to economic growth.
"I agree with President Trump that we should have an 'America First' trade policy," Lighthizer told a Senate committee earlier this year. "And that we can do better in negotiating our trade agreements and be stronger at enforcing our trade laws."
His nomination sends another signal that the Trump administration intends to upend decades of U.S. policy and act aggressively to block imports when it deems other countries to be acting unfairly.
"He's a trade realist," Paul Rosenthal, a trade lawyer at the firm Kelley Drye & Warren. "He doesn't necessarily subscribe to free trade as a religion as some people do."
Lighthizer's philosophy, Rosenthal suggests, essentially boils down to: "How can we afford to be unilateral free traders when the Chinese don't reciprocate?"
Not all Republicans are enthusiastic. On Wednesday, Sens. John McCain of Arizona and Ben Sasse of Nebraska jointly wrote a letter to Lighthizer saying they would oppose his nomination, in part because he "did not have an appreciation" for the economic benefits of the North American Free Trade Agreement with Canada and Mexico, which Trump wants to renegotiate or end.
Supporters of free trade, such as analysts at the Peterson Institute for International Economics, argue that a Trump-Lighthizer combative approach could backfire. Blocking or taxing imports would raise prices of imports for American consumers and provoke retaliation. The result could potentially be a trade war that would hurt U.S. farmers and companies — from Boeing to Caterpillar — that depend on exports.
Drawing from experience in trade law and his work in the Reagan administration in countering Japanese imports, Lighthizer will likely try to force China and other competitors to end what the Trump team sees as unfair trade.
Lighthizer won't be the administration's only trade policy heavyweight. Commerce Secretary Wilbur Ross, a billionaire investor, is expected to involve himself in trade issues, including an effort to renegotiate NAFTA. And Peter Navarro, a vociferous critic of China, is advising the White House on trade.
Could Lighthizer be overshadowed?
"The words 'overshadow' and 'Bob Lighthizer' shouldn't appear in the same sentence," says Clyde Prestowitz, a Commerce official in the Reagan administration and a longtime critic of U.S. trade policy.
Lighthizer has more congressional contacts and more experience with the fine points of trade law than Navarro or Ross. In 2008, he wrote a column in The New York Times criticizing McCain, then the Republican presidential candidate, for his unstinting support of free trade. Lighthizer noted that "conservative statesmen from Alexander Hamilton to Ronald Reagan sometimes supported protectionism."
"They always understood that trade policy was merely a tool for building a strong and independent country with a prosperous middle class," he wrote.
Lighthizer served as a top aide on the Senate Finance Committee under Sen. Bob Dole in the late 1970s and early 1980s and later as treasurer of Dole's 1996 Republican presidential campaign. (The 93-year-old Dole introduced Lighthizer at his committee hearing.)
Under Reagan, Lighthizer served as deputy trade representative. Despite Reagan's reputation as a stalwart supporter of free trade, his administration seldom hesitated to pressure U.S. trade partners if it thought American manufacturers were being hurt.
Lighthizer played a key role, for example, in strong-arming Japan into limiting auto exports in the 1980s. That move eventually led Japanese automakers to open plants in the United States, thereby creating U.S. jobs, instead of shipping all its cars from Japan.
Later in private practice — he became a senior partner in international trade at Skadden, Arps, Slate, Meagher & Flom — Lighthizer represented U.S. steel companies that complained that China and other countries were dumping underpriced steel on the U.S. market.
In 2010 testimony to U.S.-China Economic and Security Review Commission, he lambasted U.S. trade officials as too passive in the face of China's economic rise. When it negotiated China's 2001 entry into the World Trade Organization — which sets trade rules and mediates disputes — Washington naively assumed that China was "merely a more exotic version of Canada" and would learn to live within WTO rules and open its market to American exports, Lighthizer argued.
Instead, he contended, China limited foreign competition, manipulated its currency and subsidized its exporters to give them a price advantage. The notion that having China in the WTO would benefit Americans, Lighthizer concluded, "was simply wrong. Our trade deficit with China has exploded, millions of U.S. manufacturing jobs have been lost."
Trump campaigned on a promise to renegotiate or withdraw from agreements that he says failed American workers. But Dean Pinkert, formerly of the U.S. International Trade Commission, says he thinks Lighthizer will seek better ways to use existing agreements before tearing them up. In his 2010 testimony, Lighthizer had said the U.S. should more aggressively scour WTO rules for new ways to bring cases against China — for manipulating its currency, say.
Alan Wolff, a deputy U.S. trade representative in the Carter administration, says China and other U.S. trading partners should brace themselves.
Under Lighthizer, Wolff says, "trade policy is going to get a lot more muscular."