Trump's First 100 Days Gets an 'A' from Wall Street, 'B' from Main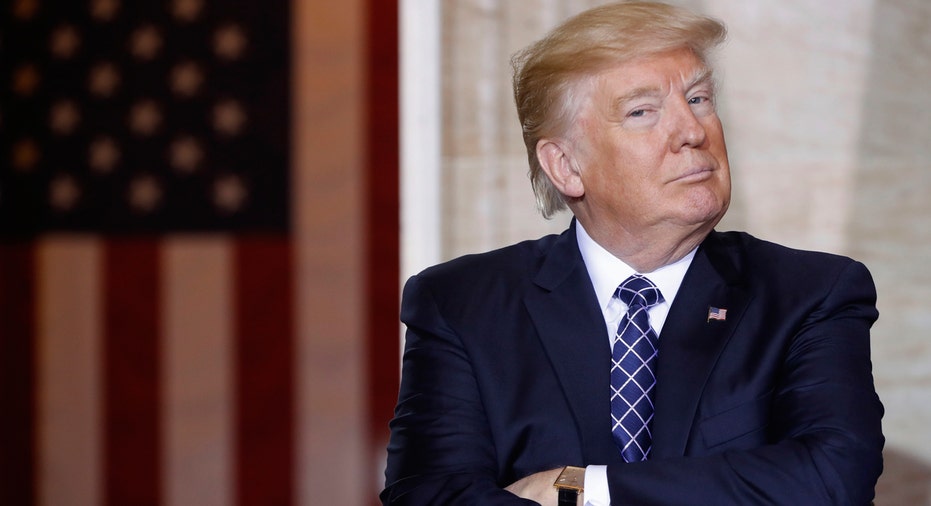 President Donald Trump's first 100 days in office have been good for Wall Street.
The billionaire businessman-turned-politician's surprise win in November sent the markets sharply higher in the final two months of 2016, and investors have since tried to assess exactly what Trump's presidency will mean for the U.S. economy as he continues to promise less regulation, lower taxes and more fiscal spending, but has so far been slow on execution.
In the 100 days since Trump took the oath of office on January 20, the Dow Jones Industrial Average has jumped 6.3% while the broader S&P 500 booked gains of 5.2%, and the tech-heavy Nasdaq Composite soared nearly 9%.
That's the fourth and fifth-best performance for a new U.S. president's first 100-days on a percentage basis for both the S&P 500 and Dow Jones Industrial Average respectively, according to figures from the Wall Street Journal Market Data Group. The best 100-day performance for both averages was seen in 1933, with an 86% advance for the S&P and a 79.7% jump for the blue-chip index under Franklin D. Roosevelt, who took office during the Great Depression, a few years after the 1929 stock market crash. Under former President Barack Obama's first 100 days, the S&P saw a 6.5% gain while the Dow rose 7.7%.
For President Trump – a once political outsider – navigating the complexities of lawmaking and perfecting the art of Beltway negotiation have come with a learning curve. But the markets, eagerly awaiting the rollout of his pro-business policies, have been mostly patient and optimistic.
"Based on the S&P 500's performance since Inauguration Day, Wall Street has awarded President Trump an A for 'anticipation,' while Main Street likely gave him a B for 'benefit of the doubt,'" said Sam Stovall, CFRA chief investment strategist who said depending on the final bill, the president's tax-reform promise may well receive a warm welcome in Congress and be cause for a break in the old "sell in May, go away" adage that usually plays out on Wall Street.
Treasury Secretary Steven Mnuchin and National Economic Director Gary Cohn on Wednesday unveiled the blueprint for Trump's much-awaited tax overhaul proposal, which turned out to be a one-page bulleted list of components the administration says it is working to include in its formal policy proposal.
U.S. equity markets – which rallied hard in the lead up to the tax-reform unveiling – treaded water following the announcement. Rather than a complete tax-system overhaul, the Trump team is likely to deliver modest tax cuts instead, said Nomura senior economist Mark Doms, who once served as chief economist for the Commerce Department.
"History suggests that tax 'reform' is incredibly difficult, and nothing today suggests that the administration has a viable plan to get significant reforms through Congress," he said.
While tax reform may rank among the most popular of Trump's campaign promises, he has moved on other issues including an executive order on reducing regulation, the withdrawal of the U.S. from the Trans-Pacific Partnership, the renegotiation of the North American Free Trade Agreement, and negotiating with lawmakers on efforts to repeal and replace the Affordable Care Act – though the first attempt at passing such legislation was dead before it even faced a vote in the House of Representatives.
Though politics has played a significant role in the market's upward momentum – it hasn't all been about deal making at 1600 Pennsylvania Avenue.
Relatively upbeat economic data alongside first-quarter corporate earnings season, which has seen a majority of S&P 500 companies beating expectations on both the top and bottom lines, has sparked renewed confidence in Corporate America and the underlying fundamentals of what some, including equity strategists at Credit Suisse, worry is an overvalued stock market.
Still, they say against the current economic and political backdrop, the outlook for economic growth – and stocks -- remains favorable for 2017.
"Our economists expect the slowdown in global growth to be temporary and for U.S. GDP to come in well north of 2% for this year and next," they said. "The release of details on the White House's goals for tax reform this week have reduced some of the political uncertainty that' has been a headwind for equities recently."