Trump Wins: 3 Stocks to Buy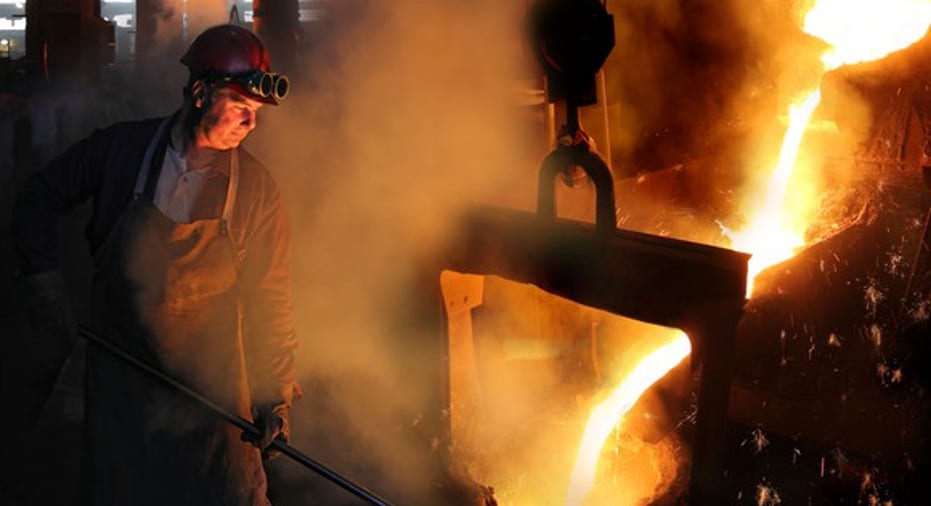 Donald Trump has secured the White House and investor attention is quickly turning to finding companies perfectly positioned to profit from his plans. While no one can know for certain what's in store, Trump's plans to ramp up infrastructure spending could make this the right time to pick up shares in Chicago Bridge & Iron (NYSE: CBI), Caterpillar Inc.(NYSE: CAT), and Cliffs Natural Resources (NYSE: CLF).
IMAGE SOURCE:FLICKR USER JAMELLE BOUIE.
Rebuilding America
Trump's vision for America includes a massive spending program to rebuild the country's bridges, roads, and railroads.The American Society of Civil Engineers estimates that $3.3 trillion is needed to fund work on infrastructure projects through 2025, and in August, Trump said he'd support $500 billion, or more, in infrastructure spending if he won the White House. We'll soon find out whether or not he can muster the support necessary to get his infrastructure goals through Congress.
Despite Republicans winning both the Senate and House, they've been hesitant to support big infrastructure spending in the past without a corresponding increase in revenue. Nevertheless, infrastructure spending could win support among influential Democrats, and that could help Trump overcome pushback from budget-minded members of his own party. If so, then these three companies could benefit significantly.
Energy infrastructure upside
Chicago Bridge & Iron has its roots in bridge-building, but the company, which now goes by the name CB&I, has transformed itself into a major player in energy and water infrastructure.
CB&I's engineering and construction segment provides engineering, procurement, and construction services for upstream and downstream energy companies, and its fabrication business manufactures and builds steel plate structures, including piping systems, for energy and water projects. Liquefied natural gas terminals, electric power plant projects, and drinking and wastewater pipeline projects are examples of what's in CB&I's wheelhouse.
CB&I's energy and watertransport and storage focus matches up nicely with Trump's desire to increase access to oil and gas reserves on undeveloped federal land and to rebuild America's aging water infrastructure. CB&I gets 70% of its revenue from U.S. projects, so this company could be a big beneficiary if U.S. infrastructure spending climbs.
If so, then CB&I shares could be a bargain-bin buy. Falling energy prices have slowed project backlog growth and caused shares to tumble to around $30 from above $80 in 2014. Yet the company remains profitable. Net income was $121.8 million, or$1.20per diluted share, on revenue of $2.8 billion in the third quarter. Industry watchers target EPS of $4.54 in 2017, and that means that investors can buy shares for less than seven times next year's estimates.
IMAGE SOURCE: CATERPILLAR.
Digging in the dirt
Caterpillar's machines are a staple of construction sites everywhere, but slow global economic growth has caused a downturn in the company's business over the past few years, and that's been a drag on its shares.
Last quarter,North America sales, which represent about half of the company's global revenue, fell 20% year over year because of lower infrastructure and mining demand and lower oil prices.If Trump can kick-start U.S. construction activity, then Caterpillar's North American construction equipment and diesel and natural gas generators revenue should climb. Furthermore, spending on railroad projects could decrease the number of idled locomotives and ultimately boost demand for Caterpillar's train engines. A bump up in construction activity that correspondingly increases steel demand should also translate into greater sales of Caterpillar's mining equipment.
The benefit of accelerating U.S. spending, however, could be offset if trade wars ignite that reduce activity in places like Mexico and Asia. Investors will need to factor that in before jumping in and buying on Caterpillar's sales. Nevertheless, I think this could be a net win for Caterpillar, and if I'm right, then a robust cost-cutting plan that's being implemented this year could allow for earnings to grow rapidly. Caterpillar is guiding for$2 billion in period and variable costs savings this year, and in Q3, falling expenses helped it generate $0.85 in EPS on sales of $9.1 billion. Assuming that Caterpillar can keep a tight lid on its expenses when demand ticks up, and that demand overseas doesn't drop off a cliff, then this company could be a must-own stock during Trump's presidency.
IMAGE SOURCE: GETTY IMAGES.
Digging in the dirt
Cliffs Natural Resources could also regain some of its past glory thanks to Trump.Cliffs Natural isan iron ore mining company that operates mines in Michigan and Minnesota, and importantly, it's the largest U.S. producer of iron ore pellets used by American steel companies and steel producers.
On the campaign trail,Trump has supported the use of U.S. steel in future projects, and if he's true to his word, then incentives that boost U.S. steel production should translate into higher revenue and a return to profitability for Cliffs Natural.
Over the past year, the company has been embracing debt reduction and cost-savings programs that may give it additional earnings power if iron ore spot prices climb. Net debt has dropped $500 million to $2 billion, and that's reduced net interest expense by 21% versus last year. Cost of goods sold has fallen 13% over the past year, too.
Cliffs Natural is expected to report EPS of only $0.46 in 2017, but EPS was north of $11.50 as recently as 2011, and that's got me thinking that this stock offers investors a lot of potential upside.
Looking ahead
No one knows what Trump will be able to get through Congress, but his plans are encouraging to investors who are eager to see a recovery in U.S. construction activity.
We'll find out how much money gets allocated for these projects when Trump submits his first budget to Congress next year. So, it may be smart to look for a spot to add CB&I, Caterpillar, and Cliffs Natural to your portfolio before then.
10 stocks we like better than Caterpillar When investing geniuses David and Tom Gardner have a stock tip, it can pay to listen. After all, the newsletter they have run for over a decade, Motley Fool Stock Advisor, has tripled the market.*
David and Tom just revealed what they believe are the ten best stocks for investors to buy right now... and Caterpillar wasn't one of them! That's right -- they think these 10 stocks are even better buys.
Click here to learn about these picks!
*Stock Advisor returns as of November 7, 2016
Todd Campbell owns shares of Cliffs Natural Resources.Todd owns E.B. Capital Markets, LLC. E.B. Capital's clients may have positions in the companies mentioned.Like this article? Follow him onTwitter, where he goes by the handle@ebcapital,to see more articles like this.
The Motley Fool owns shares of Cliffs Natural Resources. Try any of our Foolish newsletter services free for 30 days. We Fools may not all hold the same opinions, but we all believe that considering a diverse range of insights makes us better investors. The Motley Fool has a disclosure policy.