Trump to find a chilly host in Canada visit amid trade rift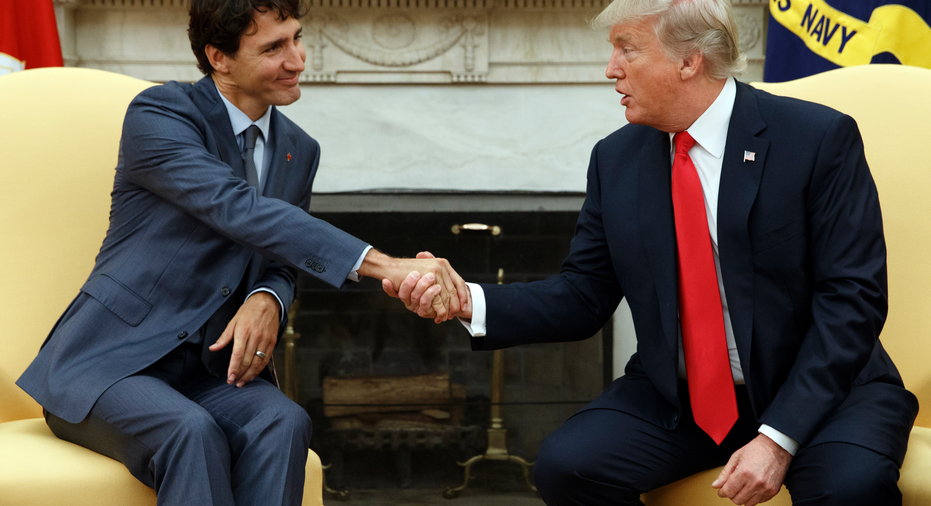 President Donald Trump is cutting short his first presidential trip to Canada this weekend, as trade and foreign policy disputes appear set to mar his planned summit with the leaders of the Group of Seven wealthy democracies.
The U.S. president's reception in the picturesque town of La Malbaie along the St. Lawrence River is set to be a far cry from when Ronald Reagan visited Quebec three decades ago, when he was so friendly with Prime Minister Brian Mulroney they sang a song together.
Quarrelling with Trump over his protectionist tariffs on steel and aluminum imports, decision to exit the Iran nuclear accord, and retreat from global efforts to combat climate change, erstwhile American allies are turning the summit into something of an intervention, challenging the norm-breaking U.S. president in the most direct terms to date.
The summit threatens to mark the outer limit of international patience for the avowed nationalistic Trump, as leaders who had sought to cajole and "bromance" the president are embracing more hard-nosed tactics.
Before shortening his planned participation on the eve of his departure, Trump found himself publicly feuding with summit host, Canadian Prime Minister Justin Trudeau, and with French President Emmanuel Macron — two leaders who previously banked on flattery to win concessions with the American.
Trudeau has grown increasingly direct with his fury with Trump for imposing the tariffs on Canada's metals industries — and for justifying the protectionist move by calling those imports a threat to U.S. national security.
Under Trump, the United States has abandoned its traditional role in the G-7. American presidents from Reagan to Barack Obama pressed for freer global trade. And they championed a trading system that required countries to follow World Trade Organization rules.
Trump's policies, by contrast, are unapologetically protectionist and confrontational. To hear the president, poorly conceived trade deals and unfair practices by America's trading partners have widened America's trade deficit with the rest of the world — $566 billion last year — and contributed to a loss of millions of factory jobs.
Nelson Wiseman, a professor at the University of Toronto, said he can't recall relations between U.S. and Canada being worse. He said the G-7 meeting will appear to be six lined up against one. Indeed, on Thursday, French President Emmanuel Macron suggested in a tweet that Trump might not sign the final summit statement on G-7 priorities.
"The American president may not mind being isolated," Macron tweeted, "but neither do we mind signing a 6-country agreement if need be. Because these 6 countries represent values, they represent an economic market which has the weight of history behind it and which is now a true international force."
Trump offered his own digs the evening before his departure.
"Please tell Prime Minister Trudeau and President Macron that they are charging the U.S. massive tariffs and create non-monetary barriers. The EU trade surplus with the U.S. is $151 Billion, and Canada keeps our farmers and others out," he tweeted, adding, "Look forward to seeing them tomorrow."
Later, Trump tweeted, "Take down your tariffs & barriers or we will more than match you!"
White House officials said Trump in recent days had bristled at attending the summit, where he is set to be challenged face-to-face on his policy decisions. Among allies, there was even been speculation that Trump might walk out of the meetings — or even decide not to show up. Late Thursday, the White House announced he would be leaving the summit Saturday morning, after a session on women's empowerment but well before it wraps up.
"The President will travel directly to Singapore from Canada in anticipation of his upcoming meeting with North Korea's leader Kim Jong Un Tuesday," press secretary Sarah Sanders said. "G7 Sherpa and Deputy Assistant to the President for International Economic Affairs Everett Eissenstat will represent the United States for the remaining G7 sessions."
Trudeau has charged that he found the tariffs "insulting" and said such tactics are hardly how two close allies and trading partners that fought side-by-side in World War II, Korea and Afghanistan should treat one another. The Trump administration has also clashed with Canada over his insistence that the 24-year-old North American Free Trade Agreement involving the United States, Canada and Mexico be written to better serve the U.S.
The prime minister had at first refrained from criticizing Trump, apparently in the hope that he could forge a personal relationship that might help preserve the landmark free trade deal, a forerunner of which Reagan and Mulroney negotiated. Those two leaders became fast friends and famously sang "When Irish Eyes Are Smiling" together in Quebec City in 1985.
Trudeau's courting of Trump appeared to work for a time. The president had initially exempted Canada from the steel and aluminum tariffs in March. But Trudeau became exasperated and took a shot after Trump let the exemption expire last week.
"We'll continue to make arguments based on logic and common sense," he said, "and hope that eventually they will prevail against an administration that doesn't always align itself around those principles."
The prime minister had hoped to visit Washington last week to complete what he thought would be the final stages of the NAFTA renegotiation. But Vice President Mike Pence called and demanded he agree to "sunset clause" that would end NAFTA unless the three countries agreed to extend it every five years.
Trudeau refused, and he canceled the proposed visit. NAFTA talks stalled. Since then, Trump has sounded hostile at times toward Canada.
Given the conflicts between Washington and its allies, the most likely outcome of the G-7 talks, said William Reinsch, a trade analyst at the Center for Strategic and International Studies is "polite acrimony."
The United States has experienced tense relations with its allies before — over the Vietnam War, for example, over Reagan's decision to deploy Pershing II missiles in Europe and over President George W. Bush's invasion of Iraq. But Trump's moves — the tariffs and his decisions to pull out of the Paris climate agreement and the Iran nuclear deal, among other actions — have taken the hostility to heights.
"This is the first time the U.S. government is seen as truly acting in bad faith, in treating allies as a threat, in treating trade as negative and fundamentally undermining the system that it built," said Adam Posen, president of the Peterson Institute for International Economics. "This U.S. administration feels unbound by previous U.S. commitments in a way that no other administration has ever felt."
"Prime ministers are people, and he's insulted them," Reinsch said. "They're just not going to easily roll over when he punches them in the nose like that."
Canada and other U.S. allies are retaliating with tariffs on U.S. exports. Canada is waiting until the end of the month to apply them with the hope the Trump administration will reconsider. The Canadian tariffs would apply to goods ranging from yogurt to whiskey.
Trump has also mused about wanting to split up NAFTA and negotiating separate trade deals with Canada and Mexico in what Ujczo sees as a divide-and-conquer strategy.
Robert Bothwell, a professor at the University of Toronto, said Trump's actions appear intended to break Canada at the negotiating table.
"They are relying on the overwhelming strength of the U.S. to compel a much weaker neighbor to give in to whatever they demand," Bothwell said. "That brings in the real possibility of lasting damage to Canadian American relations."
Bothwell expects this to be Trump's only visit to Canada. He even wonders if it could be the last G-7 meeting for the president.
"We've not had an American president or administration like this in the post-war period," said Colin Robertson, a former Canadian diplomat. "I am worried because it is destructive to the rules-based international system that the Americans have been the guardian of."
___
Wiseman reported from Washington. AP Economics Writer Martin Crutsinger in Washington contributed to this report.