Trump Team Continues to Prod JPMorgan's Dimon to Accept Treasury Secretary Appointment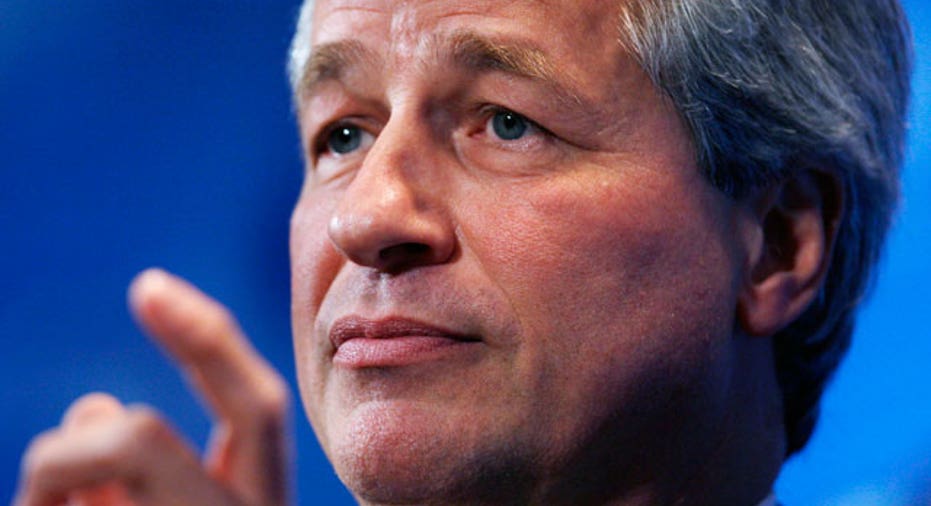 Members of president-elect Donald Trump's transition team continue to prod JPMorgan (NYSE:JPM) chief Jamie Dimon to accept the job as the new administration's Treasury Secretary but Dimon continues to say he's not suitable for the role, but is offering himself as an unofficial advisor to the new administration on economic and banking issues, the Fox Business Network has learned.
The back-and-forth with Dimon dates back nearly a week, but has picked up steam in recent days as Trump himself has made it clear to advisers he might want Dimon for the job, according to people with direct knowledge of the matter.
While Dimon continues to tell the Trump team he is "not suitable" for the Treasury Secretary position, people inside the Trump transition office believe he's leaving the door open to accept the post if Trump offers it to him in a direct fashion, according to people with direct knowledge of the matter.
Dimon, meanwhile, has told Trump's transition team that he is willing to work as an unofficial advisor to the new president, "expressing his willingness to help" with economic and banking issues, said one person with direct knowledge of Dimon's thinking.
But senior advisers to Dimon say that the longtime CEO of the nation's largest bank based on its $2.4 trillion in assets, has also made it clear he will not leave his job at JPMorgan for government work—a point they say he has made several times throughout his career during both Democratic and Republican administrations.
A spokeswoman for the Trump transition effort had no comment, nor did a JPMorgan spokesman.
Either way, people with knowledge of the Trump transition efforts say a decision on the Cabinent spot could be imminent.
There is, of course, precedent for prospective cabinet officials to put out word that they don't want the job only to acquiesce when asked by the commander-in-chief. For example, former Goldman Sachs (NYSE:GS) chief Hank Paulson told officials in the administration of President George W. Bush he didn't want the job as Treasury Secretary, only to agree to take the post when asked by the president himself. Paulson served as Treasury Secretary during the 2008 financial crisis, and helped design the bailout of the U.S. financial system during the banking collapse that fueled the Great Recession.
Trump transition team insiders believe Dimon will do the same if asked, even as his senior advisers say he has made it clear as of Wednesday he won't take the job.
As Fox Business was first to report, Trump officials have indicated that the president-elect's campaign finance chief Steve Mnuchin, a former Goldman Sachs partner and hedge fund executive, would be Trump's likely choice for Treasury Secretary, one of the president's top cabinet positions and point man on his economic agenda.
Sources also say that Congressman Jeb Hensarling (R-TX) chairman of the House Financial Services Committee is under consideration as well.
But in recent days Trump himself has concluded that bringing someone of Dimon's stature into the new administration would be a coup, and that his choice could be made public over the next week. Still, the situation is fluid and Trump himself has been known to change his mind at the last minute.
Dimon is considered among the most successful bankers in the business. He guided JPMorgan through the 2008 financial crisis largely untouched by the massive losses that doomed other banks and necessitated a government bailout.
A lifelong Democrat, Dimon was often touted as a possible Treasury Secretary for Trump's challenger, Hillary Clinton, with whom he is said to share some ground on economic policy and her plan to raise taxes on the wealthy. Trump's campaign ran on a plan for a massive tax cut and widespread deregulation.
Indeed Dimon began with a warm relationship with his fellow Democrat, President Obama, often meeting with the newly elected president to discuss post-financial crisis banking issues. But Obama soon found the nation's big banks to be a convenient scape goat as a post-crisis recession set in, and the mood between the two men began to sour.
Dimon became a critic of Obama's continued attacks against the banks, and soon found JPMorgan in the regulatory cross hairs of Obama's U.S. Department of Justice and various Democratic state attorneys general, who forced JPMorgan to cough up billions of dollars for settlements involving various alleged abuses.
Dimon bounced back from the spate of bad publicity and shares of the bank have rebounded, rising nearly 42% over the past two years compared to a 6% rise in the Dow Jones Industrial Average.
Still, Dimon would be an odd fit in a new administration where the president-elect—a brash reality TV star and real estate tycoon—ran as the ultimate outsider, often bashing banks and financial executives as being part of a "rigged" system that has hurt working-class Americans.
While they both would agree on the need to roll back some of the Dodd-Frank financial regulations, they disagree on many other banking issues. Just a month ago, Trump said he would impose a new form of the Depression-era Glass-Steagall law, and possibly bring back the separation of commercial and investment banking.
Dimon is a steadfast opponent of Glass-Steagall and a devotee of the so-called universal banking model that developed after Glass-Steagall's demise during the Clinton Administration.
Then there are the personal differences; both are strong willed men, not known to take orders from anyone. Trump once called Dimon a "wimp" after the JPMorgan chief shelled out $13 billion in a settlement with the Obama Justice Department for alleged banking improprieties. Dimon, meanwhile, was thought to take a shot at Trump's volatile campaign rhetoric including his condemnation of Mexican immigrants, in his annual letter to shareholders.
Without naming Trump directly, Dimon wrote "what doesn't work: denigrating a whole class of people or society."