Trump Says Sons 'Plus Executives' Will Run Business Operations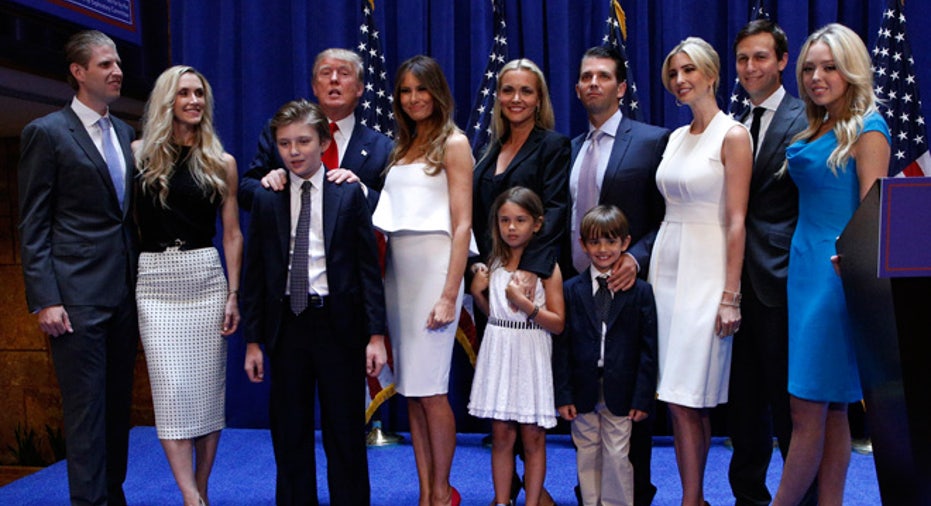 President-elect Donald Trump's sons Donald Trump Jr. and Eric Trump, "plus executives," will run his business operations during his time in the White House, Mr. Trump said in a series of Twitter posts late Monday evening that offer new details about how his business conglomerate will be run.
"Even though I am not mandated by law to do so, I will be leaving my busineses [sic] before January 20th," Mr. Trump wrote. Jan. 20 is Inauguration Day.
He doesn't say, however, whether he will divest any of his personal investments in real estate holdings or other businesses, something ethics experts have pushed him to do. He also wrote that "No new deals will be done during my term(s) in office."
The comments came shortly after Mr. Trump canceled a Dec. 15 news conference that had been planned so that he could explain how he was exiting his business. Few details on the new business arrangement have been given since he announced the press conference several weeks ago. Some ethics experts have said there is considerable potential for conflicts of interest if he has large stakes in business investments around the world and runs the country, because political decisions could impact the value of his investments.
Mr. Trump's late-night Twitter posts didn't mention any role for his daughter, Ivanka Trump, or son-in-law, Jared Kushner, in his business. They are expected to move from New York to Washington, D.C., and could play a role in his White House.
Mr. Trump's news conference will be rescheduled sometime next month, said Sean Spicer, his spokesman. A date wasn't provided, and no specific reason was given for the delay.
"The president-elect has been focused on putting a team in place to enact real change starting on day one. With so many iconic properties and successful entities, moving the announcement to January ensures the legal team has ample time to implement the proper protocols so his sole focus will remain on the country and achieving his ambitious agenda with the help of the world-class cabinet he has built."
Mr. Trump commented on the rescheduled press conference in another Twitter post Monday night, writing "I will hold a press conference in the near future to discuss the business, Cabinet picks and all other topics of interest. Busy times!"
The Trump team has avoided questions about how the Republican will handle ethics issues regarding the operations of the Trump Organization, his real estate and branding business, by pointing to the news conference, which had been scheduled for Thursday in New York. Mr. Trump hasn't held a news conference since July 27, the third day of the Democratic National Convention.
The businessman-turned-president is poised to enter the White House with more potential conflicts of interest and less transparency about his finances than any recent president. Unlike every other major-party candidate and president since Gerald Ford, Mr. Trump hasn't released his tax returns, which would provide more insight into his business dealings.
His influential role over trade policy, taxes, government contracts and foreign relations presents multiple opportunities for questions to be raised about the impact of his decisions on his private businesses. So far, Mr. Trump hasn't said exactly what he will do to avoid such conflicts, beyond transferring management of his companies to his adult children and other executives -- a move that some ethics experts say won't be enough to alleviate such concerns since he will retain ownership.
Mr. Trump's advisers said Monday that he is focusing this week on making final picks for his cabinet, which is moving ahead at a brisk pace. The president-elect is still scheduled to appear at four rallies this week aimed at celebrating his November victory with his core supporters.
Write to Michael C. Bender at Mike.Bender@wsj.com and Damian Paletta at damian.paletta@wsj.com