Trump in South Korea: Whirlpool, Qualcomm & the bitter trade battle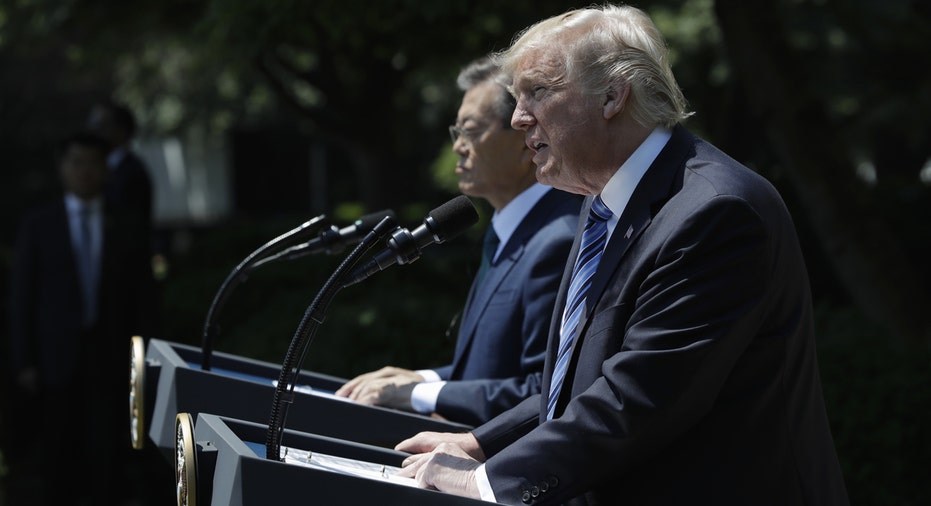 North Korea and trade were expected to be the two main topics President Donald Trump would address during his five-country Asia tour, however, he may have to put the latter aside during his visit to South Korea on Tuesday, where the pair of political allies have dominant differences.
Getting ready to leave for South Korea and meetings with President Moon, a fine gentleman. We will figure it all out!

— Donald J. Trump (@realDonaldTrump) November 6, 2017
The U.S.'s trade deficit with South Korea is more than $17 billion so far this year, and totaled more than $27.5 billion in 2016, according to government statistics. South Korea is the nation's sixth-largest goods trading partner and seventh-largest export market.
Despite rising tensions with Pyongyang over its nuclear program, President Trump, who has been cracking down on unfair trade relationships, proposed ending the U.S.-South Korea free trade agreement, known as KORUS, as recently as September. The two countries have since agreed on renegotiation.
U.S. companies have also aired their fair share of complaints about Seoul. Chip maker Qualcomm (NASDAQ:QCOM) is entangled in an expensive legal dispute with the country's trade court after the Korea Fair Trade Commission found that it was breaching antitrust laws by practicing what the court deemed to be unfair business practices in patent licensing and chip sales. Qualcomm has challenged the decisions and resulting penalties, which some have said go against the terms laid out in KORUS.
Meanwhile, home appliance maker Whirlpool (NYSE:WHR) recently won a vote before the U.S. International Trade Commission after bringing forth a complaint that its South Korean rivals, LG Electronics and Samsung, were dumping washing machines into the U.S. market. The court voted unanimously in favor of Whirlpool and is expected to recommend suggested remedies later this month, which could include tariffs on imported washers. As previously reported by FOX Business, President Trump is in a peculiar position in this circumstance because both LG and Samsung have plans to open U.S. factories in the coming years.
Experts speculate that in order for Trump to get South Korea's full cooperation on a cohesive North Korea deterrence strategy, he may have to put trade issues on the back burner, at least in Seoul.
Trump began his trip in Hawaii on Friday, from where he is scheduled to visit five Asian countries including Japan, South Korea, China, Vietnam and the Philippines.
Trade is expected to be a prominent issue during Trump's visit to China, where the countries are working toward fostering a healthier economic relationship.