Trump considering 'all options' on steel, aluminum cases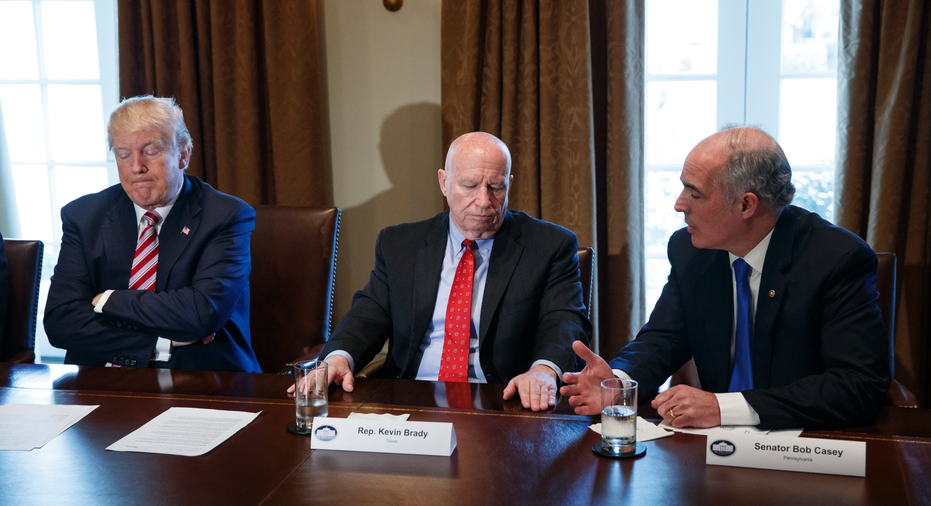 Weighing trade sanctions, President Donald Trump said Tuesday he's "considering all options" to address an influx of cheap aluminum and steel imports into the United States.
In a meeting with lawmakers, the president said he would soon make a decision on whether to slap "tariffs and/or quotas" on aluminum and steel imports by arguing they pose a threat to national security.
But he listened as lawmakers made competing arguments on the trade cases. Some urged him to act swiftly to defend steel workers' jobs while others warned it might start a trade war, affecting a broad array of jobs and industries and raising costs for consumers.
"I look at it two ways. I want to keep prices down but I also want to make sure that we have a steel industry and an aluminum industry," Trump said in the Cabinet Room. He said he'd make a decision that would address "the need to address overproduction in China and other countries."
During his 2016 campaign, Trump railed against foreign countries that had outmaneuvered the U.S. at the negotiating table and had unfairly subsidized their own industries at the expense of American jobs. The president has vowed to return manufacturing jobs to the U.S. by pulling out of trade deals or renegotiating them and cracking down on countries like China and Mexico that sell more goods to the U.S. than they buy from it.
Trump recently placed sanctions on imported solar cells and washing machines. His decision on steel and aluminum has been closely watched on whether he will seek to protect American jobs from foreign competition.
The president said the aluminum and steel industries are "being decimated by dumping" by foreign countries and said if the U.S. was ever in a military conflict, "we don't want to be buying steel from a country that we're fighting."
"We cannot be without a steel industry, we cannot be without an aluminum industry so what we're talking about is tariffs and/or quotas," Trump said.
Trump was encouraged by lawmakers like Sens. Sherrod Brown, D-Ohio, and Bob Casey, D-Pa., to act quickly on behalf of the steel and aluminum industries. But others urged a more targeted or cautious approach.
Sen. Roy Blunt, R-Mo., warned that the administration needs to "be careful here that we don't start a reciprocal battle on tariffs." And Sen. Lamar Alexander, R-Tenn., noted President George W. Bush's decision in 2002 to slap tariffs on steel imports, which the senator said "cost jobs and raised prices."
Trump, who frequently assailed Bush's handling of the Iraq War during his campaign, responded, "It didn't work for Bush, but nothing worked for Bush."
__
On Twitter follow Ken Thomas at https://twitter.com/KThomasDC