Trump-Comey Turmoil Socks Wall Street, Stocks See Worst Day in Eight Months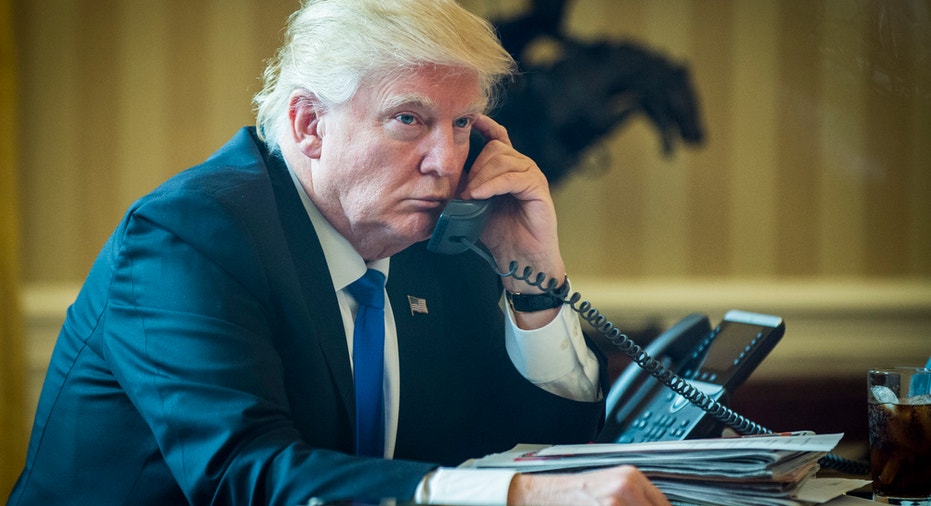 Investors shook off their weeks-long calm façade Wednesday, sending U.S. stocks sharply lower as investors doubted the viability of President Donald Trump's fiscal policy follow through while controversy continued to swirl around the White House.
Losses on Wall Street steepened in afternoon action as NYSE composite volume spiked 12% above its one-month average. Stocks ended at session lows as the Dow Jones Industrial Average dropped 372 points, or 1.78% to 20606, while the broader S&P 500 declined 43points, or 1.82% to 2357. The tech-heavy Nasdaq Composite shed 145 points, or 2.78% to 5578.
Sparking the selloff was a New York Times report that claimed President Donald Trump asked former FBI Director James Comey to drop a probe into former national security adviser Michael Flynn. Sources close to Comey told Fox News on Wednesday that the NYT reporting is accurate. The White House has denied the report.
The S&P 500 industry sectors that had rallied in the months following Trump's election, thanks to the promises of the pro-business president's agenda, saw strong selling pressure on Wednesday. The financial sector dropped 3% as shares of America's biggest banks declined on fears that the planned tax reform agenda could be delayed. Goldman Sachs (NYSE:GS) and JPMorgan (NYSE:JPM) were among the Dow's top five decliners on the session along with Apple (NASDAQ:AAPL), Boeing (NYSE:BA), and 3M (NYSE:MMM).
Meanwhile, industrials, technology and materials all declined more than 2%.
As investors ditched risk assets, they rushed into traditionally safe-haven investments like gold and government debt. Gold prices rallied 1.82% to $1,257 a troy ounce, its biggest gain since June, while the yield on the benchmark 10-year U.S. Treasury note declined 0.104 percentage point to 2.221%. Yields move in the opposite direction of prices.
Meanwhile, the U.S. dollar has erased all of its post-election gains, while the CBOE's VIX index – Wall Street's so-called fear gauge – jumped above 15.33 its highest level since September. It had been trading around 9 in recent weeks, touching a 10-year low last week, as forward-looking investors didn't see heightened market risk on the horizon.
"Fresh bad news for the White House emerges daily now, and it may finally be having something of an impact on Wall Street," said IG chief market analyst Chris Beauchamp who said it's still too early to predict the president's "demise" just yet.
"His election campaign always seemed one day away from disaster and his presidency thus far has been remarkably similar. But the campaign won out, and in the end, it would be unwise to assume that impeachment is a given now," Beauchamp said, warning that although bearish sentiment may seem to be taking Wall Street by the horns, investors should be cautious about getting out the market in too big of a hurry.
Indeed, while the so-called Trump trade begins to unwind, some investors, including Rhino Trading Partners Chief Strategist Michael Block, will be looking for opportunity. He said the industrials and financial sectors, both of which saw a bump on Trump's election, could be good buying opportunities long-term.
While political uncertainty is on the rise as the White House comes under intense scrutiny in the wake of the ongoing fallout from Trump's decision to fire Comey and fallout from Trump's possible disclosure of classified information to Russia's foreign minister about a planned Islamic State operation, Evercore ISI managing director Dennis DeBusschere said as long as financial conditions remain easy, significant near-term market risk should be limited.
"Krishna [Guha, Evercore's head of global policy and central bank strategy] does not believe Trump uncertainty will change the Fed's reaction function. Two more rate hikes and an announcement of balance-sheet roll off remain likely in 2017," he said