Trump backs McCaskill opponent as he stumps for tax bill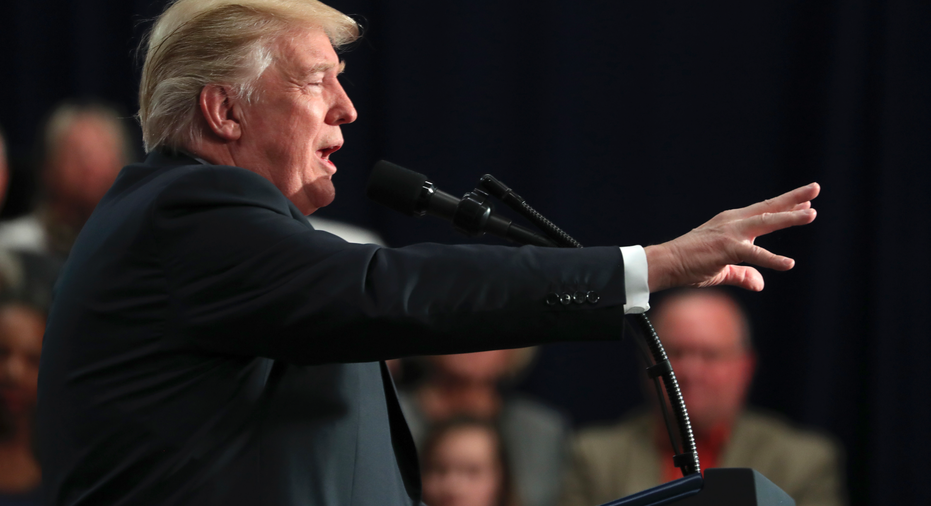 President Donald Trump appeared to give up trying to win Democratic support for the GOP tax overhaul plan Wednesday, as he took aim at a chief Republican target and repeatedly boosted her rival.
During a trip to Missouri to try to push the GOP tax plan across the finish line, Trump told the state's voters that Democratic Sen. Claire McCaskill, who has voted against the plan, "is doing you a tremendous disservice."
"She wants your taxes to go up, she's weak on crime, she's weak on borders, she's weak on illegal immigration and she's weak on the military," Trump said in a speech in the St. Louis suburbs. "Other than that, I think she's doing a fantastic job."
McCaskill, a top Republican target in the 2018 midterm elections, voted against the GOP proposal in committee earlier this month and is expected to vote against it when the full Senate takes up the measure in the coming days.
It was Trump's second visit to the state to build support for the plan. In his speech at a local convention center, Trump made a populist appeal for the Republican tax package, saying it would "bring Main Street rolling back."
"Our focus is on helping the folks who work in the mailrooms and the machine shops of America, the plumbers, the carpenters, the cops, the teachers, the truck drivers, the pipe fitters — the people that like me best," Trump said in a meandering speech in St. Charles.
"It is not enough for the middle class to keep getting by. We want them to start getting way ahead," he said.
But while the White House says the plan will be a boon to middle-income families by helping small-business owners and workers, sparking economic growth and simplifying the tax code, critics say both the House and Senate versions will disproportionately help the wealthy and corporations.
Trump used the speech to tout his own accomplishments in office — declaring "there has never been a 10-month president who has accomplished" as much — as well as boost Missouri Attorney General Josh Hawley, who is running for McCaskill's seat.
"I said, 'Josh when you're ready, you have my word, I'm going to come here and campaign with you,'" Trump said. "We gotta get you in."
The visit came a day after the Senate Finance Committee advanced a sweeping tax package to the full Senate, handing Republican leaders a victory as they try to pass the nation's first tax overhaul in 31 years. But the bill still faces hurdles in the Senate, where Republicans have just two votes to spare in their 52-48 edge over Democrats. A separate version of the plan has already passed in the House.
McCaskill is among 10 Senate Democrats up for re-election in 2018 in states won by Trump and is considered one of the most vulnerable incumbents. She was among 45 Senate Democrats who in August sent a letter to Republican leaders and Trump saying they wouldn't support any GOP effort to overhaul the tax system that delivered cuts to the top 1 percent or added to the government's $20 trillion debt.
Trump said in August that if McCaskill didn't support his plan, voters should push her out of office.
"We must lower our taxes, and your senator, Claire McCaskill, she must do this for you. And if she doesn't do it for you, you have got to vote her out of office," Trump said then.
In a statement, McCaskill said she remains "eager to support real, bipartisan tax reform" and would "jump at the chance to support a plan" that would "deliver relief to Missouri's working families, simplify the tax code, close loopholes exploited by the rich, and lower the corporate tax rate."
"Unfortunately, this tax plan doesn't live up the commitment I got from President Trump, when he told me he wouldn't support tax reform that benefited the very rich at the expense of the little guy," she said.
Several hundred Trump opponents and about 100 Trump supporters gathered outside the St. Charles convention center as the president spoke, holding competing signs and chanting slogans.
___
Associated Press writers Jill Colvin in Washington and Jim Salter in St. Charles contributed to this report.