Troubled meat market is key supplier for Haiti's capital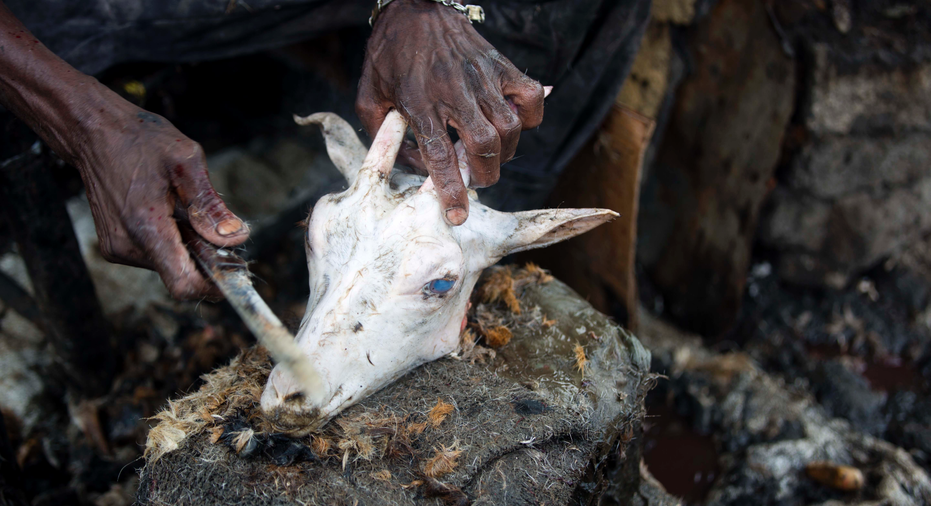 La Saline slaughterhouse is a nightmarish panorama of animal blood, body parts and detritus. It's also an essential part of the economy of the Haitian capital, supplying meat to restaurants, street vendors and stores.
Associated Press photographer Chery Dieu Nalio spent nearly a month documenting conditions in the market and the lives of more than 100 people who work there. He found a constant struggle to make ends meet in the face of unhygienic conditions, poor regulation and even deadly violence.
More than 300,000 goats are butchered every year in La Saline, at the edge of a slum by the same name that forms part of the sprawl of the capital, Port-au-Prince. The market is mostly a dirt yard, with a few huts made of worn sheet metal, wood and cloth. Chunks of raw meat sit on tables for purchase by customers. The remnants of slaughtered animals are dumped in a canal at the entrance of the market, filling the area with a foul stench and causing flooding in the surrounding neighborhood.
Outside the market is the neighborhood known as La Saline, so violent that market workers and customers frequently have to dive to the ground to avoid stray bullets.
Customers, neighbors and even the market's workers say Haitian authorities have long failed to take any action in to improve conditions there.
Butchers are paid $10 for $20 for each goat they slaughter for individuals. They get no money from wholesale customers, but rather keep some parts of the animals to sell to retail buyers.
Other workers skin the animals, clean them, transport them and sell them to customers. Etty Felix, 50, and Monise Jironer, 54, remove waste from goats' intestines, disinfect them in boiling water and sell them to vendors who make bouillon to sell. They receive 16 cents per intestine.
Market owner Polynice Amboise, 65, said the market has been repeatedly moved by Haitian administrations, from inside the slum to the seaside and back again.
He said that since Haiti's devastating 2010 earthquake killed an estimated 300,000 people and threw the government into crisis, he hasn't paid taxes for the market and the government has taken no action to improve its conditions.
"The authorities don't come. I bring all my papers to City Hall but they never get back to me," Amboise said. "I am not happy with the situation of the market. The workers also are not happy."
Youri Chevry, the mayor of Port-au-Prince, said the situation is complicated by a broader problem of lawlessness, but which he claims is improving. A U.N. peacekeeping mission recently left Haiti and the country is re-establishing its own army, a force supposed to be dedicated to maintaining domestic order.
"Everyone knows that this zone is a lawless area, a red zone with armed people that create a lot of problems," Chevry said. "Step by step, peace is returning in the area. Step by step, we will get control of the slaughterhouse."