TripAdvisor's Struggles in 4 Charts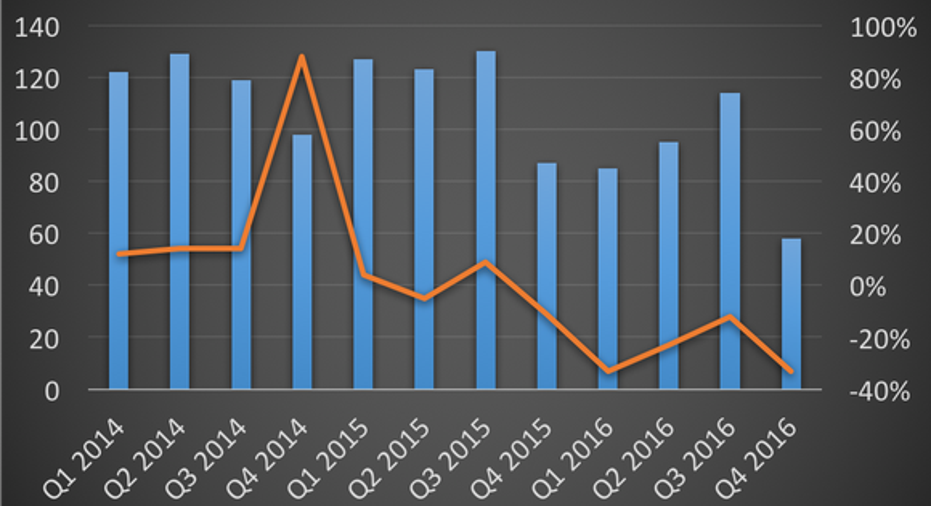 TripAdvisor (NASDAQ: TRIP) shareholders haven't had much to cheer about the last couple of years. The company invested heavily in its instant booking platform, only to see its revenue growth grind to a halt, causing shares to fall from their highs near $110 in 2014 to around $43 at the time of this writing. To get a balanced sense of the challenges facing the company, here are four areas to watch as TripAdvisor attempts a turnaround in 2017.
Image source: TripAdvisor.
Monthly user growth needs to stay strong
Data from company financials. Chart by author.
The best news TripAdvisor investors have going for them right now is that monthly unique visitors continue to grow at healthy rates. Although you can see some seasonality in the chart (more leisure travelers in summer months help create a spike in the third quarter), the long-term upward trend is solid. In 2016, the company reported an average of 351 million monthly unique visitors, which was a 14% increase compared to 2015. Seeing that number continue to increase throughout 2017 will go a long way toward reassuring investors that TripAdvisor's model isn't broken.
Can hotel revenue return to positive growth?
Data from company financials. Chart by author.
Hotel revenue is the company's bread and butter, making up 80% of its total revenue for 2016. Unfortunately, this is precisely where the company has struggled for the past two years. As the company began to roll out instant booking -- which lets users book their stays directly on TripAdvisor's site rather than clicking away to complete their reservation-- it saw hotel revenue stagnate while its previously vigorous growth rates fell dramatically, turning negative throughout 2016.
The company says it is working to reeducate users on the availability and benefits of using instant booking, which has taken longer than expected. But in the second half of 2016, the rate of decline finally began to slow, falling just 3% in the fourth quarter, and it appears as if hotel revenue should be headed back to positive growth within the next quarter or two. Lapping the ugly quarters from the first half of 2016 won't hurt year-ago comparisons, either.
Non-hotel revenue to the rescue
Data from company financials. Chart by author.
The non-hotel segment is comprised of attractions, restaurants and vacation rentals and represents the other 20% of TripAdvisor's total revenue. While smaller than the hotel segment by far, it's growing quickly, and with each passing year, it becomes more important to the company's overall results.
With the non-hotel segment in its infancy back in 2014 and parts of 2015, it posted growth rates exceeding 200%, but that was from an admittedly tiny base. After posting its first $100 million revenue quarter last year, growth has naturally slowed, but in 2016, non-hotel revenue still grew by a robust 27%. As TripAdvisor's recovery gets under way, the rapid growth of the non-hotel segment should help smooth out any lingering weakness on the hotel side.
Earnings may suffer a while longer
Data from company financials. Chart by author.
After enjoying double-digit adjusted EBITDA growth throughout 2014, TripAdvisor's struggles with instant booking showed up in an ugly way shortly thereafter. Adjusted EBITDA was flat in 2015, and then it declined 24% in 2016.
Unfortunately, while the company expects revenue trends to improve during 2017, the same can't be said for TripAdvisor's earnings. Management stated on the fourth-quarter conference call that they expect adjusted EBITDA to be flat to negative year over year as they invest heavily in initiatives to increase awareness and adoption of instant booking.
TripAdvisor's rough patch may finally be coming to an end, though, as management believes it will return to double-digit top-line growth this year. So long as the company's active user base continues to grow at a good clip and hotel revenue starts moving in the right direction again, 2017 is looking like the year this growth story gets back on track.
Find out why TripAdvisor is one of the 10 best stocks to buy nowMotley Fool co-founders Tom and David Gardner have spent more than a decade beating the market. (In fact, the newsletter they run, Motley Fool Stock Advisor, has tripled the market!*)
Tom and David just revealed their 10 top stock picks for investors to buy right now. TripAdvisor is on the list -- but there are nine others you may be overlooking.
Click here to get access to the full list!
*Stock Advisor returns as of February 6, 2017.
Andy Gould owns shares of TripAdvisor. Andy Gould has the following options: short March 2017 $55 puts on TripAdvisor. The Motley Fool owns shares of and recommends TripAdvisor. The Motley Fool has a disclosure policy.