Tribune Changes Name to Tronc; Board Re-Elected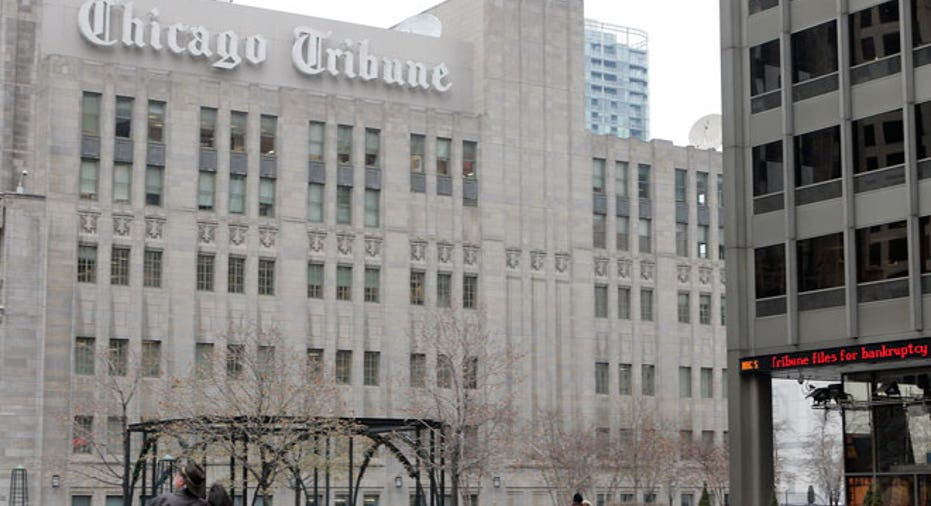 Tribune Publishing said shareholders voted to re-elect the company's board nominees at its annual meeting Thursday as the newspaper owner also announced plans to change its name.
The publisher of the Chicago Tribune and Los Angeles Times didn't give the exact breakdown of the vote, giving no indication of how much support Gannett Co. garnered for its "withhold" campaign. Gannett was encouraging shareholders to withhold their votes for the board as a symbolic gesture of no confidence and support for Gannett's takeover attempt.
USA Today owner Gannett, in a statement Thursday, said it is still "reviewing whether to proceed" with its takeover offer. Gannett also said it believed roughly 49% of shareholders unaffiliated with Tribune withheld their support of the entire slate of directors. A representative from Tribune wasn't immediately available to confirm Gannett's claim.
Later Thursday, Tribune said it would change its name to tronc Inc. and launch a new site, www.tronc.com, as part of a rebranding strategy. Tronc.com will curate content across Tribune's brands.
The name change, short for Tribune online content, is slated to take effect on June 20, the same day that the company's stock is expected to begin trading on the Nasdaq Global Select Market under the ticker symbol TRNC.
Tribune's stock currently trades in the New York Stock Exchange. News Corp, owner of The Wall Street Journal, made a similar switch to Nasdaq in 2008.
In April, Tribune registered tronc for trademark protection. It also has sought trademarks for troncx, OTT Media, OTT TV, OTTX, OTT News and OTT Media Ventures.
Tribune shares fell 1.8% to $11.38 in 4 p.m. ET trading.
Meanwhile, about 25 people attended the shareholder meeting in Los Angeles, which lasted just 23 minutes, according to a person who attended. Representatives of the company -- who included Chairman Michael W. Ferro Jr., Chief Executive Justin Dearborn and one other board member -- declined to give detailed answers to questions from five shareholders about issues like the company's new digital strategy, the person said.
"There was no dialogue," the person said.
Gannett was unable to offer a competing slate of directors as it had initiated its unsolicited pursuit of Tribune after the deadline had passed to wage a proxy fight. Previously, Tribune had rejected Gannett's bids at $12.25 and $15 a share -- 63% and 99% premiums, respectively, over Tribune's share price before Gannett made its first bid public.
Tribune has argued that Gannett's offers undervalued the company and that more value could be derived from Mr. Ferro's plan to modernize its 11 newsrooms -- using things like artificial intelligence and "machine vision" technology -- if it is given the time to take hold.
The company last week took the unorthodox approach of selling 4.7 million shares of its stock to medical doctor and billionaire investor Patrick Soon-Shiong at $15 apiece -- the price Gannett had proposed in its sweetened bid.
Dr. Soon-Shiong's investment in Tribune, a 12.9% stake at $70.5 million, made him the company's second-largest shareholder. It also made the company more expensive for Gannett to purchase, as it would presumably have to purchase Dr. Soon-Shiong's additional shares, which could push the total cost of the company up.
As part of the deal, Dr. Soon-Shiong was slated to take a seat on Tribune Publishing's board as vice chairman, starting Thursday after the shareholder meeting.
Mr. Ferro had marshaled the support of three proxy-advisory firms, Institutional Shareholder Services, Glass, Lewis & Co. and Egan-Jones Rating, and big institutional investors often follow the recommendations of those firms.
Meanwhile, a Tribune shareholder, Capital Structures Realty Advisors LLC, filed a lawsuit against Mr. Ferro and the rest of the Tribune board, seeking to block the sale of stock to Dr. Soon-Shiong. Dr. Soon-Shiong, in an interview, said he had only heard of the lawsuit through the media Thursday and had not reviewed the complaint.
A merger of the two companies would tie their household news outlets up under one firm, as newspaper companies have struggled in recent years in part from disruptions caused by the internet.
--Maria Armental contributed to this article.
Write to Joshua Jamerson at joshua.jamerson@wsj.com