Trex Company Inc Stock Up 11% on Earnings: Here's What You Need to Know Now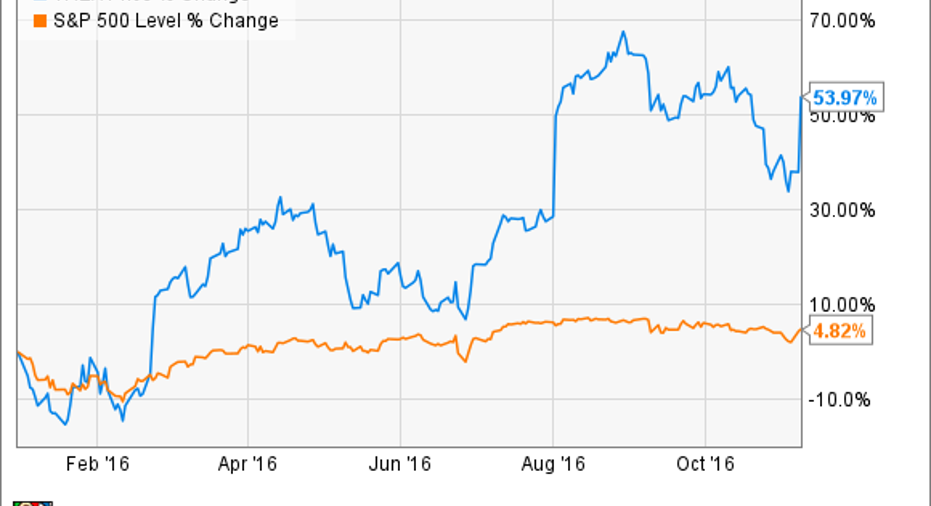 More homeowners are picking Trex for their decks. Image source: Trex Company Inc.
What:
Shares of Trex Company Inc(NYSE: TREX), the industry leader in wood-alternative decking, railing, and accessories, are up 11.3% at 2:21 p.m. EST on Nov. 8, following release of the company's third-quarter financial and operating results after market close on November 7. That puts the company's stock up 54% so far in 2016, a blistering performance in a relatively "blah" year for investors:
So what:
Here's a closer look at Trex's financial results:
Revenue and net income in millions. Source: Trex Company, Inc.
Trex significantly benefited from a combination of higher volume and lower manufacturing costs. Over the past year, the company has focused on improving its operating efficiency, and this has paid off in recent quarters as operating leverage continued driving big incremental profits.
Adjusting for $9.8 million in non-cash warranty-reserve charges related to legacy products, profits and gross margins were even stronger. Without this non-cash adjustment, earnings per share was $0.45, a 96% increase year over year, and gross margin percent was 37.5%, a 820-basis-point increase.
Now what:
Trex's guidance for the fourth quarter may seem weak on the surface at only 4%, but the caveat is that last year's Q4 was incredibly strong, up 20% from 2014, as deck projects continued through a very mild winter. If the company reaches this revenue guidance, full-year sales will have increased 8%. Management expects incremental margin for the full year to average 95% as material costs stay low and operating leverage remains high.
Looking even further ahead, Trex management expects the company will continue growing its market share. Expectations are for the composite-decking industry to grow sales in the mid-single digits in 2017, putting Trex on track to grow sales at or near the 8% rate management is counting on seeing at the end of the fourth quarter. And just as it has delivered this year, this increased volume will drive higher capacity utilization from its manufacturing facilities, further increasing operating leverage and incremental margins.
Bottom line: Trex has continued to exceed expectations over the past year or so, as strong demand for its products has combined with excellent operating leverage. As long as housing demand and the overall economy stay relatively strong, Trex is positioned to continue growing sales and taking market share.
10 stocks we like better than Trex When investing geniuses David and Tom Gardner have a stock tip, it can pay to listen. After all, the newsletter they have run for over a decade, Motley Fool Stock Advisor, has tripled the market.*
David and Tom just revealed what they believe are the ten best stocks for investors to buy right now... and Trex wasn't one of them! That's right -- they think these 10 stocks are even better buys.
Click here to learn about these picks!
*Stock Advisor returns as of November 7, 2016
Jason Hall owns shares of Trex. The Motley Fool owns shares of and recommends Trex. Try any of our Foolish newsletter services free for 30 days. We Fools may not all hold the same opinions, but we all believe that considering a diverse range of insights makes us better investors. The Motley Fool has a disclosure policy.