Transocean LTD, Transocean Partners LLC, and Seadrill Ltd Stocks Up 30% in November: Here's What You Really Need to Know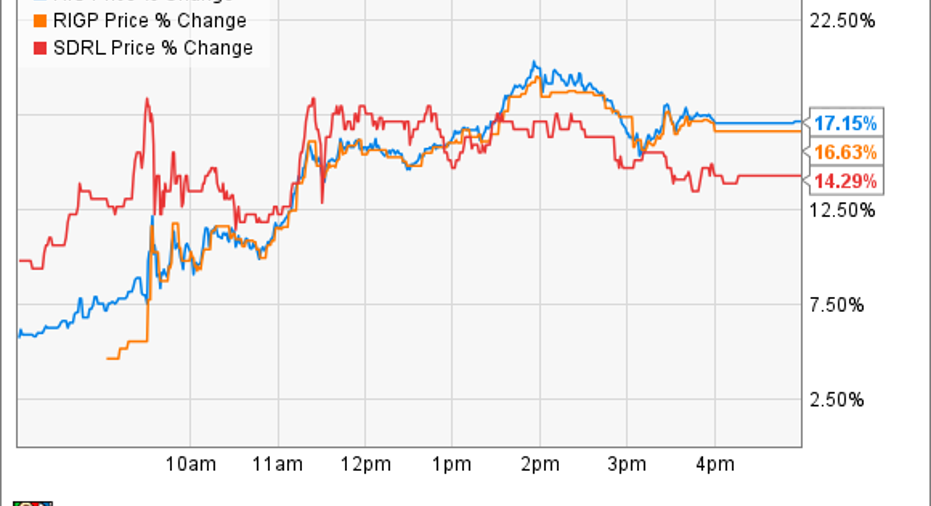 Higher oil prices are a positive for offshore drillers, but a recovery is still a long way off. Image source: Getty Images.
What happened
November was a good month for investors in offshore drillersSeadrill Ltd(NYSE: SDRL), Transocean LTD(NYSE: RIG), andTransocean Partners LLC(NYSE: RIGP), with shares up more than 30% for all three:
Earnings season provides an early lift (and then a decline)
As you can see in the chart above, shares got about half their gains during the first 29 days of the month, and the other half on the last day of November. In other words, there were two separate things that drove share prices higher over the course of the month.
The first was the start of earnings season, with Transocean and Transocean Partners reporting results for the third quarter on November 2. Transocean's financial and operating results came in relatively good, considering the ugly state of affairs offshore. The company delivered $225 million in operating income and net income of $244 million, good for $0.62 per share. Even when backing out some one-time gains, the company's earnings of $0.025 per share were a slight improvement from the prior quarter.
Offshore drillers are getting more efficient, but their prospects are tied to increased spending. That's not happening in 2017. Image source: Getty Images.
The biggest driver of Transocean's improved profits was cost-cutting. The company has taken significant steps to reduce its operating costs for both active rigs and inactive ones, and has scrapped and idled a significant portion of its fleet over the past year, targeting its oldest and least economically viable units as they come off contract. This has allowed the company to ride out the ongoing downturn, and has it positioned better than many of its peers for the eventual offshore recovery.
Transocean is also moving forward with its plans to acquire the stake of Transocean Partners it doesn't already own, saying that this consolidation should help it further lower costs and better position all of its best assets for the recovery. Because of this impending merger, shares of Transocean Partners will likely move in lockstep with Transocean's shares until the deal is completed.
Seadrill's shares, as you can see, also advanced strongly throughout November -- at least until the company announced earnings on November 22.
Seadrill reported a net loss of $656 million in the quarter, but also had non-recurring (and non-cash) items that impacted its results. But while Transocean saw benefits from early debt extinguishment, Seadrill was forced to write down the carrying value of its stake inSeadrill Partners by $806 million. Adjusting for this non-operating charge, Seadrill still generated $135 million in earnings, good for $0.28 per share. The company also managed to generate $441 million in operating income.
In the week following Seadrill's earnings release, essentially every offshore drilling stock lost value, including Seadrill, Transocean, and Transocean Partners:
Then along came OPEC
On November 30, OPEC, which controls around one-third of global oil supply, surprised the market when word came that the cartel had finally reached an agreement to cut its total output by 1.2 million barrels per day. This sent oil prices and oil stocks surging sharply. These three offshore drillers saw their stocks climb 14% or more on that single day:
What investors must understand about oil prices and offshore drillers
First off, higher oil prices aren't absolutely required for offshore oil to be developed, but it will make a major difference in how much money producers are willing to commit to these projects. Offshore projects can take years to develop, and cost billions -- with a "b" -- of dollars simply to bring online. Higher oil prices make these projects much more attractive, and increase the rate of investment in developing them. But at the same time, the massive drop in capital spending offshore alone is driving output from existing offshore oil and gas plays lower due to the natural decline curve.
In other words,someinvestment offshore, if simply to lift production at existing assets, will continue. But with most major oil producers having already set their capital spending budgets for next year, 2017 is lining up to see even less money spent offshore than 2016.
Furthermore, huge quantities of onshore oil are now accessible with hydraulic fracturing and horizontal drilling, and can be brought on much more quickly and for far less initial cash. Because of this new reality, additional demand growth is far more likely to be met with increased production onshore first.
Add it all up, and the good news is that both Transocean and Seadrill have demonstrated the ability to slash costs as the downturn has persisted. Furthermore, OPEC's deal to cut output is a big first step in oil prices moving higher in a sustainable way (as sustainable as commodity prices ever are).
The bad news? The year 2017 looks like it could be worse than 2016, and the backlogs of these companies show a lot of contracts expiring over the next two quarters with very few new deals being awarded to replace them. Long term, the industry will rebound -- it's just far from certain when the recovery will happen. Invest accordingly.
10 stocks we like better than Transocean When investing geniuses David and Tom Gardner have a stock tip, it can pay to listen. After all, the newsletter they have run for over a decade, Motley Fool Stock Advisor, has tripled the market.*
David and Tom just revealed what they believe are the 10 best stocks for investors to buy right now... and Transocean wasn't one of them! That's right -- they think these 10 stocks are even better buys.
Click here to learn about these picks!
*Stock Advisor returns as of Nov. 7, 2016
Jason Hall owns shares of Seadrill. The Motley Fool has no position in any of the stocks mentioned. Try any of our Foolish newsletter services free for 30 days. We Fools may not all hold the same opinions, but we all believe that considering a diverse range of insights makes us better investors. The Motley Fool has a disclosure policy.