TransCanada Corporation's 3 Biggest Growth Opportunities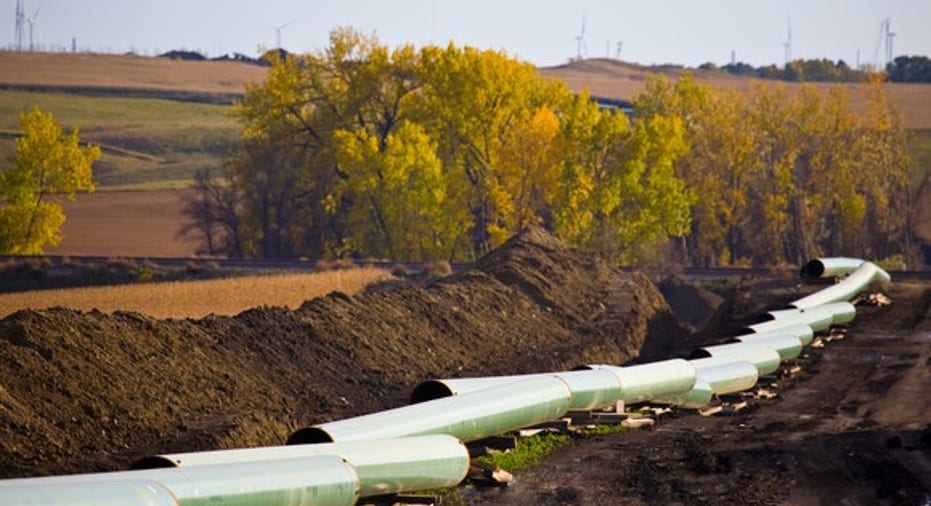 TransCanada (NYSE: TRP) is already one of North America's largest energy infrastructure companies. However, thanks to a massive backlog of capital projects, it should only grow bigger in the coming years. In fact, the Canadian pipeline behemoth has 26 billion Canadian dollars' worth of projects under development with another CA$45 billion of commercially secured projects waiting in the wings. That said, the company's home country of Canada is just one of three geographies where it has compelling opportunities to expand.
Viva Mexico
Several of TransCanada's peers, including Energy Transfer Partners (NYSE: ETP), are building natural gas pipelines to the U.S. border with Mexico, which is becoming an important destination for U.S. gas exports. For example, Energy Transfer and two partners are building the Trans-Pecos and Comanche Trail Pipelines to move gas from Texas' Permian Basin to the border. However, TransCanada is taking things a step further by investing in building gas pipelines in Mexico. In fact, it will have invested $5 billion in Mexico by the end of next year. Once complete, these projects will grow TransCanada's annual earnings from its Mexican assets from $181 million in 2015 to $575 million.
Image source: TransCanada Corporation.
The largest project in that pipeline is the Sur De Texas project with Sempra Energy's (NYSE: SRE) Mexican subsidiary IEnova. TransCanada owns a 60% stake in the joint venture, with Sempra's IEnova holding the other 40% stake, that will build this $2.1 billion natural gas pipeline to supply gas to Mexico's state-owned power company under a 25-year contract. That project is not likely to be the last one TransCanada builds in the country given that U.S. gas exports to Mexico should increase from 3.6 billion cubic feet per day (Bcf/D) last year to 5.8 Bcf/D over the next decade.
Energizing America
Last March, TransCanada spent $13 billion to acquire U.S. natural gas pipeline company Columbia Pipeline Group. That deal accomplished several goals. First, it provided TransCanada with a large-scale position in America's fastest-growing shale gas plays, enhancing the company's network of gas pipelines. Second, it boosted TransCanada's earnings from fee-based assets up to 92% of EBITDA, which should reduce future cash flow volatility. Finally, Columbia brought with it a significant expansion opportunity as it had already amassed $7.3 billion of commercially secured projects, which nearly doubled TransCanada's near-term project backlog.
In addition to these U.S. natural gas pipeline projects already under development, TransCanada recently applied for a presidential permit for approval to build its Keystone XL pipeline. The controversial oil sands pipeline was rejected by the Obama administration in 2015, due to environmental concerns. However, the Trump administration is seeking to revive the multibillion project in order to enhance America's energy security and create jobs. While the new president's support does not guarantee its approval, it does make the project more likely to move forward.
Plenty of growth in the homeland
While TransCanada's growth spans the continent, the company has several opportunities to grow in its home country over the next decade. In the near term, the company is working on CA$10.9 billion of projects, with half of the spending earmarked for expansions of its NGTL System, which is the leading natural gas pipeline system in Western Canada. In addition to that, the company also has several projects to expand its liquids pipelines and power assets.
Image source: Getty Images.
In the longer term, TransCanada has three transformational projects in Canada that could significantly grow earnings. Topping that list is the CA$15.7 billion Energy East pipeline and related CA$2 billion Eastern Mainline Expansion. This pipeline would move oil from the oil sands region in the western part of the country to refineries and export facilities in the eastern portion of the country. However, the company initially proposed this project as opposition increased against the Keystone XL pipeline. As such, it is possible that TransCanada could hold off on this project should it get the go-ahead to build Keystone XL, especially since Energy East has turned out to be just as controversial.
In addition to Energy East, TransCanada has two large-scale gas pipeline projects under consideration that would move gas from shale plays in the west to proposed export facilities along the West Coast. Both the Prince Rupert Gas Transmission and Coastal GasLink project would cost about CA$5 billion apiece to build. However, both are on hold until natural gas export projects along the West Coast win final approval.
Investor takeaway
What's unique about TransCanada is that its growth stretches across North America. The company is concurrently taking advantage of opportunities to increase Mexico's access to natural gas, pursuing both gas and oil pipeline opportunities in the U.S., and still investing billions in its home country. These investments are expected to literally pay big dividends down the road, with TransCanada expecting them to fuel 8% to 10% annual dividend growth through at least 2020.
10 stocks we like better than TransCanadaWhen investing geniuses David and Tom Gardner have a stock tip, it can pay to listen. After all, the newsletter they have run for over a decade, Motley Fool Stock Advisor, has tripled the market.*
David and Tom just revealed what they believe are the 10 best stocks for investors to buy right now... and TransCanada wasn't one of them! That's right -- they think these 10 stocks are even better buys.
Click here to learn about these picks!
*Stock Advisor returns as of February 6, 2017
Matt DiLallo has no position in any stocks mentioned. The Motley Fool has no position in any of the stocks mentioned. The Motley Fool has a disclosure policy.