Toyota, Sony and Honda Shut Factories Following Japan Quake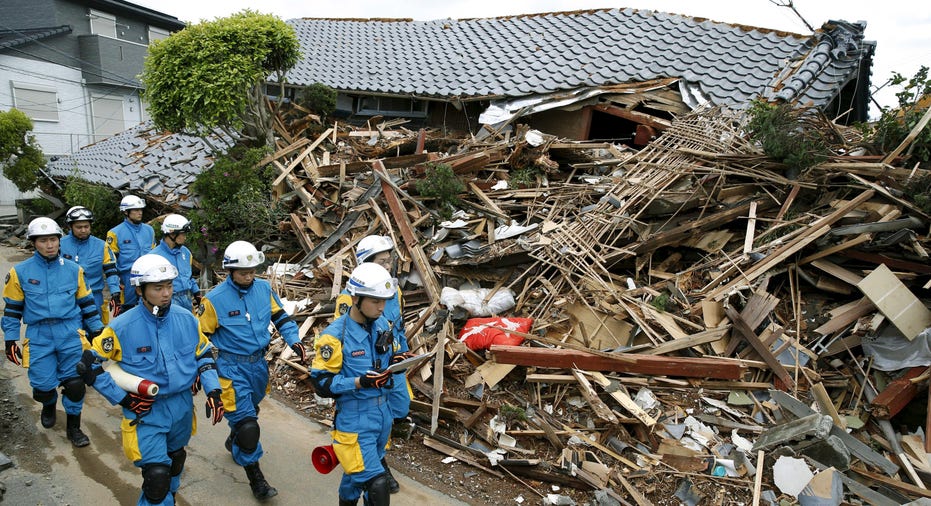 The Japanese share market fell more than 3 percent on Monday after a series of earthquakes measuring up to 7.3 magnitude struck a southern manufacturing hub, killing at least 42 people and forcing major companies to close factories.
About 30,000 rescue workers were scouring the rubble for survivors and handing out food to those unable to return to their homes following the quakes which struck Kyushu island from Thursday. The biggest hit near Kumamoto city early on Saturday.
"There are still missing people. We want to make further efforts to rescue and save people and prioritize human lives," Prime Minister Shinzo Abe told parliament, adding he aimed to declare the region a disaster zone to free up reconstruction funds.
The Nikkei stock index ended 3.4 percent lower, hit by a stronger yen and as investors weighed the impact of the disaster on manufacturers' supply chains and insurers.
Factories for major manufacturers including Toyota, Sony and Honda were closed, disrupting supply chains around the country.
Japan's atomic regulator declared three nuclear plants in the region safe, giving a degree of comfort to a country deeply scarred by the Fukushima nuclear disaster of 2011 that was sparked by an earthquake and tsunami.
All commercial flights to the damaged Kumamoto airport were canceled and the bullet train service to the region was suspended.
Food was in short supply as roads remained cut off by landslides. Evacuees made an SOS signal out of chairs at a school playground, hoping to catch the attention of supply helicopters, Japanese media reported.
"Yesterday, I ate just one piece of tofu and a rice ball," said the mayor of one of the areas affected. "What we're most worried about now is food."
Of more than 500 quakes hitting Kyushu since Thursday, more than 70 have been at least a four on Japan's intensity scale, strong enough to shake buildings.
DESPERATE SEARCH
The Kumamoto region is an important manufacturing hub and home to Japan's only operating nuclear station.
Chief Cabinet Secretary Yoshihide Suga said the government would "take all the necessary measures" to support companies affected by the disaster and the economy more broadly, including tapping into reserve funds of 350 billion yen ($3.24 billion).
Abe said a sales tax increase next year would go ahead barring a financial crisis or major natural disaster, without elaborating on whether the quakes qualified as such a disaster.
On the stock market, Sony Corp and Toyota Motor led the sharp falls among manufacturers, dropping 6.8 percent and 4.8 percent respectively. Nissan Motor and Honda Motor both lost about 3 percent. Insurers and utilities were also sold, with nuclear plant operator Kyushu Electric Power slumping nearly 8 percent.
Toyota said it would suspend production at plants across Japan after the quakes disrupted its supply chain.
Electronics giant Sony said its Kumamoto image sensors plant would remain suspended. One of the company's major customers for the sensors is Apple. Honda said production at its motorcycle plant in southern Japan would remain suspended through Friday.
The Kumamoto government said 42 people had been killed and nine were missing.
Thirty three people have been confirmed dead in Saturday's quake and nine in the smaller tremor just over 24 hours earlier. The government said about 190 of the injured were in serious condition and some 110,000 people had been displaced.
Rescuers digging with their bare hands dragged some elderly survivors, still in pyjamas, out of the rubble and onto makeshift stretchers made of tatami mats.
"We can't take a bath, we don't have any clothes to change into - we just have what we ran out in - and it's taking a long time for goods to get here," a woman at one evacuation center told TBS television.
Public broadcaster NHK showed footage of forests and rice fields torn apart by the quake, saying one 50 km (31 miles) strip shifted almost 2 meters (6 feet) sideways.
Quakes are common in Japan, part of the seismically active "Ring of Fire" which sweeps from the South Pacific islands, up through Indonesia, Japan, across to Alaska and down the west coast of North, Central and South America.
At the other end of the ring this weekend, Ecuador's biggest earthquake in decades killed at least 262 people, caused devastation in coastal towns and left an unknown number trapped in ruins.
A massive 9 magnitude quake and tsunami in northern Japan in March 2011 caused the worst nuclear crisis since Chernobyl in 1986, shutting down the nuclear industry for safety checks and sending radiation spewing across the countryside.
Nearly 20,000 people were killed in the 2011 tsunami.
(Additional reporting by Linda Sieg, Elaine Lies, William Mallard, Shinichi Soashiro, Chris Gallagher, Kiyoshi Takenaka, Tim Kelly and Thomas Wilson; Writing by Stephen Coates; Editing by Robert Birsel and Ian Geoghegan)