Toyota raises full-year profit outlook on weaker yen, cost cutting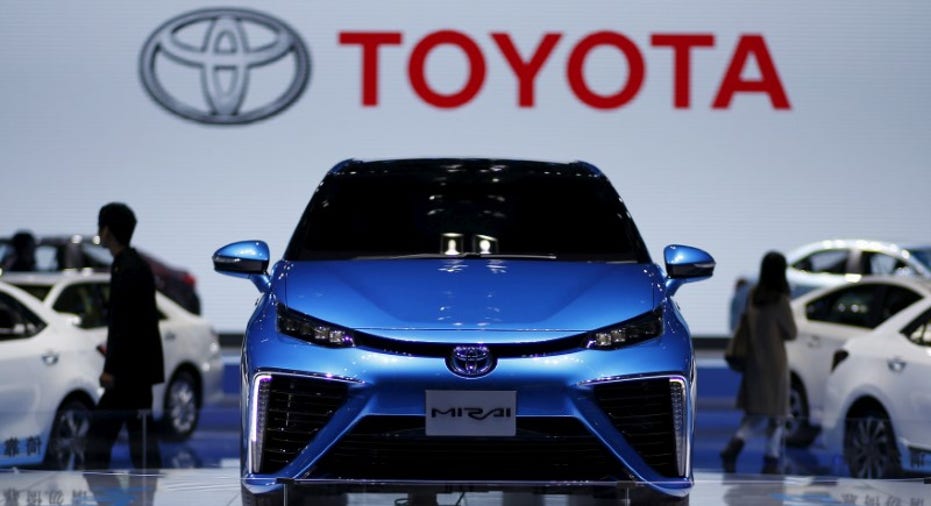 Toyota Motor Corp <7203.T> on Monday raised its full-year profit forecast by 9.7 percent as the world's No. 2 automaker expects a bigger reprieve from a weakening yen while cost-cutting efforts also help.
Toyota has been cutting costs by sourcing more car parts locally and marketing locally produced cars more aggressively to mitigate the impact of yen strength as part of emergency measures implemented last year, around when the U.S. dollar sank to 100 yen.
The Japanese automaker expects net profit through March to come in at 1.7 trillion yen ($15.08 billion), compared with a previous forecast for 1.55 trillion yen. It also sees a higher operating profit of 1.85 trillion yen versus 1.7 trillion yen stated in November.
Analysts expect net profit to come in at 1.721 trillion yen for the year, and operating profit at 2.02 trillion yen.
Toyota still expects its full-year profit to tumble from last year's record 2.31 trillion yen, but its outlook has improved as it anticipates the domestic currency to average around 107 yen to the U.S. dollar and 118 yen to the euro through March. That compares with previous forecasts of 103 yen and 114 yen respectively.
While it contends with currency volatility, Toyota is struggling to supply more sport utility vehicles (SUVs) to the United States, its biggest market, where customer demand for larger models including and trucks has surged due to historically low gasoline prices.
That has forced Toyota and other Japanese automakers, including Honda Motor Co Ltd <7267.T>, to shift production away from sedans, their staple in the region.
Toyota last year raised exports of its popular RAV4 SUV crossovers from Canada, while more of its Tacoma pick-up trucks were shipped in from Mexico.
U.S.-bound auto exports from Mexico have riled U.S. President Donald Trump, who has criticized Toyota and other automakers for not producing more cars locally for sale in the United States.
Of the record 2.449 million vehicles Toyota sold in the United States last year, around half were imported, according to the automaker. The United States accounts for around one-quarter of its global sales.
Japan's automotive exports are likely to be high on the agenda when Japanese Prime Minister Shinzo Abe meets with Trump for summit talks in Washington later this week.
(Reporting by Naomi Tajitsu; Editing by Christopher Cushing)