Toyota Profits Drop as Global Sales Slip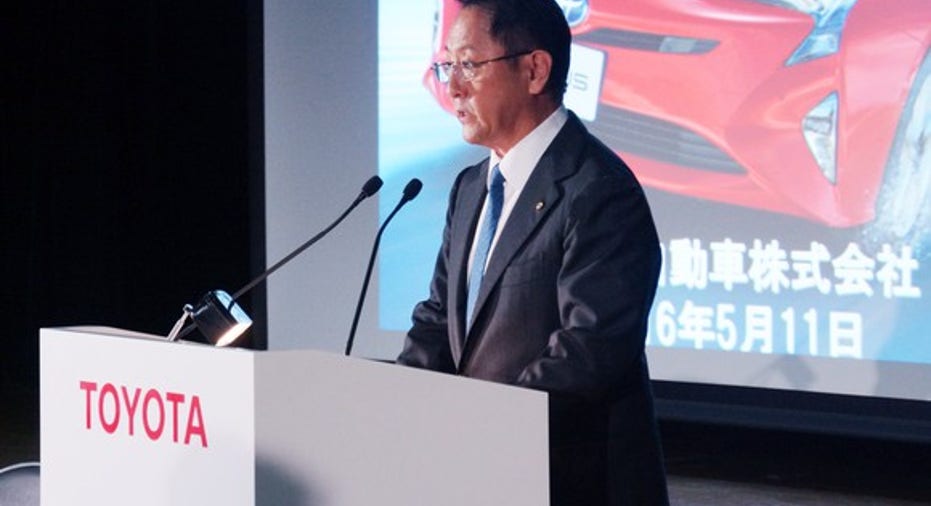 Toyota CEO Akio Toyoda discussed his company's financial results with reporters at Toyota's Tokyo headquarters on Wednesday, May 11. Image source: Toyota
Toyota said on May 11 that its operating profit in the quarter that ended on March 31 fell 14% to 548.3 billion yen ($4.88 billion) from 635.7 billion yen a year ago.
But despite the quarterly decline, Toyota posted full-year records in revenue, operating profit, and net income for the fiscal year that ended on March 31.
Here's what investors need to know.
The key numbers
Below are the key numbers from Toyota's fiscal fourth quarter, ended March 31, 2016. All financial results are in yen. 108.50 yen = $1
| | | | |
| --- | --- | --- | --- |
| Metric | Quarter ended 3/31/16 | Quarter ended 3/31/15 | Change |
| Revenue | 6.97 trillion | 7.12 trillion | -2.1% |
| Vehicles sold | 2.46 million | 2.52 million | -2.3% |
| Operating profit | 548.3 billion | 635.7 billion | -14% |
| Operating profit margin | 7.9% | 8.9% | 1 point |
| Net income | 426.6 billion | 446.4 billion | -4.4% |
What happened at Toyota during the quarter
First and foremost, Toyota's global sales fell year-over-year. While sales were up in 15% in North America and flat in Europe (+0.4%), the company's sales declined year-over-year in Asia including China (-9%), and in Toyota's largest market, Japan (-7%).
For the last few years, Toyota's earnings have been boosted by favorable exchange rates. The Japanese government's efforts to devalue the yen versus the dollar and euro have meant that the dollars and euros that Toyota has earned overseas have been worth more when translated into yen at home.
But that trend has shifted, and now exchange rates have become a headwind for Toyota. Unfavorable exchange-rate swings hurt Toyota's fiscal-fourth-quarter operating profit by about 150 billion yen ($1.33 billion).
Increased expenses also weighed heavy. Toyota is undertaking a number of capital investments around the world, including the construction of a new North American headquarters campus in Texas. That, plus increased labor costs, hurt operating profits by another 67.4 billion yen ($599.3 million), more than offsetting the company's ongoing cost-cutting efforts.
For the full fiscal year ended March 31, 2016, Toyota's net income rose 6.4% to 2.31 trillion yen ($20.54 billion) on revenue of 28.4 trillion yen ($252.51 billion), up 4.3%. Full-year operating profit of 2.85 trillion yen ($25.34 billion) was up 3.8% from the fiscal year prior, giving Toyota an operating profit margin of 10% for the year.
What Toyota's CEO had to say
"We have benefited from an exchange rate tailwind that has helped raise our earnings above the level of our true capabilities," CEO Akio Toyoda said in a statement. "Although this has enabled us to take on new challenges, that set of circumstances is likely to change for the worse this year."
That concern was reflected in Toyota's guidance for the upcoming fiscal year.
Looking ahead: Toyota's guidance for the new fiscal year
Toyota sees more unfavorable exchange-rate moves, rising costs, and a difficult sales environment ahead.
While the company does expect a modest (0.5%) increase in global sales to 10.15 million units, it expects its operating profit to drop 40% to 1.7 trillion yen ($15.1 billion) in the fiscal year that will end on March 31, 2017. It expects net income to drop 35% to 1.5 trillion yen ($13.3 billion).
Key to that guidance is Toyota's exchange-rate expectation. it expects an average of 105 yen to the U.S. dollar in the coming year, versus 120 yen in the past year. That alone, it said, will hit operating profits to the tune of 935 billion yen ($8.3 billion) Rising costs will account for another 540 billion yen ($4.8 billion) versus the prior year's results.
The article Toyota Profits Drop as Global Sales Slip originally appeared on Fool.com.
John Rosevear has no position in any stocks mentioned. The Motley Fool has no position in any of the stocks mentioned. Try any of our Foolish newsletter services free for 30 days. We Fools may not all hold the same opinions, but we all believe that considering a diverse range of insights makes us better investors. The Motley Fool has a disclosure policy.
Copyright 1995 - 2016 The Motley Fool, LLC. All rights reserved. The Motley Fool has a disclosure policy.