Top Oil Stocks to Buy in 2017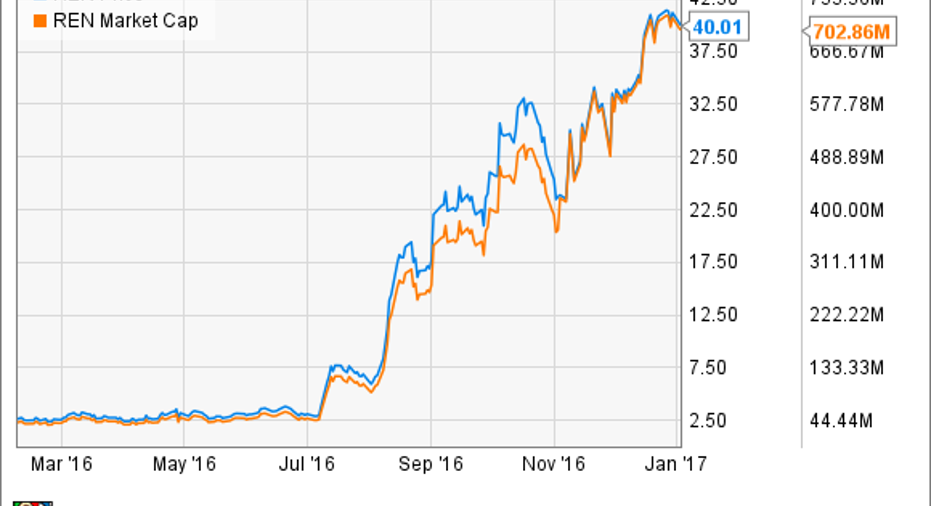 Image source: Getty Images.
2017 looks like it could be a great year to invest in oil stocks. Between OPEC's recent plans to decrease output by up to 1.2 million barrels per day, another nearly half-million barrels that some non-OPEC oil countries are set to cut, and a million-barrel drop in North American daily production since the peak in 2015, oil prices look poised to surge at some point in the next year or so. After all, global oil and refined product stocks won't last forever, and while oil output has steadily fallen, consumption has increased.
The catch? Oil prices are much higher than the bottom in early 2016, but still down by half from the peak in 2014. For that reason, these six stocks --Suncor Energy Inc.(NYSE: SU),ONEOK, Inc.(NYSE: OKE),Enterprise Products Partners L.P.(NYSE: EPD),Magellan Midstream Partners, L.P.(NYSE: MMP),National Oilwell Varco, Inc.(NYSE: NOV),andCore Laboratories N.V.(NYSE: CLB)-- are worth buying now and holding even if oil prices are slow to recover from here. The seventh company,Resolute Energy Corp.(NYSE: REN), has already been a big winner, but if oil prices fall or even stagnate, investors could get punished.
Keep reading to learn what makes these companies worth investing in this year.
Little big oil
One thing that makes the largest oil companies safer investments than many smaller peers is their integration -- exposure to multiple segments of the oil and gas value chain. And while low oil prices can destroy the profits and cash flows of independent producers faster than you can say "Brent Crude futures," refineries and pipelines tend to generate steady, reliable cash flows in every part of the oil cycle.
Image source: Suncor.
Suncor Energy is a smaller integrated oil company, with refining operations that generate steady cash flows and significant Canadian oil sands assets from which it should reap major rewards. In 2016, Suncor acquired a majority stake in Syncrude, a joint venture oil sands producer, immediately putting its majority leverage to work to improve the venture's operations and profitsand significantly drive down cash production costs.
Based on all that, Suncor is positioned to rebound from a rough 2015 and deliver strong returns for investors.
The middle of the American energy renaissance
Midstream operatorONEOK, Inc.also saw its stock price surge in 2016, up more than 150% from its lows. At the same time, the company continues to be a wonderful income investment, yielding more than 4% at recent prices.And while that makes ONEOK an ideal investment if it's steady dividends you're looking for, there's a good argument that its shares have gotten a bit pricey, especially compared to other high-quality midstream operators:
OKE P/E ratio (TTM) data by YCharts.
Based on valuation, both Enterprise Products Partners L.P.and Magellan Midstream Partners, L.P. are better values, while also being two of the best-managed midstream operators out there. But here's the catch: If you're investing in a retirement account such as an IRA or 401(k), your dividends could be subject to taxes on these two MLPs, while any income you get from ONEOK, which is a C corp, would not be.
To sum it up: If you're investing in a taxable account, Enterprise Products Partners, with its more reasonable valuation and nearly 6% yield, would be my first choice followed closely by Magellan Midstream and ONEOK third. But if you're buying shares in a retirement account, ONEOK would make for a more tax-efficient investment, even with the risk of more share price volatility in the short term.
The two most important oil companies you've never heard of
National Oilwell Varco, Inc.and Core Laboratories N.V.don't drill for oil, operate pipelines, or refine it into gasoline or jet fuel, but they are certainly two of the most well-known and relied-upon companies within the oil and gas industry. NOV, as the company is commonly called, stands as a major supplier of machinery and components across the entire oil and gas value chain, and is so important to its customers that it has been said that NOV could just as well stand for "No Other Vendor." At the same time, Core Lab sits in a critical place in that it helps producers more quickly and more cheaply extract oil and gas from reservoirs -- a business that's in demand no matter how much crude sells for.
Nonetheless, both companies have felt the squeeze of the ongoing downside of the oil cycle, with their share prices down more than half from their five-year highs. At the same time, it's likely that both could see business continue to be less-than-stellar in 2017, with capital expenditures across the industry expected to be down from 2016.
So why are these two worthy investments? They are very well run, incredibly good at what they do, and have strong balance sheets that will enable them to emerge from the downturn in solid shape.
History has been clear: The best time to buy these two companies is when oil prices were low.
Put it all together and these two companies will surely benefit from the eventual rise of oil prices. But they're built to last, even if that takes longer to happen than you expect.
More upside for this small producer (just don't ignore the risk)
Resolute Energy Corp. investors have already seen a mind-boggling 1,400% gainsince oil prices bottomed out early in 2016. But that doesn't mean there's no opportunity left in this small, independent oil and gas producer, which still has a market capitalization of around $700 million at recent prices.
Back at the start of 2016, Resolute Energy was on the ropes. A heavy debt burden and relatively high expenses had the company at real risk of defaulting on its loans and going under, but it managed to end the year in solid shape, less debt, and a focus on developing its Permian Basin assets in Texas. The Permian Basin -- specifically the Delaware Basin, where Resolute operates -- is potentially the biggest oil field in the world now, and because of its geological structure, has proven to be cheaper to drill and more cost effective to produce than many other shale formations.
For this reason, Resolute has made the Permian its primary focus, and is expected to generate as much as 80% of its production there by 2018. After running a single rig in its Permian holdings for most of 2016, the company intends to run a two-rig program in 2017, a move that will significantly increase its output, but will also mean negative cash flows at current oil prices.
This brings us to the big risk with Resolute. As a producer, the company must see oil prices hold steady or (ideally) rise or things could get ugly. At current prices, Resolute is likely to spend between $50 million and $75 million more than it generates in 2017 as it builds up its Permian production. But the reality is this: If oil prices stay near their current levels through 2017, it's almost a sure thing that oil investors will turn away from this small, still-leveraged producer, leading to painful losses.
Bottom line: Resolute has great assets, but an investment in this small producer is a decidedly bullish bet on oil prices going up.
10 stocks we like better than Core Laboratories When investing geniuses David and Tom Gardner have a stock tip, it can pay to listen. After all, the newsletter they have run for over a decade, Motley Fool Stock Advisor, has tripled the market.*
David and Tom just revealed what they believe are the 10 best stocks for investors to buy right now... and Core Laboratories wasn't one of them! That's right -- they think these 10 stocks are even better buys.
Click here to learn about these picks!
*Stock Advisor returns as of Nov. 7, 2016
Jason Hall owns shares of Core Laboratories, National Oilwell Varco, and ONEOK. The Motley Fool owns shares of and recommends Core Laboratories, National Oilwell Varco, and ONEOK. The Motley Fool recommends Enterprise Products Partners and Magellan Midstream Partners. The Motley Fool has a disclosure policy.