Top Beer Stocks to Buy in 2017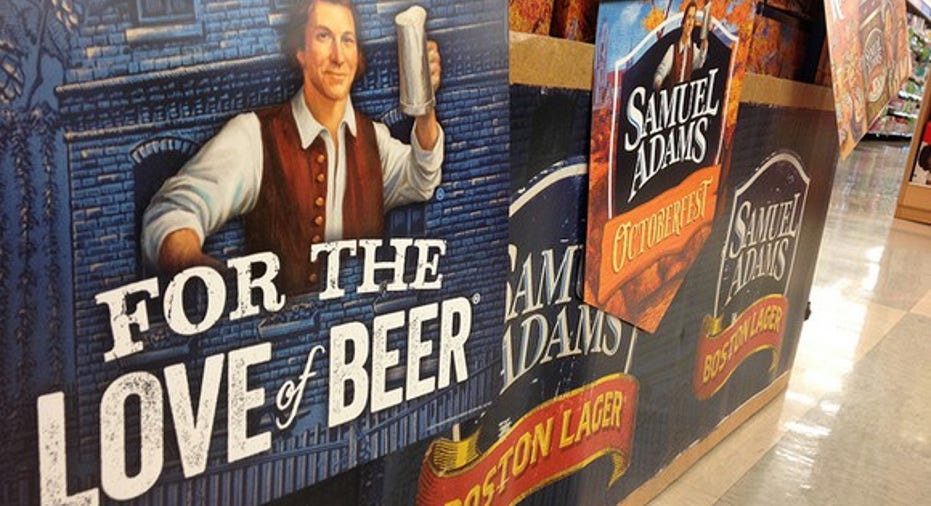 If there's any one product that stands the test of time and keeps consumers coming back for more, it's beer. But like your favorite brews, not all beer stocks are the same. So to help get you started, here are three top beer stocks I think investors would be wise to buy in 2017.
Image source: The Motley Fool.
1. Boston Beer Co.
Best known for its flagship Samuel Adams varieties -- but also the proud owner of Angry Orchard, Twisted Tea, Coney Island Brewing, Traveler, and most recently the Truly Spiked & Sparkling brands -- Boston Beer Co. (NYSE: SAM) enjoys a tantalizing runway for growth with less than 2% of the U.S. beer market as of last quarter.
But that's not to say taking that market share will be easy. In fact, Boston Beer haslostmarket share in each of its past four quarters as competition grows, with larger brewers muscling their way into the craft beer market while smaller brewers have boosted their own regional distribution. Add to that decelerating growth in recent months for the overall craft beer market, and it's no surprise Boston Beer stock fell 15.9% last year, and sits more than 22% belowits 52-week high set last April.
Boston Beer is tackling the the challenge head on, first with a comprehensive review of its brand strategies to ensure its investments will build shareholder value over the long term, and second by executing on new cost-saving projects throughout the company to maximize profitability in the meantime.
On top of that, during last quarter's earnings conference call, Boston Beer founder and and chairman Jim Koch noted that they're seeing retailers finally begin to reduce the number of beer SKUs they carry, marking the "end of a long phase of constantly increasing shelf" space as they realize further crowding the beer aisle will no longer drive incremental sales. In turn, this should benefit more established brands in the space like Boston Beer, helping the company return to sustained profitable growth.
2. Anheuser-Busch InBev
Speaking of established brands, you'll be hard pressed to enter any beer aisle without encountering several dominant names owned by Anheuser-Busch InBev (NYSE: BUD), from Budweiser to Corona, Stella Artois, Beck's, Foster's, and Michelob Ultra, to name only a few.
If that wasn't enough, AB InBev only just finalized its $100 billion megamerger with fellow brewing industry juggernaut SABMiller in early October 2016, creating the world's largest brewing company with $55 billion in annual sales, and largely complementary geographic footprints and product portfolios. Consequently, the combined companies now command a staggering 28% of the global beer market, including nearly 50% market share in the United States.
But similar to Boston Beer, shares of AB InBev are down 17% over the past three months alone on the heels of a disappointing earnings report in late October. For that, the company blamed a "challenging consumer environment" given ongoing economic weakness in Brazil, which historically accounts for roughly a quarter of its total beverage volume. To be fair, the situation in Brazil is largely out of AB InBev's control. And the company is laser-focused on building its brands' market share in the country while they wait for it to recover.
Over the long term, AB InBev should be just fine as the global beer market ebbs and flows. In the meantime, patient investors can collect its healthy dividend yielding 3.8% annually at today's prices.
3. Buffalo Wild Wings
Finally, I think investors can quench their thirst for beer with shares of Buffalo Wild Wings (NASDAQ: BWLD). Of course, the casual restaurant chain isn't purely a beer stock, per se. But its tag line does read, "Wings. Beer. Sports." -- a succinct description backed by Buffalo Wild Wings' status as the largest pourer of draft beer in the United States.
To achieve that feat, Buffalo Wild Wings uses a three-tier system for choosing as as many as 30 individual draft beers at each of its more than 1,200 locations, including a national tier with brands like Sam Adams and Budweiser, a regional tier chosen for each state, and an individual tier to give each restaurant the ability to pick their own local brews. Buffalo Wild Wings has also ramped its efforts to embrace craft beer to drive sales in recent months, including a new partnership with Lagunitas Brewing Company to create its exclusive Fandom Ale, a fusion of wheat beer and pale ale styles as a result of surveys showing its guests enjoy "balanced, easy-drinking beers with full flavor."
Better yet, as evidenced by Buffalo Wild Wings' nearly 16% pop in the month of November (from which shares have since pulled back) following the U.S. presidential election, Buffalo Wild Wings should be poised to benefit from the new presidential administration's policies. Namely, those include a hands-off approach to raising the minimum wage -- with President-elect Donald Trump opting instead to leave any raises up to each state rather than through a Federal mandate -- as well as plans to reduce individual income taxes. The former should help keep Buffalo Wild Wings' labor costs in check, while the latter tends to encourage discretionary spending on things like dining out.
And over the long term, Buffalo Wild Wings enjoys immense growth potential, with plans to become a company of 3,000 restaurants worldwide, including growing to 1,700 Buffalo Wild Wings locations in North America alone over the next 10 years.
For investors willing to buy shares now and watch that growth unfold, I think Buffalo Wild Wings should deliver tasty market-beating returns from here.
10 stocks we like better than Buffalo Wild Wings When investing geniuses David and Tom Gardner have a stock tip, it can pay to listen. After all, the newsletter they have run for over a decade, Motley Fool Stock Advisor, has tripled the market.*
David and Tom just revealed what they believe are the 10 best stocks for investors to buy right now... and Buffalo Wild Wings wasn't one of them! That's right -- they think these 10 stocks are even better buys.
Click here to learn about these picks!
*Stock Advisor returns as of January 4, 2017
Steve Symington owns shares of Buffalo Wild Wings. The Motley Fool owns shares of and recommends Anheuser-Busch InBev NV, Boston Beer, and Buffalo Wild Wings. The Motley Fool has a disclosure policy.