Tired of Short-Lived Shale Well Declines? Teck Resources Ltd. Has the Answer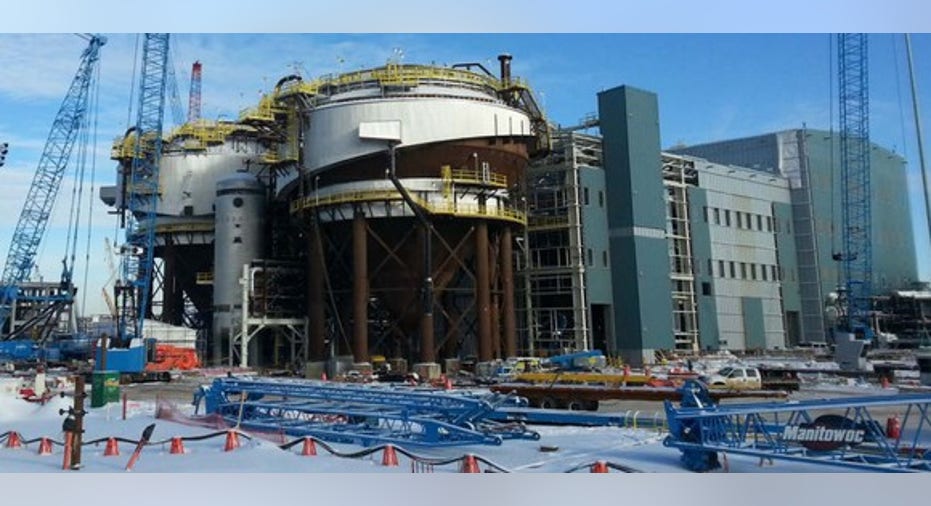 Fort Hills construction. Image Source: Teck Resources Ltd
Teck Resources Ltd is best known for its coal, copper, and zinc mines. But it's embarked on an oil project that is very different from what most people envision when thinking about oil these days. In fact, Teck is setting itself up for decades worth of oil, something shale wells can't even come close to offering. Here's what you need to know.
Headline grabbing change
The shale oil revolution has been headline news for some time now. The big story is that by mixing advanced horizontal drilling techniques with hydraulic fracturing, oil drillers are able to economically access oil that was once far too expensive to bother with. Clearly, the oil price decline has changed the economics somewhat, but there are still a lot of shale regions where oil companies continue to drill and even turn a profit.
One big problem with shale, however, is that the wells tend to experience a steep decline in production after just a short period of time. For example, the International Energy Agency explains that production from shale wells can fall by as much as 70% or so within just 12 months. That means there's a huge gush of oil at the start, but it quickly slows to a trickle. To maintain production, then, oil companies must drill more and more wells just to make up for natural well declines.
Image Source: Library of Congress via Wikimedia Commons
A different option
Which is why Teck's oil investment is so interesting. The first thing you might wonder about is why a miner is getting into the oil space. That hasn't worked out so well for Freeport-McMoRan Inc. , which is struggling to get out from under the debt it took on to acquire two oil companies shortly before the oil crash. Teck, with partners Total and Suncor Energy , started the Fort Hills oil project at around the same.
But Freeport's investment was in more traditional drilling businesses. The Fort Hills project is in the Canadian Oil Sands. Essentially, Canadian oil sands are oil soaked earth that gets dug up and processed to release the oil contained within it. So this project is right within Teck's skill set because it's really like an oil mine -- not an oil well. And while Total is more focused on traditional oil wells, Suncor is a great partner for oil newcomer Teck because Suncor has a long history of operating in the Oil Sands region. In fact, oil sands account for roughly 90% of Suncor's reserves.
The really big number
However, there's one more interesting thing about oil sands projects: longevity. A well requires drilling into the Earth and hoping you get a viable well, with production that lasts a long time -- something that isn't really happening in the case of shale. Oil sands are easier to find and production can last a very long time. Fort Hills, for example, has a reserve life of, get this, 50 years! And the production in any given period is really limited more by a combination of mining activity and throughput capacity than the oil asset itself. Unlike a well, where once it's dry you have to move on.
Image Source: Teck Resources Ltd
That said, oil sands development tends to be costly. That's been a drag on Teck's shares since the commodity bust left many investors wondering if it could afford to pay its share of the tab for Fort Hills. Teck is on the hook for around $1 billion to complete Fort Hills at this point. But the miner currently looks like it can easily cover that cost since it has about $1.3 billion in cash on hand and $3 billion on a revolving credit facility. And with a 50 year reserve life, there's plenty of time for the oil market to recover and turn this investment into a winner.
So as you watch wildcatters hooked on swiftly depleting shale wells go belly up, know there's another option that has longer legs. And Teck is getting ready to tap into that market so it can benefit from an oil investment expected to last five decades -- not 12 months.
The article Tired of Short-Lived Shale Well Declines? Teck Resources Ltd. Has the Answer originally appeared on Fool.com.
Reuben Brewer has no position in any stocks mentioned. The Motley Fool owns shares of Freeport-McMoRan Copper & Gold, Inc.. Try any of our Foolish newsletter services free for 30 days. We Fools may not all hold the same opinions, but we all believe that considering a diverse range of insights makes us better investors. The Motley Fool has a disclosure policy.
Copyright 1995 - 2016 The Motley Fool, LLC. All rights reserved. The Motley Fool has a disclosure policy.